WSOP Stories, Day 1B: Poker Rivers 15 Minutes of Fame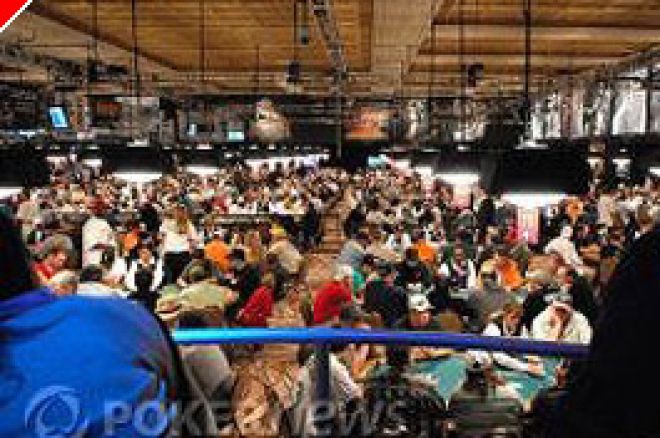 If a WSOP Day One had the potential to recapture the frivolity of past years, it would have been yesterday. The field was larger; we had 1545 players for Day 1B, compared to Friday's 1287. And it was believed that the Saturday starting day would cater to more weekend warriors and less pros. But in the end, it was another somber day of play at the 2007 WSOP.
Absent again were players looking for their fifteen minutes of ESPN fame; theatrics and bizarre dress were at a minimum. And no one played like the bracelet could be won in a single day. Like members of a twelve-step program, the field seemed to share a "one day at a time" mindset and focused on what it would take to survive to play Day Two.
And it seems the prevailing wisdom was wrong on the pro front. Many people thought that the biggest name pros would opt to play Day 1A or Day 1C; maximizing their days off on either end of the schedule, but Day 1B had its fair share of notables. Dan Harrington, Howard Lederer, Annie Duke, John Juanda, David Williams, Sammy Farha, Jennifer Harman, Scotty Nguyen, Erik Seidel, and Kathy Liebert were among the pros choosing Day 1B for their Main Event run.
Day 1B also had representation from the celebrity set. Comedian Norm MacDonald was in the field. MacDonald scored his first cash at the WSOP this year finishing 20th in the $3,000 NLHE event. Although congenial at the table, MacDonald seemed far more interested in looking for a second cash than providing entertainment and diversion for his tablemates. Television talk show host Montel Williams was also in the Day 1B field, but might have been missed save the prominent placement of his personal bodyguard.
Day 1C is slated to be the largest Day One field so far, but I think it's now safe to say that it won't be populated with Elmo-costumed players. Ethel Merman might have been disappointed; at the 2007 WSOP, poker appears to have trumped show business.