WSOP Stories: Past the Knee of the WSOP Payout Curve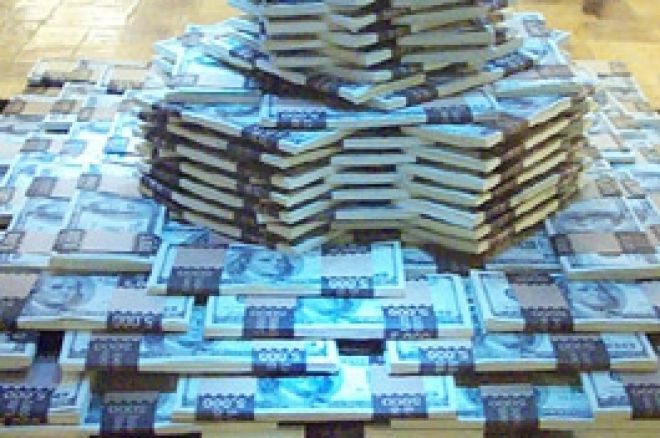 Many of the 621 players who made the money in the 2007 WSOP Championship event had to sweat the money bubble. As the still-large field played hand-for-hand, short-stacked players stressed over each bustout announcement, marking their countdown to a payday. But while much is made of the money bubble, it is the first, and perhaps one of the least important, bubbles that the remaining players face.
Yesterday, with 73 players left in the Day Five field, the media kept staring at the clock. "Is there a break now?" one of them asked. The question was inspired by the many empty seats and players milling about the room. But the clock was not the issue; the bump in pay for the 72nd-place finisher was. Former WSOP Championship Huck Seed ended the players' angst, becoming the 73rd-place finisher and providing the $23,906 pay bump to the remaining field.
Yesterday's 73rd-to-72nd bubble was the first time since the players made the money that the payout differential was bigger than the initial money bubble differential. This year the money bubble was more significant than in years past. With this year's flattened out payout schedule, the difference between making the money and just squeaking past the bubble was $20,320.
While the media may have been a little slow to realize the significance of the 73rd-to-72nd pay jump differential, it was not lost on the players. The remaining players knew from that point onward, they had successfully made it past the knee of the payout curve. Every bump becomes more significant than the last. Surviving Day Three earned a player at least $39,445. Surviving Day Four brought the guaranteed payout up to $58,570. Surviving Day Five insured a $285,678 payday. Surviving until the end of today's Day Six will escort players over the half-million mark with payouts starting at $525,934. And of course on Day Seven, every place a player survives increases their potential to earn the life-changing $8,250,000 bounty.