WSOP Updates – Event 46, $1,000 7CS Hi-Lo – Tom Schneider Becomes First 2007 Double Bracelet Winner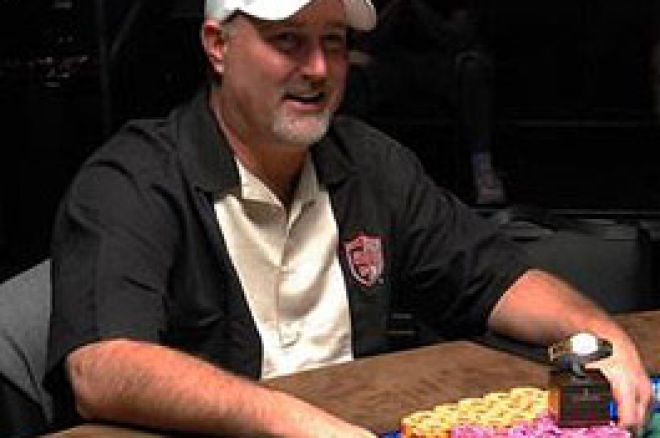 Tom Schneider became the first double bracelet winner of the 2007 World Series of Poker as he won his second event Saturday, the Event #46, $1,000 Seven Card Stud Hi/Lo. Schneider outlasted a field of 668 players to take home the bracelet and the $147,713 first place money. Schneider's first WSOP bracelet came just a few short weeks ago in Event #5, a mixed Omaha/Stud Hi/Lo event with a $2,500 buy-in. Schneider started the final table in both events with the chip lead and went on to win them both.
The final-table chip counts (with seat assignments) looked like this at day's start:
Seat 1: Hoyt Verner — 129,000
Seat 2: Scotty Nguyen — 203,000
Seat 3: Hieu "Tony" Ma — 60,000
Seat 4: Saundra Taylor — 202,000
Seat 5: Tom Schneider — 275,000
Seat 6: Tommy Hang — 110,000
Seat 7: Miguel de la Cruz — 253,000
Seat 8: Woody Deck — 110,000
After losing a big hand early to Miguel de la Cruz, Woody Deck was the first to be eliminated on what would turn into a fast-paced final table. Beginning with Deck's eighth-place exit ($11,063), it took barely more than four hours to complete the final table, a very short time for a limit tournament.
Tommy Hang was next to fall as Schneider sent him to the rail in seventh ($14,711) when Schneider made a straight on seventh street to scoop a big pot, with neither player making a qualifying low.
Hieu "Tony" Ma was eliminated next, finishing his tenth WSOP final table in sixth place, worth $19,170. Ma started the day as the very short stack and survived several all-ins before running into Scotty Nguyen's rolled-up fours, which turned into a full house by seventh to eliminate Ma.
It took less than an hour after Ma's elimination for Saundra Tayler's first WSOP final table to end in fifth place ($24,619). In a three-way pot with de la Cruz and Hoyt Verner, Tayler raised on third street with the
as her door card, and both de la Cruz and Verner called. On fourth street, Verner bet out with the
up, and de la Cruz called with
showing. Taylor called all-in with
. De la Cruz folded on fifth when the
didn't improve his hand enough to continue, and Verner picked up the
. Verner's wheel draw completed on sixth to give him the nut low and the 5-high straight, good enough for a scoop that sent Taylor to the rail.
Down to four-handed, Tom Schneider started a serious run for the bracelet, taking several large pots off of de la Cruz before de la Cruz and Scotty Nguyen were eliminated in back-to-back hands. Hoyt Verner eliminated Nguyen when his pair of aces held up to bust Nguyen's pair of fives. The 1998 Main Event champion finished in fourth place ($31,610) for his 32nd career WSOP cash and his second final table this year.
De la Cruz, a 28-year-old from Florida, was next to fall when his Broadway-straight draw didn't complete against Schneider's set of sevens. His third-place finish was good for $51,670, his first major tournament cash and his first World Series of Poker final table.
Tom Schneider and Hoyt Verner started heads-up play nearly even in chips, with Verner leading Schneider slightly, 670,000 to 620,000. This tournament was Verner's highest World Series finish ever, besting his sixth-place finish in the same event in 2006, his only other WSOP cash. Heads-up play lasted for a little over an hour as the men jockeyed for position, each one trying to gain a consistent edge over his opponent.
After an hour of heads-up play, Schneider found himself with a 2:1 chip lead over Verner, only to give it up in the very next hand when Verner scooped a big pot with a buried pair of kings. Schneider then took back the chip lead on the following hand when his board of
presented too many threats for Verner to chase, and he folded on sixth street. It took only a few more hands for Schneider to scoop one last pot and take down his second bracelet of 2007.
On the final hand, Schneider had the bring-in with the
, Verner raised with the
up, and Schneider called. On fourth street, Schneider showed
to Verner's
. Verner bet out and Schneider called. Fifth street got the last of Verner's chips in the middle with Verner showing
to Schneider's
. Schneider revealed kings up for two pair, and Verner's pair of sevens never caught up, leaving Verner on the rail with second-place money of $82,064.
Schneider, a cash-game veteran who also wrote the book "Oops! I Won Too Much Money!" received $147,713 for first place, along with his second World Series of Poker bracelet in 2007. This event was the third 2007 cash for the writer and poker player from Arizona, who also co-hosts a popular poker podcast. Schneider now has extra chapters for the possible second edition of his book, which "provides a unique way of viewing everyday experiences from business, poker, and life."
Final Standings and Payouts:
1. Tom Schneider — $147,713
2. Hoyt Verner — $82,064
3. Miguel de la Cruz — $51,670
4. Scotty Nguyen — $31,610
5. Saundra Taylor — $24,619
6. Hieu "Tony" Ma — $19,170
7. Tommy Hang — $14,711
8. Woody Deck — $11,063