WSOP Updates – Event 48, 2-7 Triple Draw – Shoreman, Amit Atop Final-Table Lineup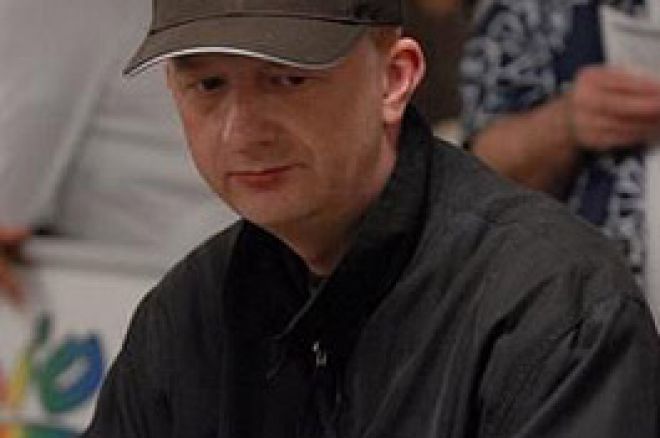 World Heads-Up Poker Championship director and co-founder Jon Shoreman lists 2-7 ("Deuce-to-Seven") Triple Draw and Badugi as two of his favorite games, and with good reason. Shoreman started Day Two of Event #48, the Deuce-to-Seven Triple Draw w/Rebuys tournament as the chip leader, and will carry that status to the final table. Day Two started with a packed field of 'name' pros, including Daniel Negreanu, John Juanda, Greg Raymer, Sabyl Cohen and Marco Traniello, and played down to a final table of six at night's end.
2004 Main Event champion Raymer started Day Two in solid position, but ran into trouble and was eliminated just off the money bubble. Raymer went to the rail when Danny Fuhs crippled him and then eliminated him in back-to-back hands. In the first hand both men drew one card on the second and third draws, and Fuhs hit the nuts, 7-5-4-3-2, to cripple Raymer. Raymer was all-in on the next hand and was eliminated when Fuhs drew three on the third round to make a 9-low, beating Raymer's 10-low.
Players made it almost to the money before the dinner break, with notable players like Allen Cunningham, Victor Ramdin and Robert Williamson III all eliminated before dinner. Bill Chen returned from dinner only to be eliminated on the cash bubble, and the final 24 players all made the money. It only took an hour to go from four tables down to three (2-7 Triple Draw is played six-handed) as Matt Wasko, Joe Cassidy, Chau Giang, Hertel Zalewski, Jameson Painter and Ralph Perry all were eliminated shortly after the bubble burst. All six men received $5,414 for their efforts.
Brian Haveson went out shortly after Perry in 18th, and then the pace of bustouts slowed. Andy Bloch's 7-5 low eliminated Devon Miller in 17th, then Terry Jennings exited in 16th when Eugene Ji's 8-6 low was one pip better than Jennings' 8-7 low. Steve Zolotow went to the rail in 15th when Arturo Diaz turned over a 7-6-5-4-2 low to bust the 2-time bracelet winner.
Chris 'Jesus' Ferguson was crippled in a big hand with Rafi Amit when both men showed down a K-low, with Amit's K-6 outkicking Ferguson's K-7. Ferguson then tripled up when he was dealt a made 7-5-4-3-2, but still busted in 14th on the followed hand. Arturo Diaz ran two big hands into Andy Bloch to go out in 13th, folding after the final draw in the first hand, which left him short-stacked, then catching a Q-low on the final draw of the next hand to be eliminated by Bloch's 8-7-4-3-2.
Robert Swickard drew a pair of fours on the final draw of his final hand, drawing to a 7-low that didn't get there. His 12th-place elimination was the first from the final two tables. As midnight passed, the final 12 players drew, stood pat and bet their way down to a final table. The event was originally scheduled for two days, but a third day was added due to the large field at the end of Day One and the delayed start times thanks to the huge turnout for the day's $1,500 no-limit freezeout.
Lenny Martin drew one card on the final draw to make a 7-6-5-3-2 low and eliminate Dan Dumont in 11th. Dumont was all-in before the first draw, and mucked when Martin's powerhouse hand was revealed. Ralph Rudd was crippled by Ben Armstrong when he drew to a queen on his final draw, then was eliminated in 10th place by Anthony Lellouche on the very next hand. Jon Shoreman eliminated Danny Fuhs shortly afterwards, drawing an 8-7-5-4-3 to bust Fuhs in ninth.
As the final-table bubble drew closer, Eugene Ji went on a late-night roller-coaster ride, crippled in a hand where Lenny Martin drew an 8-7 low, then doubling through Mark Bartlog with an 8-7 low of his own against Bartlog's A-low (aces always play high in 2-7 Triple Draw). Ji took the next hand off Bartlog as well, when each player drew one on the final round, and Ji revealed the A-low this time, with an A-8-6-5-3 that was still good — Bartlog turned over an A-8-7-4-2, for a worse Ace.
While Ji and Bartlog tangled at one table, Lellouche won three huge pots from Ben Armstrong at the other to cripple Armstrong before Rafi Amit delivered the coup de grace. With two back-to-back hands of 8-7-6-4-2, Lellouche left Armstrong with only 40,000 in chips, which all went into the middle in the next hand. Armstrong got three-way action against Lellouche and Amit, but Amit drew the nuts (7-5-4-3-2) on the second draw and Armstrong was eliminated in eighth.
Once only seven players remained, play consolidated to one table. Play continued 7-handed for nearly two hours before an extremely short-stacked Andy Bloch went all-in before the first draw and couldn't improve on a K-low on any of the three draws. Amit showed a 10-9 low and Andy Bloch exited in seventh.
The final table features six solid players, with Amit the only prior WSOP winner. Amit won the $10,000 Pot Limit Omaha event in 2005, the first of his six WSOP cashes. He starts today's final table second in chips with 374,000 to Jon Shoreman's 518,000. The seating assignments and chip counts are as follows:
Seat 1: Anthony Lellouche — 205,000
Seat 2: Lenny Martin — 133,000
Seat 3: Eugene Ji — 192,000
Seat 4: Mark Bartlog — 98,000
Seat 5: Rafi Amit — 374,000
Seat 6: Jon Shoreman — 518,000
Join PokerNews.com's 'Live Reporting' of Event #46, $1,000 Deuce-to-Seven Triple Draw (w/ Rebuys) for the latest reports. The final table begins at 7pm Pacific Time.