WSOP Updates – Event 49, $1,500 NLHE – Mads Andersen Leads Pack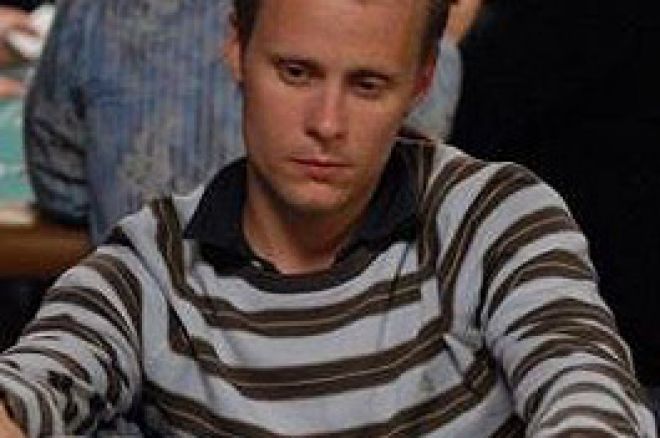 A new single-day record-setting field of 3,151 entered Saturday's Event #49, $1,500 No Limit Hold 'Em. The event sold out, with hundreds of alternates filling up the adjacent hallways as they waited to be seated. The massive turnout created a prize pool of $4,301,115, with the top 324 places cashing. The money bubble burst shortly after 1am and the remaining hour of play saw 106 more eliminations. Mads Anderson leads the 218 players remaining in the hunt for the WSOP gold bracelet and first-prize winnings of $722,914.
The low buy-in brought many recreational players, but many big names as well. Bill Chen, Mickey Wernick, Hans "Tuna" Lund, Joe Reitman, Allen Kessler, Perry Friedman, James Van Alstyne, Jesse Jones, Juha Helppi, Chris Reslock, Joe Sebok, Gary Gibbs, Alex Jacob, John Racener, Greg "FBT" Mueller, Tommy Vu, and Glyn Banks were all on hand. Phil Gordon, Michael Gracz, and Doug "Rico" Carli were among the alternates waiting to be seated.
Swift eliminations saw just as many big names going out the door. Mimi Tran, Shannon Elizabeth, Kido Pham, Bill Gazes, David Pham, Isabelle Mercier, David Stann, Joe Awada, Eric Lynch, Gavin Smith, Jesse Jones, and John Gale were among those eliminated in the first few hours. Eric Froehlich, Scott Clements, Ed Moncada and Kathy Liebert also found themselves knocked out early after failing to catch any big hands. Men "The Master" Nguyen jumped from 3,000 to 13,000 early on, but the surge was short-lived, and Nguyen joined the others at the rail.
Mark Seif also gained chips early in the day. In one big hand with three-way betting, the flop came
and the turn
. One player folded after the turn, but Seif and his opponent saw the river, the
. His opponent mucked A-3 after Seif turned over
for the full house. Seif's luck didn't hold, though, and a few hands later he took a hit on pocket sixes, then was knocked out on a later hand when his opponent paired his ace on the flop.
Things looked good for Justin Bonomo when he caught a sweet hand early in the day. Bonomo pushed all in after a flop of
, showing
against his opponent's
. The
came on the turn, giving Bonomo the higher flush and a nice pot. Unfortunately, Bonomo couldn't capitalize on his start and was eliminated later in the round.
Kenna James took a hit from Shane Beckham when Beckham flopped a flush, knocking James below 3,000. James was eliminated later when his
ran into an opponent's
and found no help on a board of
. James went out later in the day before reaching the money.
Chris "Jesus" Ferguson played much of the day, but not long enough to cash. Ferguson, who split time between this tournament and the 2-7 Triple Draw event, made it work for a while. He went all in to win a 4,000 pot, then raced over to his Triple Draw seat. He returned a few minutes later to move all in again on A-8 against A-Q. The river delivered another eight to double him up, and he was off again to the other game. Late in the day, though, he ran into a pair of pocket kings that ended his double-duty run.
Michael "The Grinder" Mizrachi, on the other hand, came out of the gate flying and didn't look back, building his stack early and maintaining a position at the front of the field. Shawn Deeb also saw his stack mostly increase, doubling up just before the end of play to push past 100,000.
Chip leader Andersen opened up a wide margin late in the day, but took some hits in the last hour that depleted his stack by nearly 30,000 and brought him closer to the pack. Chip leaders going into Sunday's play are:
Mads Wissing Andersen — 147,200
Keith Brookes — 133,500
Michael "The Grinder" Mizrachi — 133,200
Michael Ciavarino — 132,500
Francisco Palacios — 120,200
Jorryt van Hoof — 120,100
Mark Feltscher — 118,300
Taylor Douglas — 115,800
Kao Seng Saetern — 113,900
Shaun Deeb — 112,100
Other notable players still alive include Chris Birchby, Mike Gracz, Brad Berman, Quinn Do and Shannon Shorr.
Play resumes at 2pm PDT, with all remaining players in the money as they work toward the final table of nine. Visit PokerNews.com's 'Live Reporting' of Event #49, $1,500 NLHE for the latest reports.