WSOP Updates, Event 51, $1,000 S.H.O.E – Adam Geyer Assumes Lead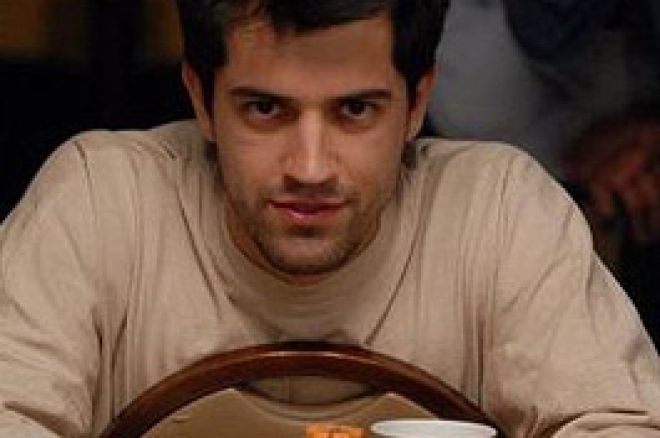 145 players returned out of a field of over 700 in the final mixed event of the 2007 World Series, Event #51, $1,000 S.H.O.E.. Players came back geared up for a long day of play and were not disappointed, as it took nearly 12 hours to work down to a final table of nine. Still in the field to start off Day Two were chip leader Susie Genard, author Michael Craig, Chip Jett and Erik Seidel.
The first half of the day's task, reaching the 72-player cash bubble, went quickly. Rajiv Khana was the unfortunate bubble boy, running K-J into A-K in a Limit Hold 'Em round. Six more players fell in the first ten minutes after the bubble burst, and it took two more hours for the field to be halved again, with four tables of eight remaining at the dinner break. Erik Seidel, Artie Cobb and Brian Nadell all were eliminated before dinner.
Matt Matros came back strong from the dinner break, scooping a huge three-way pot against David Duran and Gary Do when his pocket aces made tens full of aces on the river in Omaha Hi/Lo. Duran showed pocket jacks before mucking. Do was all-in on the hand and was eliminated. The Omaha Hi/Lo round proved deadly for George Lind III as well, falling to Raymond Davis' rivered royal flush.
Once the field was whittled down to 24, seats were redrawn for three tables, which looked like this.
(Table 61)
1 Matt Matros
2 Scott Clark
3 Juliano Maesano
4 Dao Bac
5 Bonnie Damiano-Leinhos
6 Dan Fishell
7 David Duran
8 Doug "Rico" Carli
(Table 62)
1 Eric Tomberlin
2 Susie Genard
3 Imre Leibold
4 Lucky Liu
5 Michael Klatman
6 Michael Craig
7 Daniel Lown
8 John Myung
(Table 67)
1 Justin Thomas
2 Chip Jett
3 Diego Cordovez
4 Greg Rosebeck
5 Vladimir Shchemelev
6 Adam Geyer
7 Raymond Davis
8 Pat Poels
Table 67 was a little chip-heavy after the redraw, with three of the top five chip stacks landing there. The eliminations continued; Diego Cordovez went out in 24th when Raymond Davis made trips to crack Cordovez' two pair. Dan Fishell gave up the chip lead to David Duran when he busted with a pair of jacks to Duran's full house in Stud Hi, and then Bonnie Damiano-Leinhos ran her two pair into trip kings, ending her night.
Susie Genard spent most of the day with one of the largest stacks, but took a big hit in Stud Hi when her rolled-up jacks were outdrawn by the quad sevens of John Myung. She held on to make the final two tables, but was eliminated by Chip Jett shortly thereafter. The final two tables looked like this before Genard fell to Jett –
(Table 61)
1 Doug 'Rico' Carli
2 Adam Geyer
3 Scott Clark
4 Chip Jett
5 Juliano Maesano
6 Michael Craig
7 Susie Genard
8 Pat Poels
(Table 62)
1 Dao Bac
2 Matt Matros
3 Raymond Davis
4 David Duran
5 Vladimir Shchemelev
6 Imre Leibold
7 Lucky Liu
8 Eric Tomberlin
Play became more deliberate as the final table approached. Scott Clark was the first to fall, when Juliano Maesano made a gutshot straight to beat Clark's pair of eights and send Maesano's jubilant railbirds into a frenzy. In a flurry of activity, Jett then eliminated Genard in 15th place when he made the nut flush on the turn; then, Davis eliminated two players in the same hand, sending Matros and Lucky Liu to the rail when the board brought three jacks and neither Matros nor Liu could best Davis' A-K kickers.
With 12 players remaining, Michael Craig went on a rush, taking down a large three-way pot in Stud Hi against Duran and Pat Poels with a full house. Craig secured his third cash of the 2007 WSOP with this event and was playing for his second final table after finishing seventh in the $1,500 Mixed Hold 'Em event last month. Craig sent David Duran to the rail when his pocket nines held up against Duran's
.
As play moved past the 12-hour mark, only two players needed to fall before the final table could be set. Maesano was the first, when Imre Liebold's pocket kings held up against Maesano's A-J. Eric Tomberlin then bubbled the final table, eliminated by Davis. Davis made a pair of nines of the flop with 10-9 to pull ahead of Tomberlin's A-8. The river brought a pair of eights for Tomberlin, but it was not enough, and he was the last to fall on Day Two, setting the lineup for today's final table:
Seat 1: Vladimir Shchemelev — 168,000
Seat 2: Chip Jett — 40,000
Seat 3: Dao Bac — 266,000
Seat 4: Imre Leibold — 250,000
Seat 5: Patrick Poels — 53,000
Seat 6: Raymond Davis — 235,000
Seat 7: Adam Geyer — 293,000
Seat 8: Michael Craig — 161,000
Join PokerNews.com's 'Live Reporting' of Event #51, $1,000 S.H.O.E. at 3pm PDT.