WSOP Updates, Event 54, $5,000 NL 2-7 Single Draw – Erik Seidel Wins Title; Schneider Seals POY Honors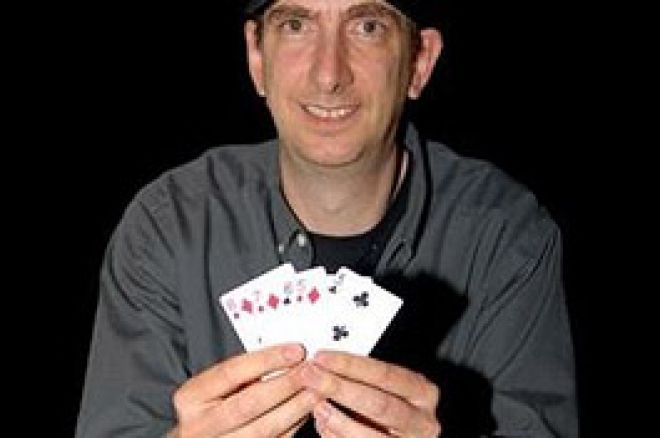 Erik Seidel grabbed his last opportunity for WSOP gold before the Main Event, outlasting a field of 78 top pros in the No Limit 2-7 Single Draw Lowball World Championship. There weren't many tougher fields in the entire series, with Todd Brunson, Barry Greenstein, Allen Cunningham, Freddy Deeb and Chip Reese among those returning for Day Two of the event.
In an interesting side story, the top two contenders for the 2007 WSOP Player of the Year title also returned for the second day of play. Jeffrey Lisandro only trailed Tom Schneider by 30 points to begin this event, and if Lisandro cashed and Schneider missed the money, the title was Lisandro's. Were Schneider to cash and Lisandro not, Schneider would lock up the POY title, since no POY points are awarded for the Main Event. Lisandro and Schneider were playing for the title, a trophy, and freerolls into the 2008 Main Event, the Main Event at the World Series of Poker Europe, and a WSOP Circuit event of their choice, plus travel money.
Here are the chip counts and seating assignments as play began:
(Table 12)
Seat 1: Farzad Bonyadi — 112,500
Seat 2: Chad Brown — 318,000
Seat 3: Tom Schneider — 59,000
Seat 4: Allen Cunningham — 176,000
Seat 5: Chris 'Jesus' Ferguson — 120,500
Seat 6: (vacant)
Seat 7: Parris 'Butch' Holmes — 163,000
(Table 18)
Seat 1: Andrew Black — 220,500
Seat 2: Erik Seidel — 250,500
Seat 3: Freddy Deeb — 199,000
Seat 4: Todd Brunson — 285,500
Seat 5: (vacant)
Seat 6: (vacant)
Seat 7: Chip Reese — 184,000
(Table 24)
Seat 1: Lamar Wilkinson — 176,500
Seat 2: Thor Hansen — 92,000
Seat 3: Barry Greenstein — 50,500
Seat 4: Shawn Sheikhan — 437,500
Seat 5: (vacant)
Seat 6: Jeff Lisandro — 214,500
Seat 7: Philippe Rouas — 29,500
With antes of 1,500 and blinds of 3,000/6,000, the short stacks had to make moves early, and Philippe Rouas tried, doubling through Jeff Lisandro on the first hand, and then busting out on the next when chip leader Shawn Sheikhan outdrew him to send him packing in 17th. Tom Schneider didn't last much longer, heading to the rail in 16th when Allen Cunningham busted him with a pat 8-7-6-5-3. With Schneider eliminated, Lisandro could lock up the Player of the Year honors by making the money.
With Farzad Bonyadi's elimination moments later, players redrew for two tables:
(Table 12)
Seat 1: Jeffrey Lisandro - 128,000
Seat 2: Chip Reese - 208,000
Seat 3: Chris 'Jesus' Ferguson - 88,000
Seat 4: Todd Brunson - 443,000
Seat 5: Freddy Deeb - 152,000
Seat 6: Parris 'Butch' Holmes - 137,000
Seat 7: Andrew Black - 56,000
(Table 18)
Seat 1: Chad Brown — 314,000
Seat 2: Shawn Sheikhan — 322,000
Seat 3: Barry Greenstein — 203,000
Seat 4: Allen Cunningham — 368,000
Seat 5: Erik Seidel — 263,000
Seat 6: Thor Hansen — 87,000
Seat 7: Lamar Wilkinson — 198,000
Lisandro's chase for the POY title ended when he busted in 14th place, giving Schneider the 2007 WSOP POY honors. Schneider, the author and podcast co-host, remains the only two-time bracelet winner of this year's WSOP.
For most of the afternoon, the knockout pace was slow, as players took their time and picked their spots well to double or triple up to avoid elimination. Thor Hansen fell to Chad Brown in 13th, then Chris Ferguson walked to the rail in 12th when he was busted by Parris Holmes' 8-7 low. But as 6pm arrived, a spate of bustouts condensed play to one table in short order.
Sheikhan busted Cunningham in 11th when Cunningham reraised all-in over Sheikhan's pre-draw raise. Sheikhan called and drew one as Cunningham stood pat. Sheikhan's 10-9-8-3-2 was good enough to eliminate Cunningham, who pushed with a J-low hoping Sheikhan would draw himself dead. Holmes fell next, after he got into a big hand with Todd Brunson. After Brunson put a huge dent in Holmes' stack, Holmes drew a pair of nines against Freddy Deeb's Q-low to bust in tenth.
Seconds after Deeb eliminated Holmes, Andy Black sent Chip Reese out in ninth. Pre-draw, Reese raised from under the gun, Black re-raised and Reese called. Both players stood pat, then Reese called Black's all-in. Black showed 8-7-6-3-2, and Reese mucked.
Players condensed to one table for the final eight, but only seven players would make the official final table and the payday in this event. The chip stacks and seating assignments looked like this, at the beginning of one-table play:
Seat 1: Erik Seidel — 270,000
Seat 2: Chad Brown — 405,000
Seat 3: Todd Brunson — 125,000
Seat 4: Andrew Black — 830,000
Seat 5: Barry Greenstein — 430,000
Seat 6: Freddy Deeb — 280,000
Seat 7: Lamar Wilkinson — 140,000
Seat 8: Shawn Sheikhan — 455,000
After an hour of bubble play, Barry Greenstein was eliminated in eighth place to set the final table. Greenstein's elimination came at the hands of Erik Seidel. Greenstein moved his short stack all-in under the gun, and Seidel re-raised to isolate. Greenstein drew two and made 9-8-7-6-3, but Seidel drew one and made a 9-perfect (9-5-4-3-2) to eliminate Greenstein.
It didn't take long for the first final table elimination to come, as Todd Brunson got all his chips in the middle in a three-way pot with Freddy Deeb and Lamar Wilkinson. Deeb and Brunson each drew one card as Wilkinson stood pat. Wilkinson's 9-8-5-4-3 was stronger than Deeb's pair of sevens, and Brunson's 10-low was second-best as he was eliminated in seventh for $51,669.
Deeb returned from the dinner break in the middle of the pack, but when Black doubled through him on one of the first hands back, it put the 2007 $50,000 H.O.R.S.E. champion on life support. Deeb went all-in pre-draw just three hands later, and Sheikhan and Erik Seidel came along for the ride. Sheikhan stood pat, Seidel drew two, and Deeb took one card. Sheikhan checked, Seidel led out for 145,000 (10,000 antes, 20,000/40,000 blinds at this point) and Sheikhan went all-in over the top. Seidel folded, and Sheikhan showed 8-7-6-4-2. Deeb mucked and was eliminated in sixth place ($73,813).
With Deeb's elimination, Black was the short stack, and he wasn't shy about shoving it in the middle, picking up and uncontested pot here and there before running into both Seidel and Brown in the same hand. All three men drew one card, and Seidel went all-in into the side pot. Brown flashed a jack and folded, and Seidel revealed 9-8-6-3-2. Black drew a four to go with the one he already held, giving him 8-7-4-4-3, a fifth-place exit and $118,101 in prize money.
Lamar Wilkinson was the extreme short stack after Black's elimination, and he managed to quadruple up once, then double up again before Sheikhan eliminated him in fourth ($162,389). Sheikhan's pat 9-low was enough for the win, and Wilkinson's third cash in 2-7 lowball was also his biggest cash by far at the WSOP. Wilkinson also cashed in lowball events in 2002 and 2003.
When three-handed play commenced, Sheikhan had a slight chip lead over Brown and Seidel, but the skyrocketing blinds and antes were the bigger factor. An hour passed before Sheikhan got all his chips in the middle for the last time, eliminated in third by Brown. Brown raised pre-flop and Sheikhan re-raised all-in. Brown called, and each player took one card. Sheikhan showed a 10-8-7-4-2, but Brown had a better 9-7-5-4-2. Sheikhan collected $206,676 for his third-place finish.
Seidel was at a chip disadvantage when heads-up play began, but held the edge on Brown in final-table experience. A former actor turned poker star, Brown had 17 WSOP cashes to his credit going into this event, as well as the honor of being Bluff Magazine's 2006 Player of the Year. Seidel started the day with 47 cashes and 7 bracelets, and was looking for his first bracelet of 2007. Here are the chip counts as heads-up play began:
Erik Seidel — 895,000
Chad Brown — 2,170,000
With antes of 20,000 and blinds of 40,000/80,000, Brown's chip lead was anything but safe to begin the final duel. Add to that the fact that in No Limit 2-7 Single Draw, players cannot limp into a pot, but must open for a raise, and the back-and-forth action was sure to continue.
Indeed, the players passed chips back and forth for ninety minutes before either could land a knockout punch. They circled, feinted and jabbed, but passed the double-ups back and forth several times before Seidel finally was able to overtake Brown for the lead a final time and get all the money in the middle with a slight edge.
Brown raised pre-draw on the final hand, and Seidel called. When Seidel drew two cards to Brown's one, Brown went all-in over the top of Seidel's opening bet. Seidel called and sprung his trap on Brown, showing 8-7-6-5-3 to bust Brown's 9-7-5-3-2 and pick up his eighth World Series of Poker bracelet. Brown was eliminated in second for $324,777, which was also his third runner-up finish at the WSOP.
Erik Seidel joined elite company with this victory, as only Phil Hellmuth, Johnny Chan, Doyle Brunson and Johnny Moss have ever won more bracelets. He added $538,835 to his lifetime tournament winnings, a Corum watch, and a piece of history for his win.
Final Standings and Payouts:
1. Erik Seidel — $538,835
2. Chad Brown — $324,777
3. Shawn Sheikhan — $206,676
4. Lamar Wilkinson — $162,389
5. Andy Black — $118,101
6. Freddy Deeb — $73,813
7. Todd Brunson — $51,669