Full Tilt Poker's FTOPS Event #12, Day One: Grndhg25 Leads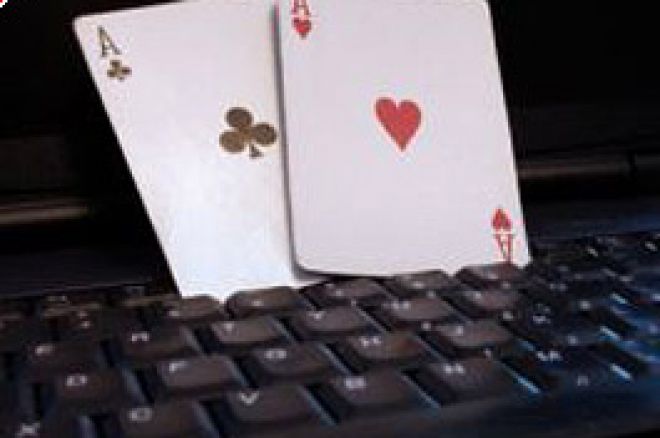 It was a rollicking first day at Full Tilt Poker's FTOPS Event # 12. Hosted by Phil Ivey, this event was historic on two counts — it marked the first time that Full Tilt has offered a two-day tournament, and it featured the largest tournament buy-in, $2,620, in Full Tilt history. When the first hand was dealt, 648 players (including roughly 30 'red' Full Tilt pros and dozens of other famous online names), had signed up to play, creating an immense $1,620,000 prize pool. 63 places will pay, starting at $4,050 and going up to an impressive $396,900 for the champion.
Stacks began at 5,000, with blinds of 10/20. Every 30 minutes, the blinds increased incrementally in a structure designed to favor skill over luck. Early on, David Chiu steamrolled his stack up to 14.6K, while Phil Ivey hovered not far below at 10.7K. By the second break, Chiu was the chip leader, sitting on 27,945 with Ivey again not far behind at 18,665. Famous names who exited early included Dario Minieri, 'Miami' John Cernuto, Thomas Wahlroos, Annette 'Annette_15' Obrestad, Ram Vaswani, Mark 'newhizzle' Newhouse, JC Alvarado, Sorel 'Imper1ium' Mizzi, JJ Liu and Jennifer Harman.
Andy Bloch struggled, floating around the 2K mark. At one point, Bloch fell down to just over 700 and was on the ropes, but then managed to pull off three double-ups — first by flopping two pair against an overpair, the second time by flopping a set of queens versus pocket cowboys, and the third time by flopping top two pair against bottom two pair. At the end of all this good fortune, Bloch's stack was back up to a healthy 6,592, though he exited later in the day's play.
David Chiu surrendered his chip lead of just over 28K when he lost two massive pots to suck-outs. In the first pot, Chiu's pocket aces were cracked when his opponent, holding Q-K on a flop of 9-Q-2, caught running kings to make a full house. In pot number two, Chiu flopped a queen-high straight, only to watch his opponent, holding top and bottom pair, fill up on the river. The double loss pummeled Chiu's stack down to 11,565.
In the meantime, Phil Ivey was playing an extremely tight game and went card dead, whittling his once-mighty chip stack down to 9,803. Other famous names started dropping like flies. Erick 'E-Dog' Lindgren exited the tournament when his pocket nines couldn't improve against a pair of bullets. A strangely quiet Mike Matusow pushed on the flop for his last 2,330, holding A-J on a board of 3-A-7, only to be called by a player holding A-3. When the turn brought yet another three, sealing Mike's fate, he typed a simple "gg" before leaving.
In spite of the mellow blind structure, many famous names saw their chip counts fluctuate wildly. Erica Schoenberg, Gavin Smith, Max Pescatori, Huckleberry Seed, and Bill Gazes all enjoyed time near the top of the pack, only to plummet down and soar back up again. The exception was Ivey. Favoring small pots, he chopped out little wins with uncontested bets, but also folded frequently to bets from others. After a time, the losses outnumbered the wins and Ivey had very little ammunition left.
David Chiu, who had built his stack back up to over 30K at one time, was also now on the short stack. The two players — who had both been massive chip leaders for so much of the early going — ironically both pushed in (at different tables) at almost the exact same moment. Both were in bad shape, Ivey holding 2-2 against 10-10, and Chiu holding Q-J versus 2-2 and A-K, but Ivey spiked a deuce on the river while Chiu rivered a queen, allowing both players to survive.
Once it got to Level 13, with blinds of 200/400, the tourney again began shedding famous names. Steve Brecher was the first to fall. He pushed preflop with Q-J suited and was called by K-10 offsuit. The K-10-8 flop gave his opponent two pair but also presented Brecher with an open-ended draw. But running kings on the turn and river slammed the door shut. Gavin Smith was out soon after, when his A-5 butted up against A-9. He was soon followed by the event host himself, Phil Ivey, after Ivey found himself holding the smaller of two flopped sets. Other players around for much of the day but departing late included Allen Cunningham, Paul Wasicka and Owen 'ocrowe' Crowe.
By the time Day One finally ended, 78 players remained — still 15 places off the bubble. Of all the 'red' Full Tilt names, always among the biggest railbird draws, only three remained. David Chiu is the highest of these, in 28th place with 45,558. The others are Eddy Scharf, in 64th place with 18,651 and Max Pescatori in 71st place with 14,484. Dag Martin 'dmmikkel' Mikkelson, twice the end-of-day leader in the 2007 WSOP Main Event, sits in fifth, with Yevgeniy 'bballer88' Timoshenko (also known as 'atimos' and 'Jovial Gent') in sixth. Dan 'bashpup' Schmiech ended the day in tenth.
Play resumes at 3pm ET on Sunday, and will continue until a champion has been crowned. Here are the top ten players' chip counts at the conclusion of Day One:
1st: Grndhg25 – 116,579
2nd: RyanBlaze – 95,286
3rd: LokoIsBack – 94,856
4th: Gettin Daize – 89,848
5th: dmmikkel – 85,240
6th: bballer88 – 82,519
7th: Batera – 81,464
8th: cymbaline – 80,817
9th: drmaniac – 77,545
10th: bashpup – 76,004