WCOOP – Event #14, $1,050 NLHE: James 'mig.com' Mackay Takes It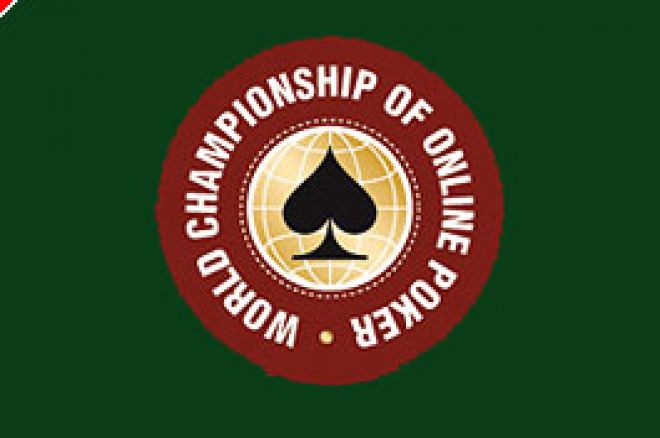 The second weekend of the PokerStars World Championship of Online Poker (WCOOP) came to a close with Event #14, $1,050 NL Hold Em. This event was the most expensive event thus far in the WCOOP schedule and boasted a $2,000,000 guaranteed prize pool. But with 3,325 entrants, that guarantee wasn't needed as the generated prize pool totaled $3,325,000!
Although attendance may have been slightly down for some of the other events this weekend, Event #14 saw an increase of 1,000 participants compared to last year's event. The top 486 players were paid with first place receiving an amazing $580,212.50.
It took only nine hours for 'slidermann' to burst on the bubble, and another six hours to reach the final 18 players. The final eight players were reached when 'ptitof' and 'UWillSuckOut' were both eliminated in the final hand-for-hand on different tables. UWillSuckOut moved all-in pre-flop after a raise by 'ephman.' ephman called the all-in and showed pocket aces versus UWillSuckOut's
. UWillSuckOut couldn't surpass the aces and was eliminated while ptitof was all-in at the second table with
against 'tralaira''s pocket deuces. The pocket pair held up at that table as well and the tourney was down to its final eight.
The final table was made up of James 'mig.com' Mackay, 'jochen8,' 'Kenny Rap,' 'chulwoo,' 'saphire1,' 'Trickybstrd,' ephman and tralaira. In a change of pace from the other final tables of this year's WCOOP events, this final table lasted only two hours. The first elimination came when chulwoo raised pre-flop and tralaira moved all in from the small blind. Tralaira showed
and was up against chulwoo's
. While both players flopped an ace, tralaira failed to improve over chulwoo's kicker and was eliminated in eighth place.
With the blinds at 65,000/130,000, jochen8 moved all in from the button for his remaining 1,635,200 after mig.com raised from late position. Kenny Rap called in the small blind and was all in while mig.com folded, leaving the two heads up. Kenny Rap showed
while jochen8 showed
. The flop came
, giving jochen8 top pair and Kenny Rap hoping to improve. But the
on the turn and the
on the river cemented Kenny Rap's fate for seventh place.
chulwoo and mig.com quickly became the big stacks at the table with over 12 million in chips while the nearest stack was ephman with ten million. With the players looking at nearly sixteen hours of play, mention of a deal was brought up but rejected by mig.com when he stated, "No deal as long as I'm at the table."
The next elimination came with the blinds at 80,000/160,000. mig.com raised to 420,000 from the button pre-flop and jochen8 pushed all in from the small blind for 2,949,070. chulwoo, from the big blind, called while mig.com got out of the way for a second time leaving the two heads up. Chulwoo showed
while jochen8 showed
. Jochen8 failed to improve with a board of
and was eliminated in sixth place.
ephman and saphire1 were the next two to go headsup pre-flop, when saphire1 raised from the button for 420,000 and ephman re-raised for seven million. saphire1 made the call for his remaining 6,634,480 and was all-in and showed
while ephman held
. The flop came
giving ephman the nut-flush draw. The turn brought the
and things looked better for saphire1. However, the river brought the
, giving ephman the nut flush and eliminating saphire1 in fifth place.
With just four players remaining, Trickybstrd was the only short stack, with ephman, mig.com, and chulwoo all holding nearly 15 million in chips. Just a few hands after saphire1's elimination, Trickybstrd raised pre-flop to 480,000 from late position. Ephman quickly raised to 800,000 from the button, while mig.com raised to 8 million from the small blind. Trickybstrd folded, while ephman pushed all in for his remaining 6,697,130. mig.com made the call and showed
while ephmon showed
. mig.com spiked a king on the flop and ephmon was eliminated in fourth, leaving mig.com with a commanding lead with over 30 million in chips.
30 hands later, Trickybstrd, with only 2,705,860 remaining, found his moment when he looked down to see
. chulwoo raised preflop from the button to 600,000 and trickybstrd called from the small blind. The flop came
and Trickybstrd, true to his name, checked. chulwoo led out for 800,000 and Trickybstrd check-raised for 1,285,500 more and was all in. chulwoo called and although Trickybstrd showed pocket rockets, chulwoo liked his pocket nines for a set even more. The
on the turn gave chulwoo a full house and left Trickybstrd still looking for an ace. The
on the river ended trickybstrd's run in third place.
mig.com continued to run the table against chulwoo, winning nearly every hand he played. The last hand of the table came when mig.com raised pre-flop to 600,000 and chulwoo re-raised to 1,800,000. mig.com called and saw a flop of
. Both players checked the flop and chulwoo checked again when the
fell on the turn. mig.com led out for 2,000,000 and chulwoo quickly moved all in for an additional 8,561,548. mig.com quickly called and showed
for the straight while chulwoo held
. chulwoo was left drawing dead and was eliminated in second place, making mig.com the winner of WCOOP Event #14.
Final Results:
1. mig.com - $580,212.50
2. chulwoo - $292,932.50
3. Trickybstrd - $210,472.50
4. ephman - $166,250
5. saphire1 - $130,340
6. jochen8 - $96,425
7. Kenny Rap - $69,825
8. tralaira - $43,890
9. UwillSuckOut - $25,935