WCOOP – Event #2, $215 Short-Handed 5-Card Draw: 'spielraum.at' Triumphs
Matt Wehner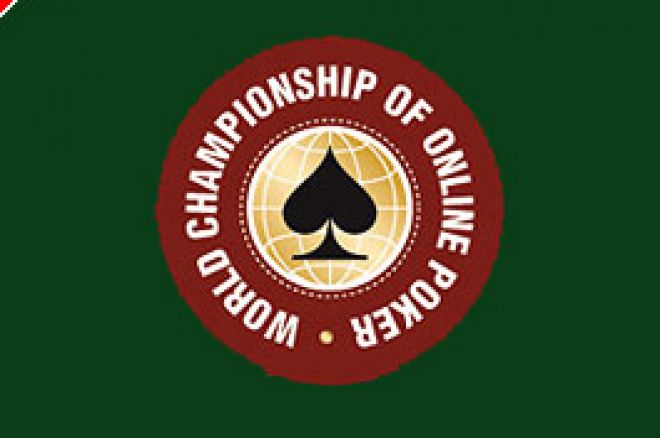 The second event of this year's PokerStars World Championship of Online Poker (WCOOP) was the $200+$15 Pot Limit 5-Card Draw tourney, which started off only an hour and a half later than Event #1 and with almost 4,000 less entrants. This year marks the debut of a 5-Card-draw event for the WCOOP and the turnout was spectacular with 857 players in attendance, breaking the $100,000 guarantee by $70,000!
Many notables participated, including some of the highest ranked online players in the world. Also on hand was Team PokerStars member Tom McEvoy, author and four-time WSOP bracelet winner. McEvoy showed he's no stranger to the game of 5-Card draw with his sixty-third place finish.
After only nine hours of play, the tournament had dwindled down to just 20 players remaining and it appeared that the tournament would not last much longer. 'boro83' improved his chip stack when he eliminated 'Busted777' in 17th place after Busted777's pair of aces failed to improve against boro83's pat flush. Both 'peseudos' and 'spielraum.at' eliminated players at their table and narrowed the field to eight. With just two more eliminations to go before condensing down to a final table of six, 'BadgerPro' admitted to the players at his table that he had never played 5-Card draw before. "I Google'd strategy twenty minutes before the tournament started," BadgerPro admitted after some of the players began to comment on his style of play.
peseudos quickly became the star of the event, as he had a dominating 3:1 chip lead with eight players remaining. But his hold on the tournament drifted while waiting for the bubble to burst. With just seven players remaining, and the blinds at 5,000/10,000, peseudos made it 30,000 to go pre-draw. 'jaygee1984' came over the top and raised it up to 100,000, and peseudos made the call. jaygee1984 drew two, while peseudos drew only one. Jaygee1984 moved all-in for a remaining 123,551 and peseudos made the call. Peseudos showed K-K-8-8-Q while jaygee1984 showed trip aces. Over the course of the next five hands, peseudos managed to lose 400,000 of his chip stack and fell to last place with only 136,000 in chips.
After many more hands of play, and a tedious 30-minute break, peseudos managed to climb back into second place while 'AUSSIE_JASE' found himself to be the final table bubble boy as he moved his last chips all-in pre-draw against spielraum.at. spielraum.at drew two, while AUSSIE_JASE drew three. spielraum.at showed 9-9-9-8-J while AUSSIE_JASE showed K-K-Q-3-5.
The final table consisted of jaygee1984, 'pairDboard21,' boro83, BadgerPro, peseudos, and spielraum.at. After just 16 hands at the final table, pairDboard21 found himself in trouble against the chip leaders jaygee1984 and peseudos. With the blinds at 6,000/12,000, spielraum.at made it 36,000 to go. pairDboard21 called, but peseudos raised it up to 96,000 from the big blind. While spielraum.at made the call, pairDboard21 pushed all-in for a total of 144,323. Peseudos made the call while spielraum.at folded and peseudos drew two while pairDboard21 drew only one. PairDboard21 showed J-J-J-A-8 while peseudos shwoed K-K-K-7-3, making pairDboard21 the sixth-place finisher.
After pairDboard21's elimination, boro83, in fourth place, brought up the idea of a deal. BadgerPro, with the least amount of chips at the table, suggested that it be an even split, or otherwise no deal. The other players at the table didn't agree with an even split, and thus play continued.
Just a few hands later, BadgerPro found himself in trouble after leading out from under the gun pre-draw, and being raised by peseudos. BadgerPro raised back, and peseudos raised him all-in. BadgerPro made the call and drew two, as did peseudos. BadgerPro showed 7-7-7-2-3 while peseudos eliminated someone for the second time with trips, showing J-J-J-A-6.
After twelve hours of play, the WCOOP Event #2 finally reached a conclusion with the final four players of the tournament striking a deal for a chip-count cut. With $8,750 and the WCOOP bracelet left to play for, the breakdown was as follows:
jaygee1984: $20,654
boro83: $17,609
peseudos: $26,912
spielraum.at: $17,695
boro83 was the first player eliminated in the race to the bracelet when his two pair, aces and jacks, ran into peseudos's four-to-eight straight. But peseudos's luck ran out when he lost a million-chip pot to spielraum.at. With the blinds at 10,000/20,000, peseudos made it 60,000 to go, while spielraum.at came over the top for a total of 140,000. Peseudos pushed back and made it 420,000. Spielraum.at reraised to 817,968, which put him all-in. Peseudos made the call and drew one card, while spielraum.at drew two. Peseudos showed aces up, while spielraum.at showed trip kings. Peseudos was left crippled after the hand, and was shortly eliminated in third place, leaving spielraum.at with 1.6 million in chips, a two-to-one chip lead against jaygee1984.
After over an hour of heads-up play, spielraum.at won a 640,000 pot against jaygee1984 when jaygee1984 made it 120,000 to go and spielraum.at made the call. Spielraum.at drew three, while jaygee1984 drew one. Jaygee1984 made it 200,000 to go and spielraum.at made the call. Jaygee1984 showed queen-high, with four diamonds and had obviously missed his flush draw while spielraum.at showed a pair of aces. Jaygee1984 was crippled after the hand and was eliminated in second place two hands later, giving spielraum.at the Event #2 title.
Final Results:
*1. spielraum.at: $26,265
*2. jaygee1984: $20,654
*3. peseudos: $26,912
*4. boro83: $17,609
5. BadgerPro: $5,827.60
6. pairDboard21: $3,685.10
* — reflects four-way chop for remaining prize money; $8,750 to eventual winner