PokerStars.net APPT Macau High Rollers: Assadourian Surges to Title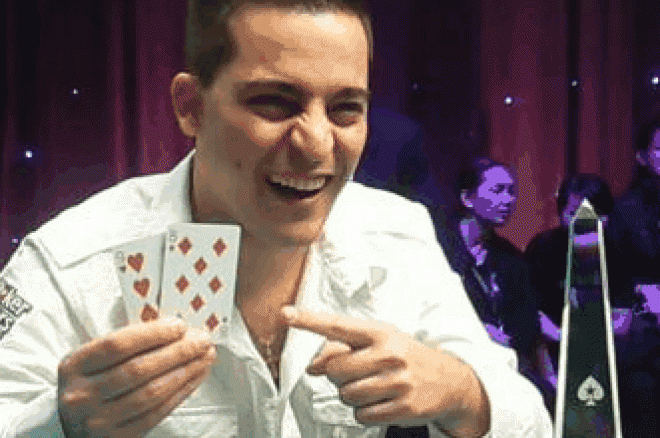 Liz Lieu made her second APPT Macau final table just about two days after her first, navigating the pro-filled waters of the PokerStars.net Asia Pacific Poker Tour High Rollers tournament on her way to the final table. Lieu was joined at the final table by John Juanda and chip leader Emad Tahtouh, but it was budding Australian superstar Eric Assadourian who came from behind at the final table to capture the first ever APPT Macau $15,000 High Rollers event.
Everyone started the day behind Tahtouh, who amassed a huge chip lead over the field on Day 1. As the final eight settled in for the fight to the finish, the chip stacks looked like this:
Seat 1: John Juanda - 74,000
Seat 2: Scott Numoto - 47,000
Seat 3: Emad Tahtouh - 343,500
Seat 4: Bo Sehlstedt - 127,000
Seat 5: Liz Lieu - 48,500
Seat 6: Eric Assadourian - 120,500
Seat 7: Tony Ng - 57,500
Seat 8: David Paul Steicke - 142,000
Lieu followed her seventh-place finish in the Macau Main Event with another stellar finish, laying claim to the eighth spot in this event. Tony Ng re-raised Lieu all in pre-flop, and Lieu made the call with A♠10♥. Ng was well in the lead with A♥Q♥, and the board of J♠2♣K♠10♦8♠ made a Broadway straight for Ng, and sent Lieu to the rail, for $27,648.
Scott Numoto got the rest of his short stack in the middle with A♠2♠, and found one caller in Tahtouh, who woke up in the small blind with 10♠10♣. Tahtouh re-raised to isolate, and Bo Sehlstedt mucked his big blind. The board of 7♣K♣3♠J♥K♠ provided no help for Numoto, and he was eliminated in seventh place for a $36,864 payday.
John Juanda picked a spot and a hand to make a run at the title, and shoved his last few chips from the big blind, re-raising Eric Assadourian's pre-flop raise. Assadourian shoved all in over the top of Juanda's bet, and David Paul Steicke got out of the way. Assadourian held A♦K♦, and was up against one of the few hands that he was truly behind – Juanda's K♣K♥. The flop and turn were uneventful, but the A♠ on the river gave Assadourian one of his three outs and sent Juanda to the rail in sixth place ($46,080).
Emad Tahtouh had built a massive chip lead at the end of Day 1, only to spend the final table watching it slide away. In his final hand, he raised preflop with K♥J♥, only to face a decision for all his chips when Bo Sehlstedt reraised him. Tahtouh made the call, and Sehlstedt tabled A♥K♠. Tahtouh was drawing thin on the Q♠7♦A♦ flop, and the turn and river brought no help as Tahtouh was eliminated in fifth place ($64,512).
Tony Ng was next to fall as he called all in after an Assadourian pre-flop raise. Ng's 6♦5♠ was live against Assadourian's A♦K♥, and the 9♠10♣5♥ flop gave him the lead. Assadourian caught a king on the turn to retake control of the hand, and the 3♥ on the river ended Ng's tournament in fourth place ($82,944).
Assadourian held a commanding chip lead going into three-handed play, and he wasted no time putting his big stack to work for him. With A♠J♦ on the button, Assadourian opened for a raise, David Paul Steicke re-raised, and Assadourian quickly moved all in. Steicke called and showed A♥9♥, and was drawing nearly dead on the 4♦J♣7♦ flop. The 8♥ on the turn provided no help, and the superfluous J♥ on the river sealed his fate. Steicke collected $110,592 for his third-place finish.
Assadourian's chip lead as heads-up play began was massive, with 772,000 in chips to Bo Sehlstedt's 181,000, but Sehlstedt made a game of it, doubling through Assadourian several times after losing an initial big pot. After 30-plus hands of heads-up play, Assadourian called Sehldstedt's pre-flop all-in with 9♥8♦, saying "I'm gonna gamble," as he made the call. Sehlstedt held A♣6♦, and Assadourian's gamble proved to be a good one as soon as the flop came down 5♥Q♣9♣. The turn 10♠ and river J♣ brought no help to Sehlstedt, and he was eliminated in second place ($184,320) as Eric Assadourian claimed the PokerStars.net APPT Macau High Rollers Tournament crown, worth $368,640.