PokerStars.net APPT Macau, Day 3: Dinh Le Grabs Title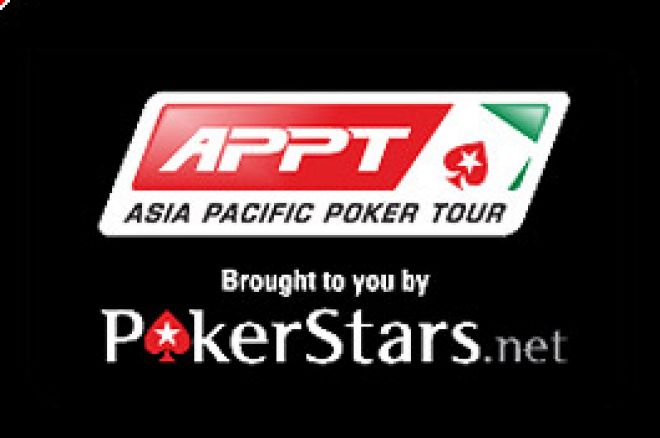 With a final table featuring a former World Champion, one of the most recognizable female poker players in the world, and a pair of former roommates who moved to Korea to become professional video gamers, the conclusion of the PokerStars.net Asia Pacific Poker Tour Macau championship event was certainly star-studded, or in the case of Bertrand 'ElkY' Grospellier and Guilluame Patry, StarCraft-studded.
But it wasn't all fun and games for the nine players seated around the final table. In a 8-1/2 hour final table, the play was steady and deliberate, with the players vying for victory in the first-ever major international poker event in China. The chip stacks looked like this as the players settled into the final table:
Dinh Le – 710,000
Guillaume Patry – 575,000
Ivan Tan – 549,000
Bertrand 'ElkY' Grospellier – 455,000
Sangkyoun Kim – 422,000
William Tan – 293,000
Liz Lieu – 232,000
Simon Randall – 159,000
Joe Hachem – 130,000
While 2005 WSOP Champ Joe Hachem started the day on the short stack, it was Simon Randall who was first to the rail. Randall moved all in over the top of Sangkyoun Kim's opening raise, and Kim called with K♣10♥. Randall was ahead with A♠Q♦, but the flop of 7♠K♥8♥ put him drawing to three outs. The K♦ on the turn sealed Randall's fate, and he picked up $16,192 for his ninth-place finish.
With Randall out, Joe Hachem was the short stack, and he re-raised Sangkyoun Kim pre-flop with pocket aces. Kim re-raised Hachem all in with A♥Q♠, and Hachem quickly called. The flop of J♥5♠K♣ gave Kim an inside straight draw, and the turn brought one of his four outs, the 10♦. The 4♥ on the river couldn't save Hachem, and he was eliminated in eighth place ($24,288).
Liz Lieu found herself the short stack soon after Hachem's elimination, and she moved all in pre-flop with A♥6♦, Guillaume Patry made the call with the 'hammer' – 7♥2♠ – and rivered trips on the board of 8♠3♣7♣J♠7♦ to send Lieu to the rail in seventh place ($32,384).
At the dinner break there were six players remaining, with chips as follows:
Seat 3: William Tam – 148,000
Seat 4: Bertrand "ElkY" Grospellier – 244,000
Seat 6: Dinh Le, – 1,111,000
Seat 7: Guillaume Patry – 343,000
Seat 8: Sangkyoun Kim – 734,000
Seat 9: Ivan Tan – 945,000
William Tam didn't let his dessert settle before getting all his chips in the middle against Sangkyoun Kim on the first hand following the break. The board ran out 5♥5♣9♦9♥3♣, and Kim tabled an ace kicker to go with the two pair on the board. Tam mucked and collected $40,480 for his sixth-place finish.
A nighttime flurry of activity surrounded Grospellier and Patry as the two former roommates and professional gaming superstars went to the rail in back-to-back hands. In the first, Grospellier shoved all in from under the gun with A♥2♠ and Dinh Le called with J♥9♦. The flop hit both players with the 2♥9♠10♣, but Le was well in the lead with a pair of nines. No help came on the turn or river for Grospellier, and he was eliminated in fifth place ($48,576). On the very next hand, Patry shoved all in from the button with 9♠2♥ and ran into Kim's Q♠Q♥ in the small blind. Kim's queens held up to bust Patry in fourth place ($56,672).
After losing most of his chips to Le in a major hand, Kim then got the last of his chips in the middle in a three-way pot holding K♣6♣, and was behind both Tan and Le, who held A♠2♥ and A♦4♣ respectively. The board read 10♠Q♣3♣A♥K♦ at the end, and Tan and Le split the pot as Kim was eliminated in third place for $72,864. That left Le (1,825,000) a slight chip leader over Tan (1,700,000) as heads-up play began.
Less than ten hands into heads-up play, the first ever PokerStars.net APPT Macau champion was crowned, as Le held on to eliminate Tan in a classic coin flip for the title. Le raised pre-flop, finding a re-raise from Tan. Le pushed all in and Tan called quickly with A♠10♣. Le tabled 8♦8♠, and they were off to the races. The flop of 6♠5♠Q♦ helped neither player, and when the turn and river came down 2♥J♦, Tan was eliminated in second place ($129,536) and Dinh Le was crowned the APPT Macau champion. Le picked up $222,640 for the history-making win.