Poker-Themed '2008 World Series of Golf' Announced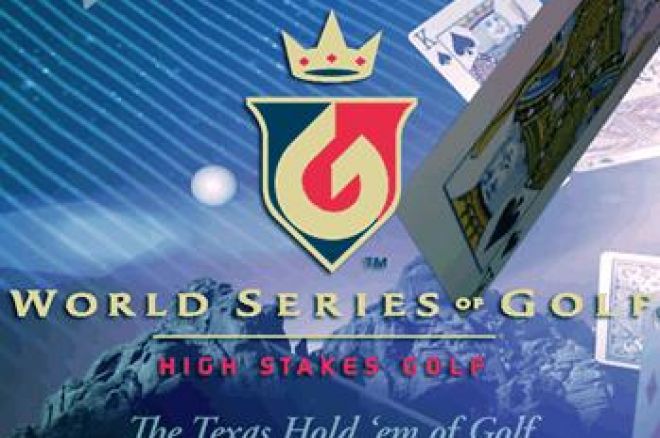 A poker-themed twist on a traditional gambler's game returns in May when Las Vegas's Mirage Casino co-sponsors the 2008 World Series of Golf®, to be held at the Pete Dye-designed Las Vegas Paiute Golf Resort. The 2008 edition hopes to build on the success of the inaugural 2007 tourney, which included poker pros Phil Ivey, Phil Gordon and Rhett Butler in a amateur competition with scoring rules derived as much from poker as from golf itself. None of the poker players captured the 2007 title, however, which went instead to amatuer Mark Ewing. Ewing pocketed $250,000 for his win, the same prize up for grabs for first place this year. This year's event is scheduled for May 12-15.
The World Series of Golf — no relation to the old NEC World Series of Golf events on the pro golfer tour — is a $10,000 buy-in event designed for middle-handicap golfers. Billed as the "The Texas Hold'em of Golf", the format is designed to combine the skill of golf itself with the "finesse" of betting. Players ante on each tee, and after each shot, the players make "pass", "bet" or "fold" betting actions. When a player exhausts his tournament money, he is out of the hole, and, eventually, out of the tournament. The objective is to win all the tournament money from the other players in one's group, and thereby move on to later rounds and win the championship.
Also among the players signed up to play in this year's version is reigning WSOP player of the year Tom "Donkey Bomber" Schneider. Schneider's self-penned player profile lists the best part of his game as "Accuracy off the tee," and the worst part of his game as "Sobriety." The veteran Arizona cash-game player describes his strategy for winning this tournament as follows: "Keep people in the hole with conservative betting, and give people a chance to hang around and exploit my advantages." Schneider's favorite pro golfer? It's Colin "Monty" Montgomery.