2008 NBC National Heads-Up Poker Championship: Round Two Highlights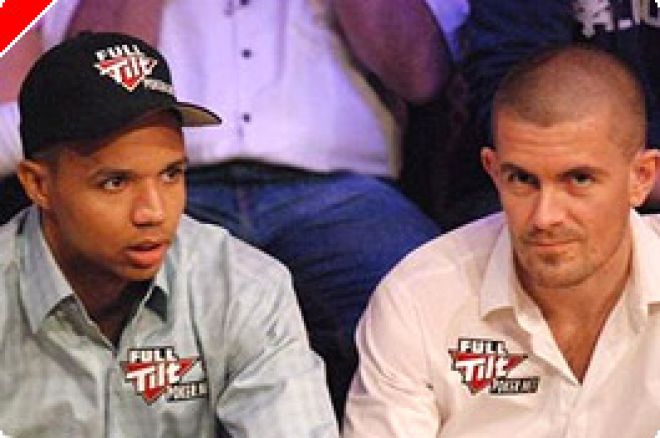 When Orel Hershiser started this year's NBC National Heads-Up Poker Championship, he brought a baseball. His plan was to get anyone he defeated to sign it. When he was defeated, he would sign it and present it to whoever took him out. It now appears that Orel Hershiser intends to hang onto that baseball forever. Hershiser's advancement to the sweet sixteen is just one of Round Two's surprises. All the players that advanced today are guaranteed $25,000.
Hearts and Diamonds Brackets
David Benyamine was the first player to make the money today when he defeated Barry Greenstein. After a series of pre-flop raises, all the chips went in the pot with Benyamine's pocket tens vying against Greenstein's suited A-J. The board brought no help to Greenstein, who presented Benyamine with his signature bust-out gift, his book Ace on the River. With his defeat of Brian "sbrugby" Townsend, 1996 WSOP champion Huck Seed keeps his NBC Heads Up streak alive; he has cashed in all four annual events. Townsend met his demise when he called Seed's check-raised all-in on a flop of T-7-5. Seed's Q-T was in good shape against Townsend's 6-5 and stayed that way as the board completed with 7-2.
Andy Bloch has been beating up on the women. Yesterday Bloch, a last-minute addition for the absent comedian Brad Garrett, eliminated actress Shannon Elizabeth. Today Vanessa Rousso ultimately fell to Bloch when she re-raised all-in on a board of
holding
for top pair and the nut flush draw. Bloch called with K-5 for two pair. A blank on the river moved Bloch into the sweet sixteen. Scott Fischman tied Huck Seed's record of four cashes in the NBC Heads Up when he defeated 2006 WSOP Champion Jamie Gold. All the money went in pre-flop with Fischman's A-4 vs. Gold's K-J. The board missed them both and Fischman prevailed with ace high.
Former Major League pitcher Hershiser took an early lead against Allen Cunningham, but Cunningham battled back in two consecutive hands to take the lead. Hershiser is no stranger to performing under pressure and it wasn't long before he regained the advantage. The boys got it all in pre-flop, Hershiser holding an A-T to Cunningham's K-6. The board brought a ten for Hershiser and no help to Cunningham, who graciously added his signature to the baseball. Clonie Gowen was less lucky with her A-T all-in against Michael "The Grinder" Mizrachi. Mizrachi's Q-J found a jack on the turn to send the last woman to the rail and himself into the sweet sixteen.
Two-time WSOP champion Doyle Brunson and Erick Lindgren were all in pre-flop on a race with Brunson's pocket nines competing against Q-J. When the turn came, the board read 8-7-6-5 to give Brunson the straight and leaving Lindgren drawing dead. Freddy Deeb and Sam Grizzle battled it out the longest but finally terminated when Grizzle's pocket kings couldn't hold up against Deeb's A-Q once an ace flopped. While Deeb moves on to the sweet sixteen, he is now on deck for Orel Hershiser in the next round.
Clubs and Spades Brackets:
A lot of people speculated that Phil Ivey wouldn't be up for the NBC Heads Up championship after just winning the grueling LA Poker Classic. Instead, Ivey appears to be re-energized and demonstrated it by making quick work of two-time WSOP champion Johnny Chan. Chan and Ivey were all in on a J-9-3 flop; Ivey had the upper hand with K-J to Chan's Q-9. The turn and river came 5-T and for the first time since the event's inception, Ivey advanced to the money. In Round One, Gavin Smith was 6-for-6 winning hands where he was the underdog. The seventh time proved his undoing when his K-8 couldn't catch up to Chris Ferguson's pocket fours.
We lost our last player with acting creds when Jonathan "FieryJustice" Little called Gabe Kaplan's all-in pre-flop bet; Little held A-8 to Kaplan's J-4. The board delivered Q-3-4-8-K, giving Little the higher pair, and sending Kaplan off. "I can't lay down two eights this time, baby," said Scotty Nguyen to his second-round opponent, Gus Hansen, before calling Gus' pre-flop all in bet. Hansen tabled K-9 and the race was on. At the turn, the board read
to give the spade-less Hansen a higher pair and Nguyen, who held the
, an embarrassment of outs. No outs came for Nguyen and Hansen advanced to the next round.
In Round One, Tom "durrrr" Dwan eliminated Phil Hellmuth on a decidedly bad beat when his pocket tens ultimately cracked Hellmuth's pocket aces. Matusow, who was required to change into more politically correct attire prior to the match, may have had the extra motivation of avenging his friend's bad beat when he faced off against Dwan. Whatever his motivation, Matusow successfully put away Dwan when his A-5 held up against Dwan's K-T. 2007 WSOP champion Jerry Yang, holding K-8, re-raised Phil Laak all in pre-flop. Laak called with pocket nines and spiked a set on the flop to ensure his sweet sixteen appearance.
JC Tran prevailed over TJ Cloutier when his pocket fours held up against Cloutier's A-4. The last match of the day saw 2004 WSOP champion Greg Raymer prevail against Scott Clements. Short-stacked, Clements pushed in with an A-6, only to run into Raymer's A-J. The board brought an ace, but no salvation for Clements.
Sweet Sixteen Match-Ups
Andy Bloch vs. Scott Fischman
Orel Hershiser vs. Freddy Deeb
Huck Seed vs. Michael Mizrachi
David Benyamine vs. Doyle Brunson
Jonathan Little vs Greg Raymer
Mike Matusow vs. Chris Ferguson
Gus Hansen vs. Phil Laak
Phil Ivey vs. JC Tran