Women's Poker Spotlight: Shannon Elizabeth, Dancing On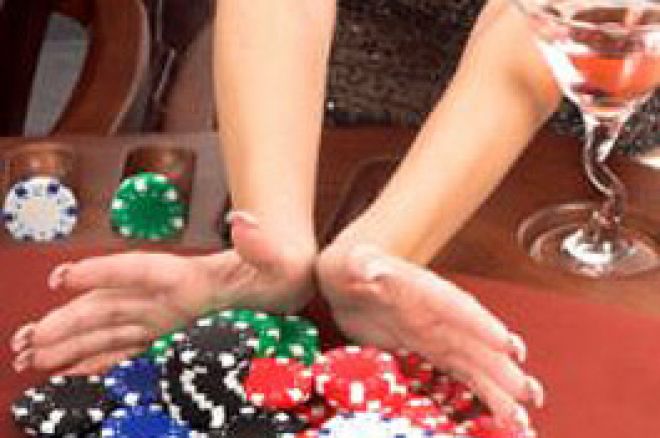 Just the mention of her name makes the young men drool. We've seen her on the silver screen and at the poker tables, and now Shannon Elizabeth has taken yet another chance in a career that's been speckled with risk.
Shannon's most recent challenge is as a contestant on the very popular ABC hit, "Dancing with the Stars." Every week Shannon will work her feet into blisters to show the world that competitiveness runs through her veins and that she's more than just a pretty face. She's already survived the first eliminations of the show and has emerged as one of the favorites. We will watch with great anticipation in hopes that one of our own from the world of poker might actually have a chance to bring home the coveted "Mirrored Ball Trophy" that all the celebrities dream of.
Besides being a successful movie actress, Shannon has proven her ability to learn quickly and become a force at the poker table. She is a great model and mentor for ladies entering the world of poker. In a relatively short amount of time, Shannon has won over $137,000 in earnings and is currently ranked 81st on the women's all-time money list. Shannon's most impressive poker showing was, of course, her third-place showing in the 2007 NBC National Heads Up Poker Championship, where she pocketed $125,000 for her semifinalist showing.
Shannon also has a love for animals which she supports through Animal Avengers, a group she created to help save animals and place them in protective environments and homes. In the past, Shannon has used the now-familiar charity poker tournament concept to help raise money for this organization. Check soon for an announcement as to the upcoming dates for Shannon's next charitable event.
I had the pleasure of playing recently with Shannon in a women's tournament at the Bike. During the chit-chat at the table, Shannon shared her concern for the growing market of women's poker. Shannon said, "I love coming to these events! It's so much fun to sit down and play with women and not feel the constant stares of the guys and the pressure that comes with being the only girl at the table!" She soon found out the women can be just as fierce at the poker table as any of the men!
To show your support of Shannon while she battles to bring home the trophy, you can go each week to abc.com to cast your vote to keep Shannon dancing for another week. Keep going Shannon! We in the world of poker are behind you!