2008 WSOP Event #10 $2,500 Omaha/Stud Hi-Low – Rouhani Goes Wire-to-Wire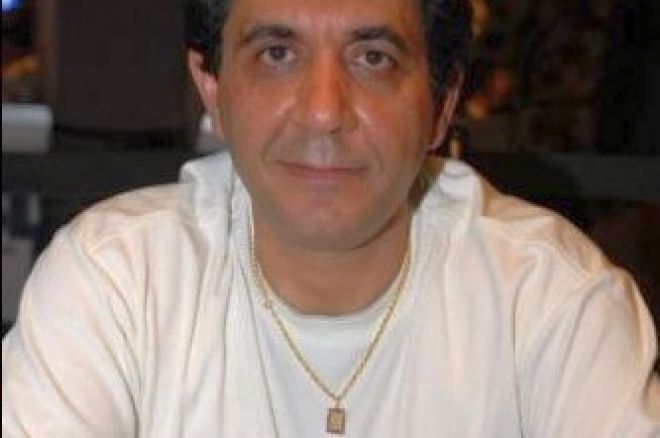 Farzad Rouhani started the final table of the $2,500 Omaha/Stud Hi-Low championship as the dominant chip leader, and finished the day in short order, taking barely four hours of final-table play to claim his first World Series of Poker bracelet. Rouhani bested yet another pro-heavy final table in the 2008 WSOP, as he had to go through Michael "The Grinder" Mizrachi and "Miami" John Cernuto to get to his $232,911 first place prize.
The seating assignments and chip stacks looked like this as the final table kicked off:
Seat 1: Yueqi Zhu (Rowland Heights, California) 87,000
Seat 2: Tom Chambers (Chicago, Illinois) 235,000
Seat 3: Greg Pappas (Las Vegas, Nevada) 304,000
Seat 4: Michael Mizrachi (Las Vegas, Nevada) 231,000
Seat 5: Daniel Mowczan (Sterling Heights, Michigan) 122,000
Seat 6: John Racener (Tampa, Florida) 180,000
Seat 7: John Cernuto (Las Vegas, Nevada) 285,000
Seat 8: Farzad Rouhani (Germantown, Maryland) 513,000
The final table started off slowly, but the escalating blinds forced action, and after some back-and-forth chip movement, Michael Mizrachi got the last of his chips in for the last time in stud hi/lo with [
]
[
]. He was called by Yueqi Zhu, with [
]
[
]. No low card on seventh came to save Mizrachi, and Zhu's pair of sixes was good for a scoop. Mizrachi picked up $24,095 for his eighth-place finish.
Daniel Mowczan got all his chips in on the flop of
in Omaha hi/lo and John Racener and Tom Chambers both went along for the ride. Once Mowczan was all in on the flop, Chambers and Racener checked the
turn. Racener bet out when the river brought the
, and Chambers folded. Racener tabled
for Broadway, and Mowczan's
was no good as he was eliminated in seventh place ($28,557).
Racener was next to fall when he got it all in with Farzad Rouhani in stud hi/lo. When the dust settled, Rouhani tabled [
]
[x] for the nut flush, and Racener tabled [
]
[
] for two pair. Racener earned $37,481 for sixth place.
Greg Pappas then fell in fifth place ($48,190) to Chambers in Omaha hi/lo when Chambers tabled
for the flush on a board of
. Omaha hi/lo claimed another victim in the form of Yueqi Zhu, who busted in fourth place ($63,807). It was chip leader Farzad Rouhani who took out Zhu, who was all in preflop with
to Rouhani's
. The board blanked all around, and Rouhani's aces held up to send Zhu to the rail.
"Miami" John Cernuto was the last name pro standing, but not for long as he busted in third place for $86,117. Cernuto and Tom Chambers called a preflop raise from Farzad Rouhani to see a flop of
, and Cernuto led out. Rouhani raised, Chambers folded, and Cernuto called. The turn brought the
, and the last of Cernuto's chips went in. Cernuto was ahead with
for two pair, but the
river made Broadway for Rouhani's
.
Rouhani took a commanding chip lead into heads-up play, but Chambers made quite a match of it before finally busting out in second place, good for $142,784. In Omaha hi/lo, there was a raise and a call preflop, and the flop came down
. Chambers led out, Rouhani raised, and Chambers re-raised. The players got all the chips in, and Chambers tabled
for the nut low draw, and Rouhani revealed
for trips. The
turn hurt Chambers' low draw, and the
river gave Rouhani quads for the scoop, $232,911, and his first WSOP bracelet.