Event #11, $5,000 No-Limit Hold'em Shootout, Day 2: Final Six Set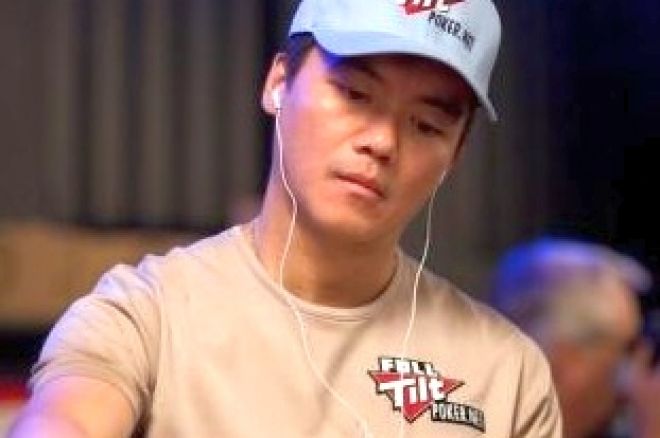 And then there were six. Sirous Jamshidi, Greg "FBT" Mueller, Thomas Roupe, Phil Tom, Tim West and Leo Wolpert each emerged victorious from their respective tables during Round 2 of the $5,000 No-Limit Hold'em Shootout and will compete on Sunday for the top prize of $477,990. The day started with the 36 winners of Friday's first round spread out among six winner-take-all tables, starting with the 100,000 in chips they had amassed the day before. Among players who had made it to Round 2 were such notable pros as Tony G, Joe Sebok, Jacobo Fernandez, Erik Seidel, Burt Boutin, Alex Jacob, Maciek Gracz, Adam Levy, Eric Froehlich, Eugene Katchalov, John Murphy, and John Juanda. In the end, it was some not-quite-as-well-known (if every bit as solid) players who carried the day.
Both the first elimination of the day, and the first winner of the day, came courtesy of Table #2. Pier Ruscalla was the unlucky first player out, when in back-to-back hands he was bested by Mats Gavatin who won each thanks to the proverbial ace in the hole. But it was Leo Wolpert who would end up taking Table #2, less than an hour and a half after play began. He bested Michael Gracz in heads-up play after both players limped in to see an
flop. Wolpert bet the flop and the
turn and Gracz called both. After the river showed an
, Wolpert bet 43,000 and Gracz reraised all in for 192,000 total. Wolpert snap-called, showing
for the winning full house.
Canadian Greg Mueller began heads-up play against Adam Levy with a 9-to-1 chip advantage, yet Levy wouldn't go down without a fight, battling back to almost even with Mueller before getting knocked back down again. Eventually, Levy ran out of comebacks, but not before taking one last gasp. Down to his last 15,000 or so, he pushed with
against Mueller's
. The flop came
, giving Mueller top pair, and Levy bottom pair. The turn was the
and Levy needed a minor miracle, or he was done. The unlikely
indeed fell on the river and Levy survived. But his stay of execution was short-lived; on the very next hand, he was booted when he couldn't fill his double belly buster draw and was beaten by the A-high of Mueller. Three hours in, we had our second finals seat filled.
The third spot in the finals went to Phil Tom after a long heads-up contest against Richard Kirsch. Tom had the chip lead going into heads-up play and was briefly surpassed before doubling back up to even when his pocket eights held up over Kirsch's A-10. A few hands after that, with a commanding chip stack, Tom saw an opening to make his move. The two had limped to see a flop of
. Tom checked, Kirsch bet 20,000, Tom min-reraised to 40,000, and Kirsch pushed the rest of his chips in the middle, about 65,000 total. Tom, with over 500,000 chips, only had to commit a small amount to make the call. But he didn't act right away. Far from it. A full seven minutes later, he finally spoke up. "Well, what are you going to do?" he asked Kirsch. "The action is on you," came the reply. "Oh!" said Tom, "I call." Kirsch had
to Tom's
. The board ran out
and Tom took the pot.
Going into heads-up play, Sirous Jamshidi was down 260,000 to Elton Beebe's 340,000. Beebe seemed to be getting the best of things, until Jamshidi got a little gift – a timely double-up when his pocket sixes cracked Beebe's pocket rockets. This gave Jamshidi the chip lead, 335,000 to Beebe's 265,000. Still, Beebe fought back and had retaken the chip lead by the time the two limped in to see a
flop. Beebe bet 22,000, Jamshidi raised to 62,000, Beebe re-raised all in, and Jamshidi called with his last 180,000. They had both flopped two pair, but Jamshidi was ahead
over Beebe's
. The turn and the river were blanks and Jamshidi had a commanding chip lead. The final blow came the next hand in a decisive way — Jamshidi hit quad sevens for the win.
Tom Roupe went into his heads-up match against John Murphy with a huge chip lead, almost a 3-to-1 advantage, having just dispatched Eugene Katchalov. Roupe raised to 19,000 from the small blind/button, and John Murphy called. The flop came
. With
, Roupe called Murphy's all-in raise. When Murphy flipped over his
, Roupe saw that his pair of queens were best, but Murphy had outs with both the nut flush draw and the over card. The turn was the
and Murphy was down to an ace or a club, or he was done. The river was the
; Murphy was done and Tom Roupe advanced.
It took three hours of heads-up play between John Juanda and Tim West before we had our sixth and final winner of the day. Juanda had built a 321,000 to 279,000 chip advantage over Tim West. Then, in two hands, it all went south for Juanda. In the first hand, Juanda raised to 25,000 from the small blind/button, West reraised all in, and Juanda made the call. Juanda showed
and West tabled
. The flop looked like it was special ordered by West –
. He didn't need it, but an ace on the river gave him a boat – and left Juanda with just 21,000. On the next hand, West, who had previously seen his stack drop as low as 50,000 during their heads-up match, raised in the dark in the small blind enough to put Juanda all in. Juanda made the call. Juanda was ahead, K-7 to Q-7, but the board ran out A-Q-9-3-8 and the long battle was over. West's pair of queens gave him the last of Juanda's chips.
Join us tomorrow for the final round of this "Shootout at the Rio Corral." Play starts at 2:00 pm PDT and live coverage will be brought to you right here at PokerNews.com.