2008 WSOP Event #13, $2,500 No-Limit Hold'em Day 1: Elezra, Theo Tran Lead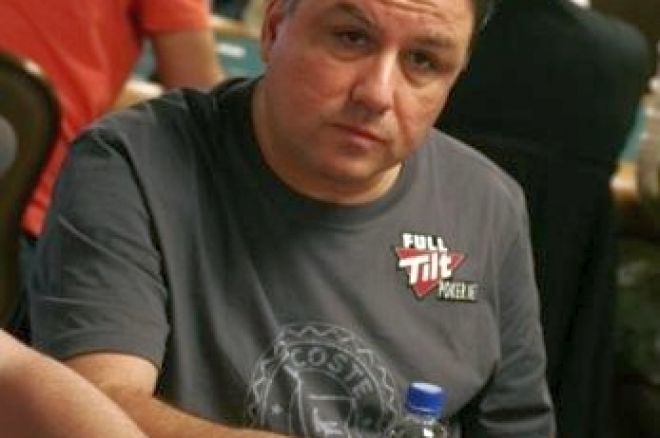 The $2,500 No-Limit Hold'em event drew 1,390 players, crushing last year's number of 1,013, and after the first day of play, it was winnowed down to a mere 137 remaining players. 38 of those will still finish out of the money after Day 2 action resumes, and the eventual winner will collect the rather strange amount of $666,777, fitting for the winner of Event #13. Going into Day 2, pros Eli Elezra and Theo Tran are atop the leader board.
As expected, this event drew a veritable who's who of the poker world — past WSOP Main Event winners Jerry Yang, Jamie Gold, Chris "Jesus" Ferguson, Carlos Mortensen, Phil Hellmuth and Robert Varkonyi were there, as well as Mike "The Mouth" Matusow, Beth and Dan Shak, Humberto Brenes, Bill Gazes, Freddy Deeb, Montel Williams, Vanessa Selbst, Dmitri Nobles, Victor Ramdin, Hevad "Rain" Khan, Clonie Gowen, and Jimmy "gobboboy" Fricke.
One table, already boasting T.J.Cloutier and Jeff Madsen, saw Dutch Boyd pull up a chair. Not surprisingly, that illustrious table was the site of two early eliminations, courtesy of T.J. Cloutier and some big second- and third-best hands. Cloutier, a player in the cutoff, and the big blind all limped to see the flop. They checked the
flop, but there was no more checking after the
fell on the turn. The big blind led out for 600 and Cloutier raised to 3,500. The player in the cutoff moved all in and both the big blind and Cloutier instantly called. The cut-off player showed A-K for top pair/top kicker, while the big blind turned over A-4 for a flopped full house. Cloutier smiled and showed pocket sevens, for a better full house. The river brought the case seven, giving Cloutier quads and sending two to the rail.
Jamie Gold went out to an early chip lead and Michael Craig saw his stack rise with an early double-up, while others found their chips moving in the opposite direction. Some early exits included Kevin Saul, Andy Black, Roland de Wolfe, Nobles, Men "The Master" Nguyen, Jennifer Tilly, and Gavin Smith. Gold joined them on the rail after the dinner break when his
ran up against his opponent's
and there was no help for him on the board.
There was an early test of the new rules on outbursts at the tables. On a three-way all-in, the board read
and the three turned over their hands. The first player turned over 5-3 for a flopped two pair turned boat, another player showed 2-4 for a flopped open-ended straight draw turned wheel, and the last player showed pocket aces for a full house, aces full. The player with the 5-3 was quite upset over having the under-full and let out a few expletives toward his opponent that cost him an early timeout. Things seemed a little heated, but died down after the floor tournament staff showed up to restore order.
Elsewhere, Phil Hellmuth was a bit heated as well when he lost a large pot after his opponent hit runner-runner to make a flush. "He beat my overpair... guys are such idiots these days... it's unbelievable." But later, Hellmuth made a gracious exit, shaking everyone's hand at the table, after his pocket kings were crushed by Thomas Christianson's aces.
Before the dinner break, Chris Ferguson had a run of good hands that helped him build up a nice chip stack, including one hand in which he had pocket aces against two all-ins, one holding kings and the other with queens. Ferguson flopped the ace for good measure and was up near the chip lead. Later, at another table, three other players went to a flop with two all-ins – and the three were holding pocket aces, kings and queens. Aces held up the second time as well.
Theo Tran, seemingly determined to final-table every no-limit event at this year's World Series, took a small hit late in the day when his A-6 was dominated by A-K, but bounced back even stronger in the next hand against Jared Hamby. Tran had called a 2,600 raise preflop from Hamby, as did a player in the big blind. The flop came
and Hamby led out for 3,800. Theo made the call and the big blind folded. The turn came the
and Hamby moved all in for his remaining 30,900. Theo made the call and showed pocket sixes for a flopped set, while Hamby turned over 10-7 for an open-ended straight draw. The
just missed Hamby and he was eliminated.
Eli Elezra, near the top of the leaderboard for most of the day, padded his stack just before play ended for the day to move into the chip lead. He had raised under the gun, then called an EP player's reraise. The flop came
and Elezra moved all in. His opponent went into the tank for a long, long time before making the call and could not have been happy to see his pocket jacks behind Elezra's A-Q and the turn and flop come up blanks.
When play ended for the day, there were many well known players still in the hunt for the gold bracelet including Vanessa Selbst, currently in 11th place in chips, Craig Gray, Kenna James, Chau Giang, Liz Lieu, Chris Ferguson and John Phan.
The top ten chip counts looked like this to end Day 1:
Eli Elezra 147,500
Theo Tran 134,900
Greg Sellgren 130,000
Dean Bui 127,600
Napoleon Ta 127,200
Asger Boye 119,000
Marty Wong 113,700
Pedro 'Pete' Rios 113,500
Mathias Kuerschner 107,400
Jake Solis 106,800
Make sure to visit our 'Live Reporting' section at 2pm PDT Sunday for our continuing coverage of Event #13, as we follow the action until the final table of nine is reached.