2008 WSOP Event #17, $1,500 No-Limit Hold'em Shootout Day 1: Final Ten Set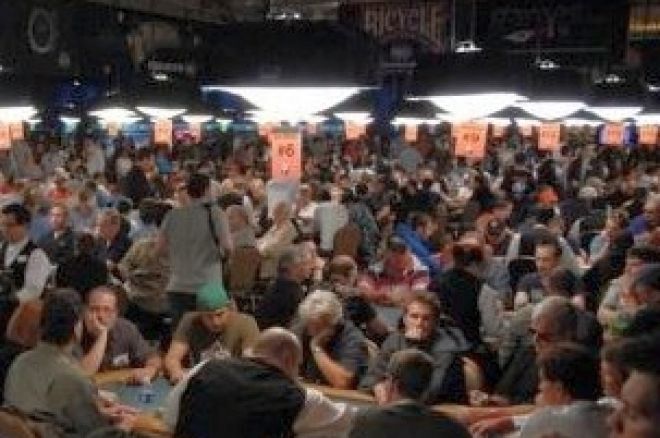 Event #17, $1,500 No-Limit Hold'em Shootout, got underway Monday relatively early, poker time, at 12:00 pm. It ended "early" as well – at nearly 7am Tuesday morning. Last year 900 players took part and the winner was Donald Baruch, who took home the $264,107 along with the bracelet. Day 1 saw 1000 players, capping the allowed entries, lining up to take part in what was in effect a group of sit-n-go's, 100 winner-take-all tables of 10. Today was scheduled for two rounds of play, with the 100 winners of the first round moving on to ten tables of ten where the winner of each of those tables, the Round 2 games, would advance to the finals.
Each player in the final will start with the same chip stack. Going into the final table, here are the seat assignments:
Seat 1: Casey Coleman (Kingston, Ontario, Canada)
Seat 2: Matthew Giannetti (Las Vegas, Nevada)
Seat 3: Thomas West (Los Altos, California)
Seat 4: Rory Monahan (Carbondale, Illinois)
Seat 5: Kyle Bowker (Walton, New York)
Seat 6: John Strzemp III (Las Vegas, Nevada)
Seat 7: Mike Schwartz (Encino, California)
Seat 8: Sergey Rybachenko (Moscow, Russian Federation)
Seat 9: Jason Young (Suffern, New York)
Seat 10: Alexander Triner (Rockville, Maryland)
This event had its share of notables, including Phil Laak, Jennifer Tilly, Andy Bloch, Annie Duke, Erick Lindgren, and two gentlemen who've done rather well already so far this Series, 2008 bracelet winners David Singer and Nenad Medic. Kenna James, Lee Watkinson, Tim Vance, Phil Gordon, and WSOP 2002 winner Robert Varkonyi were others famous faces in attendance.
With a starting chip stack of 3,000 and blinds at a modest 25/50, it was expected that the action would be pretty slow for the first few levels, rising to a fever pitch of bust-outs after the blinds ratcheted up. But there were a number of very early eliminations. Phil Ivey, Sirous Jamshidi, who'd been up very late the night before coming in fourth at the finals of the $5,000 NLHE Shootout, and T.J. Cloutier were notable early departures along with Phil Laak, who lost a race with A-K to Darren Rice's Q-Q, and Phil Hellmuth who was out when his jacks went heads up against aces and didn't improve.
It took less than three hours for Loren Klein to become the first winner of Round 1 when his 7-8 suited hit a flush. A number of other tables were heads up by this time and we shortly had out next player going into Round 2, David Redlin who had A-K hold up against A-J. Soon, there was a flurry of table winners.
This event was not without its controversy. Andy Moser had raised on the turn against Alex Jacob and Jacob thought about it for maybe 90 seconds, after which another player called the clock on him. The floor told Jacob that he would get a countdown at 10 seconds remaining, but when the countdown began, it was only five seconds. As the floor man reached one second, Jacob announced all in, but although the dealer heard him, the floor didn't, and neither, apparently, did Moser. Jacob's hand was declared dead, and although he appealed the decision, he was told that his hand was dead as soon as the countdown reached one, and he was down to 4,500. A few hands later, Andy Moser finished Jacob off.
Slugging it out in the early evening heads up were Minh Nguyen and Joe Tehan, hoping to move on to Round 2. The epic battle dragged on for more than three hours. It looked to be over when Nguyen called Tehan all in with top pair against a made straight and was crippled down to just 900 chips. Then Nguyen made his comeback. He went all in blind the next hand and doubled up, his 7-9 hitting another seven to beat Tehan's 10-8, and then again the next hand, his Q-K beating Tehan's 4-9. Doing it one more time, Nguyen's pocket sevens made a set against Tehan's Q-9, and he was back in the game with over 7,000 in chips. The final hand had Nguyen turn over top pair to emerge from the slugfest victorious.
That left only one last table to be set before the next round and it pitted Brian Broan against Marco Mills. After an hour, the two had battled to even, but fifteen minutes later Mills finally dispatched Broan with pocket jacks topping Broan's sixes. Round 2 was ready to start.
Everyone making it to the second round was in the money and it didn't matter what spot, save winning, one finished. From 100th overall up through 11th the payout was the same — $5,596. The final-table spots received excalated payouts. First out, and first to collect, was Jeffrey Darling.
It took more than four hours before the identity of the first finalist was known. Sergey Rybachenko secured his seat in the finals by first foiling the attempted bluff of TJ Slifka, then besting Paul Ferner heads up when his Q-6 out-flopped Ferner's A-9 – and stayed ahead through the turn and river. The next few finalists did not exactly come in rapid succession. A full hour passed before Thomas West defeated his heads-up opponent when his A-J out-flopped Marcus Moulton's A-K. Then, Casey Coleman joined him about more than a half-hour later after dispatching of his heads-up opponent Damian Artt when his turned straight beat Artt's two pair. The next final spot was won by Alexander Triner who outdrew the last woman standing, Michelle John, when he hit two pair on the turn. John Strzemp III was the next table winner when his A-3 bested Ali Eslami's pocket jacks thanks to an ace on the turn and, as overkill, another on the river.
Three-handed turned into game over at one table when Matthew Giannetti took out two opponents to secure himself a spot in the finals, K-J beating out 6-6 and A-5. After 13 hours of play, there were still four more spots to fill. After four hours of heads up back and forth, and as the sun rose in the Las Vegas sky, Jason Young sealed his victory by out-kicking his opponent, David Orvis, after both had turned two pair. Pocket queens holding up (actually hitting a set) over pocket sevens led to the next elimination and sent Rory Monahan to the finals. 19 hours after Round 1 in this event began, Michael Schwartz looked down to see pockets aces – they held up against John McKinney and Schwartz was heading to the finals. The last heads-up battle pitted Kyle Bowker against Travis Roseberry, and just before 7am, Bowker emerged exhausted, but victorious, and we had our final table set.
Check PokerNews.com for live coverage of the final table, scheduled to start at 2pm Tuesday.