2008 WSOP Event #19 $1,500 Pot Limit Omaha: Vanessa Selbst Triumphs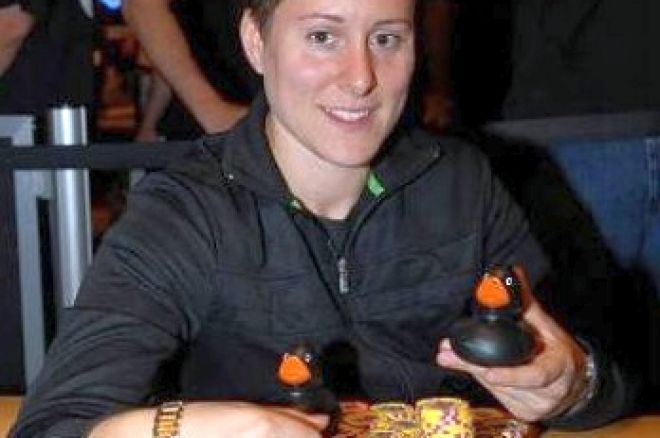 At the end of each day of Event #19's play, Vanessa Selbst had the most chips. This would include the final day, when she ended up with them all in winning the $1,500 Pot Limit Omaha bracelet and $227,933. This was Selbst's fourth WSOP final table appearance and her first gold bracelet. Selbst also became the first woman to win a WSOP Pot Limit Omaha event and only the twelfth woman in the tournament's history to win an open event.
People who witnessed this event will certainly remember Selbst's assertive play. But perhaps in stark juxtaposition to this aggressive and tension-filled event, people will also remember one of the most good-natured and entertaining WSOP heads-up matches ever seen.
The starting final-table line-up:
Seat 1: Jamie Pickering (QCD , Australia) — 329,000
Seat 2: Eugene Todd (Brooklyn, New York) — 127,000
Seat 3: Mel Randolph (Waikiki, Hawaii) — 117,000
Seat 4: Jamie Robbins (San Diego, California) — 70,000
Seat 5: Vanessa Selbst (Brooklyn, New York) — 1,047,000
Seat 6: Stanley Statkiewicz Jr (Itasca, Illinois) — 318,000
Seat 7: Ken Lairson (Oklahoma City, Oklahoma) — 16,900
Seat 8: Craig Natte (Hudsonville, Michigan) — 108,000
Seat 9: Thom Schultz (Littleton, Colorado) — 144,000
Ken Lairson had no room to maneuver, starting the final table with a chip stack only equal to two big blinds. While he did manage to last an orbit, he was committed to call Selbst's button raise when he was in the big blind. While his 8-7-5-2 did find a pair on the flop, Selbst's Q-Q-x-x prevailed and Lairson finished in ninth place for $20,720. Jamie Robbins was the next shortest stack at the final table, and he, too, would not have the luxury of a second chance. Robbins was able to push in with the premium hand of
and was called by Jamie Pickering with
. The board delivered a nine-high straight for Pickering and Robbins was eliminated in eighth place for $28,490.
Mel Randolph was crippled in a battle of the blinds with Eugene Todd. All the money went in on the
flop. Randolph had
, pairing each card on the flop; Todd's
, however, had found a set. The rest of the board couldn't help Randolph, who went out on the next hand in the small blind. Randolph finished in seventh place for $36,261. Then Craig Natte reraised Selbst pre-flop to put himself all in. When Selbst turned over her cards, Natte exclaimed "You always have aces." Selbst replied, "I wanted to see kings." It was lucky for Selbst that she didn't get what she wished for. Natte had only one king which paired the board, but still fell short to Selbst's aces. Natte finished in sixth place for $46,621.
Against Eugene Todd, Selbst would prove not only didn't she need aces, she could beat aces. Todd's A-A-x-x went up against Selbst's J-J-x-x. A jack fell on the flop and the board paired on the river, giving Selbst a boat and Todd a fifth-place finish for $59,053. Thom Schultz had to put his short stack in on the flop with only a slim draw against Selbst. His outs never materialized and Shultz finished in fourth place for $72,004.
Stanley Statkiewicz had better luck against Selbst, managing a key double-up. Statkiewicz was all in on a
flop, holding
. Selbst had the edge with two pair and a straight draw, holding
. Selbst would make a straight on the turn, but Statkiewicz would catch a diamond for the flush on the river. After the hand the chip counts were:
Vanessa Selbst — 1,150,000
Stanley Statkiewicz — 748,000
Jamie Pickering — 372,000
And then, it got real interesting. Jamie Pickering check-called Selbst all the way to the river, where he check-raised all in. With the board reading A-2-2-3-6, Selbst asked if Pickering had aces. She reluctantly called and Pickering turned over the A-A-x-x that Selbst had feared. The players were now in a virtual three-way tie in the run for the bracelet.
Jamie Pickering — 790,000
Stan Statkiewicz — 770,000
Vanessa Selbst — 710,000
Selbst didn't let her momentum slip away for long. She spent the next half dozen hands or more hammering bets and dragging enough pots to regain her lead. She had Stan Statkiewicz outchipped when he reraised her on a
flop. Statkiewicz had made two pair, but Selbst had made a flush. The turn and river maintained Selbst's lead and Stan Statkiewicz was eliminated in third place for $88,062. This left the chips as follows:
Vanessa Selbst — 1,800,000
Jamie Pickering — 465,000
Pickering, an Australian nightclub owner and professional poker player, had three WSOP money finishes prior to this event. He also recently cashed four times in the 2008 Aussie Millions. And while Pickering may have been the underdog going into heads-up play, it didn't mean he wasn't going to enjoy himself. In the 90 minutes of heads-up play that ensued, Pickering would sometimes raise blind, one time not peaking at his cards until the river. And good spirits were in abundance, both the emotional and liquid varieties. At one point during the match, play was suspended for 15 minutes just to let the table's exuberance taper off a bit.
For awhile Pickering's antics paid off and at one point he gained the lead in the match. Pickering was all in on the flop of
having hit a set with
. Selbst had
for the straight draw. Selbst's straight never materialized and Pickering doubled up. Soon after, Pickering raised blind and Selbst called. All the money went in on the
flop. Selbst had picked up the middle pair and a gutshot draw with 10-9-6-4, but Pickering turned over A-A-6-4 for the overpair. When the six fell on the turn, Selbst caught a second pair which held, allowing her to regain the lead.
The final hand of the match resulted from a rare limped pot. All the money went in on the
flop. Selbst had picked up the nut straight and a flush draw with
while Pickering picked up top pair and a two-out gutshot with
. The remaining
and
ensured Selbst's victory and the $227,933 winner's share. Jamie Pickering finished in second place for $145,459.
Vanessa's Selbt's virtual wire-to-wire victory in this event will be remembered for years to come. But Jamie Pickering's boisterous second-place performance may not be soon forgotten, either.