2008 WSOP, Event #2, $1,500 NLHE: Day 2 Fails to Reach Final Table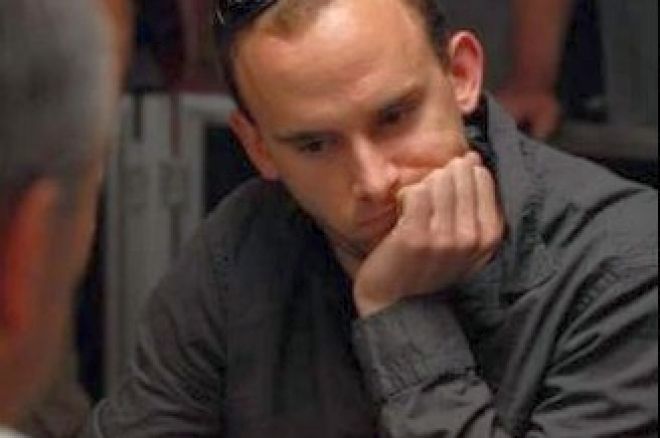 Event #2 broke all previous WSOP preliminary event field records with 3,929 registered players. At the beginning of Event #2 Day 2, Tournament Director Jack Effel remarked that another record was about to be broken, "This is the largest restart outside of a Main Event in history." With 448 players starting Day 2, it was going to be a daunting task to play down to a final table of nine. In fact, it was insurmountable. Play began at 2:00 pm local time and was suspended at 5:57 am with 18 players left. The following players will return to play down to the bracelet later today:
Table 14:
Seat 1: Josh Engerdahl (Abbotsford, BC) 930,000
Seat 2: Melvin Jones (Chicago, IL) 660,000
Seat 3: Mike Ngo (New Orleans, LA) 544,000
Seat 4: Grant Hinkle (Kansas City, KA) 281,000
Seat 5: Perry Friedman (Las Vegas, NV) 653,000
Seat 6: Joe Rutledge (Pasadena, TX) 486,000
Seat 7: Chris Ferguson (Pacific Palisades, CA) 444,000
Seat 8: David Bach (Athens, GA) 168,000
Seat 9: Frank Sinopoli (Hollywood, CA) 165,000
Table 15:
Seat 1: Eric Hicks (San Francisco, CA) 703,000
Seat 2: James Akenhead (London, UK) 1,039,000
Seat 3: Matthew Kearney 1,024,000
Seat 4: Jeff Wiedenhoeft (Whitewater, WI) 482,000
Seat 5: Minh Nguyen (Lake Elsinore, CA) 600,000
Seat 6: Theo Tran (Las Vegas, NV) 1,199,000
Seat 7: Brandon Blake (Palmer, AK) 514,000
Seat 8: Elia Ahmadian (Chantilly, VA) 171,000
Seat 9: Aaron Coulthard (Waterloo, ON) 1,327,000
The money bubble burst within the first two hours of play when Robert McLaughlin got the dubious honor. The flurry of post-bubble eliminations was predictably fast and furious, causing tournament official Jimmy Sommerfeld to quip, "Okay, players, we have a line at the cashier's cage, so if you could start playing a little better, we can get this line down a little." David Singer was in the first wave of post-bubble eliminations when his opponent's A-Q outdrew his A-K. Eskimo Clark and Michael Binger were also swept away in the post-bubble tsunami.
Todd Brunson was out in 292nd place when he ran his A-Q against pocket aces; the case ace hit the flop to add insult to injury. Marco Traniello soon followed when his pocket jacks couldn't overtake pocket kings. Gavin Griffin had no better luck against Terrence Chan's pocket kings and was eliminated in 251st, holding pocket tens. Chris Bjorin was out in 194th and "Aussie Sarah" Bilney finished in 174th.
Mark Vos may never play A-5 again, losing twice with it in the span of twenty minutes. Vos was crippled when he took it against pocket sevens and finished in 146th when it couldn't overtake his opponent's A-Q. Kenny Tran, Paul Sexton, Erica Schoenberg, and Terrence Chan went out in 136th, 128th, 127th, and 120th, respectively. Todd "Dan Druff" Witteles joined them in 110th place when pocket aces bested his K-Q.
Dan Schmiech, 2005 WSOP $5K NLHE bracelet winner, finished in 104th. And Shane "shaniac" Schleger likely regrets slow-playing pocket kings on the button. The big blind caught two pair on the flop with 7-5, sending Schleger home in 95th place. Dale Morrow soon followed in 93rd.
Poker author Jay Greenspan parlayed his busman's holiday to a 77th-place finish. Lars Bonding put himself in a classic race when he shoved with A-10 against his opponent's pocket fives. The flop did deliver a ten – but also a five, eliminating Bonding in 47th. The last remaining woman, Pia Jeppesen, finished in 26th place.
The long day, turned into night turned back into day, took its toll on both players and staff. Play was suspended twice to review surveillance tapes for errors. In the first instance, tapes were reviewed to fix a color-up issue; 25,000 extra chips had erroneously been given to Aaron Coulthard during the process. Harrah's changed the WSOP color-up procedure following a series of articles on PokerNews detailing the color-up error that introduced over 2 million extra chips in the 2006 Main Event. Last night, the new color-up accounting system detected the error immediately after the color-up and prior to play. The other stoppage occurred when a player was stacking his chips after a win, and mistakenly stacked some of his neighbor's chips.
At 5:45 am, 20 players still remained. A vote was taken on whether to suspend play do to the late hour. It was a tie, with some players abstaining. Another vote was taken; more players voted, but it was again a tie. The decision was made to play to 18 players and take another vote. When Brandon Blake finished in 19th place, another vote was cast. After some slow rolling with a show of hands, the final tally was ten votes to suspend play and five votes to continue.
Check back with PokerNews' live reporting team when play resumes at 1:30 pm local time.