2008 WSOP Event #20, $2,000 Limit Hold'em Day 1: Negreanu Chases Lead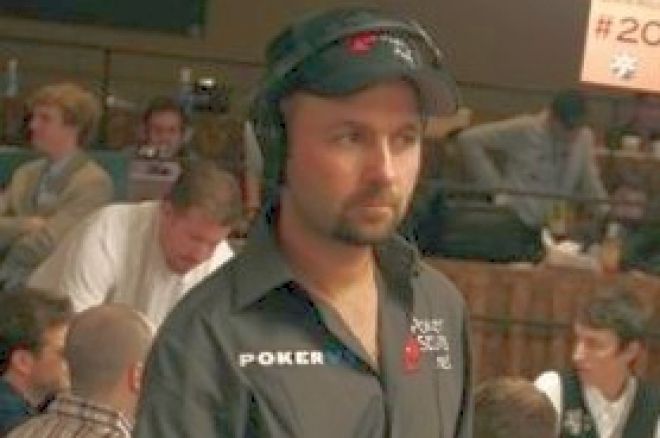 Day 1 of Event #20, $2,000 Limit Hold'em, drew a field of 480 entrants, including Daniel Negreanu, who finished the Day in fourth and in sight of chip leader Daniel Makowsky. By the end of the first day, the field had been narrowed to 125 players. Day 2 will continue on Wednesday until we are down to the nine-handed final table.
The overnight pack was led by Makowsky at 49,200, with Negreanu stacked at 32,200. The current top ten in chips:
Daniel Makowsky 49,200
Eric Buchman 46,500
Alon Croitoru 33,700
Daniel Negreanu 32,200
Casey McCarrel 31,600
Ayaz Mahmood 30,700
Brendan Taylor 30,300
Hien Tran 30,100
Ardell Willis 30,000
David Rood 29,300
The relatively small size of the field, coupled with its tendency to pull in the more well known cash-game players, gave us interesting table draws such as Farzad Rouhani, Dewey Tomko and Thor Hansen at Table 9, Sabyl Landrum and Victor Ramdin at Table 2, and Joe Sebok and Bill Edler at Table 15. Other big names in attendance included Phil Ivey, Daniel Negreanu, Cyndy Violette, Justin Bonomo, Markus Golser, Bill Chen, Annie Duke, Marco Traniello, John Cernuto, Alex Kravchenko, Robert Williamson III, Teddy Monroe and JC Tran.
As the day wore on, Negreanu kept his spot near the top, being one of the first to cross the 30,000-chip mark just before the start of the last level of the night. As players left and others were moved around, new tables of doom were formed, such as one that sat Phil Hellmuth, JC Tran – both with slightly above average chip stacks – and Bill Chen, hovering near the bottom. After eight hours of play the field had been cut by more than half.
A small controversy erupted at Table 15. One player called on the river and the other player mucked. The remaining player with cards didn't want to show them. The floor was called and it was ruled that the player must show his cards, even though he was the last player remaining in the hand. A player not involved in the hand argued loudly for several minutes about this ruling, to no avail.
Phil Hellmuth, decked out in what looked like army gear, was good for a few quotes. After his pocket aces were out drawn when his opponent's 9-8 hit two eights on the board, Hellmuth offered, "Every time I pick up aces, I get run down. But I love the action." Later, short-stacked, he told those in earshot, "I only have 1,650, but I'm making the money. I want it on record." A few hands later Hellmuth doubled to 5,000 and said, "I'm baaaack!" And by the end of Day 1, he was still in it as were 124 others. The top 45 finishers will be in the money and the top nine from Wednesday will go into Thursday's final where the top prize and the WSOP bracelet will be up for grabs.
Please visit PokerNews.com for live reporting of this event beginning today at 2pm PDT.