2008 WSOP Event #21 $5,000 NLHE Final: Seiver Prevails for First Bracelet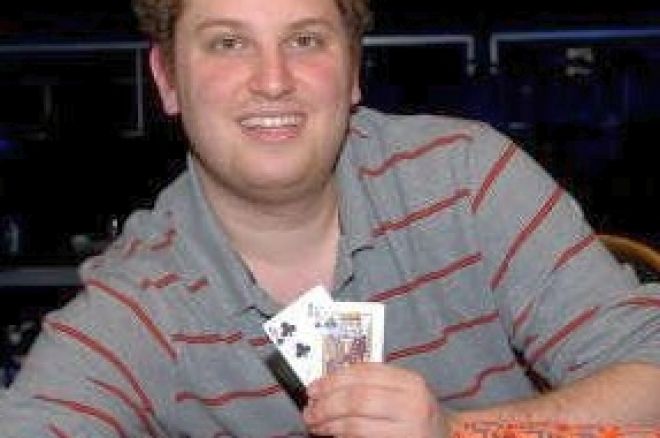 Scott Seiver had two money finishes at the 2008 WSOP prior to the start of the $5,000 NLHE event, just missing the final table in the $1,500 Pot-Limit Hold'em event with his 13th-place finish. But with a late surge on Day 2 to give him a notable chip lead, Seiver would see this tournament through the end, winning the bracelet and $755,856.
The final table started with the following players and chip counts:
Seat 7: Scott Seiver (Las Vegas, Nevada) — 2,512,000
Seat 3: Rajesh Vohra (Lake Worth, Florida) — 1,040,000
Seat 2: Jacobo Fernandez (Hollywood, Florida) — 848,000
Seat 9: Dave Seidman (Chicago, Illinois) — 653,000
Seat 5: Adam Geyer (Austin, Texas ) — 645,000
Seat 4: Ben Sprengers (Plantation, Florida) — 441,000
Seat 8: Chuck Sklar (Los Angeles, California) — 439,000
Seat 6: Scott Freeman (Los Angeles, California) — 423,000
Seat 1: Anders Henriksson (Stockholm, Sweden) — 311,000
It wouldn't be long before Seiver extended his final-table chip lead. On the second hand, Seiver eliminated Scott Freeman in a classic race. Seiver's pocket queens held on against Freeman's A-K, successfully avoiding Freeman's flush draw on the flop. Freeman was eliminated in ninth place for $69,714. Adam Geyer moved all in under the gun, only to have Dave Seidman reraise all in behind him. Geyer's pocket nines were in trouble against Seidman's pocket aces. While a nine hit the flop, giving Geyer a set, an ace also flopped to give Seidman the higher set. Geyer was finished in eighth place for $94,481.
Two hands later, it was deju vu all over again. This time it was Anders Henriksson's pocket nines attempting to overcome Ben Sprengers' pocket aces. As before, a nine flopped, giving Henriksson the set. Sprengers had to wait for the ace on the river for his winning set. Henriksson finished in seventh place for $120,249. Seiver would also be responsible for Chuck Sklar's departure. Sklar raised from middle position and Seiver called from the big blind. Both players checked down the J-8-5 flop. Seiver led out with 130,000 when a two came on the turn and Sklar raised all in. Seiver called and tabled pocket aces, giving Sklar's A-K nowhere to run. Sklar finished in sixth place for $154,600.
Fifth was settled when Rajesh Vohra thought a moment before reraising all in against Dave Seidman. Vohra had calculated correctly; his pocket fours had the edge on Seidman's K-10. But a king hit the board, sending Vohra home in fifth place with $195,606. Seidman's had little time to play the rush, however, as he would double up Ben Sprengers in the very next hand and do the same for Jacobo Fernandez two hands after that. Against Sprengers, Seidman's A-7 never caught up to Sprengers' A-Q. Seidman's pocket tens had the early lead against Fernandez' A-8, until the ace hit on the river. Seidman was able to retrieve most of his chips back from Fernandez in a subsequent hand. With the board reading
Seidman dragged a huge pot when his flush with
outranked Fernandez' lower made flush with
.
This was Jacobo Fernandez' second final table this series and fourth cash in the 2008 WSOP. But his run for the bracelet was cut short in fourth place when his pocket kings went up against Seiver's A-8. Fernandez couldn't recover from a flopped ace and his fourth-place finish was good for $238,781. It seemed like no one wanted to claim a third-place finish, but ultimately it fell down to this hand. Ben Sprengers raised pre-flop and Dave Seidman called. Sprengers bet out on the
and then pushed all in after being check-raised by Seidman. Sprengers' pocket queens had the lead, but they had to contend with Siedman's flush draw with
. The
came on the river, sending Ben Sprengers home in third with $292,034.
Seiver and Seidman would see almost 40 hands during heads-up play, with few resulting in a flop. But the boys finally found one they liked and all the money went in after a
flop. Seiver had hit top pair with
while Seidman was holding the middle pair with
. The remaining
and
kept the hand in Seiver's favor. Dave Seidman finished in second place $482,372 and became one more player that couldn't derail Scott Seiver's dominant ride to the bracelet.