2008 WSOP Event #32, $1,500 No-Limit Hold'em Day 2: Velador Surges into Lead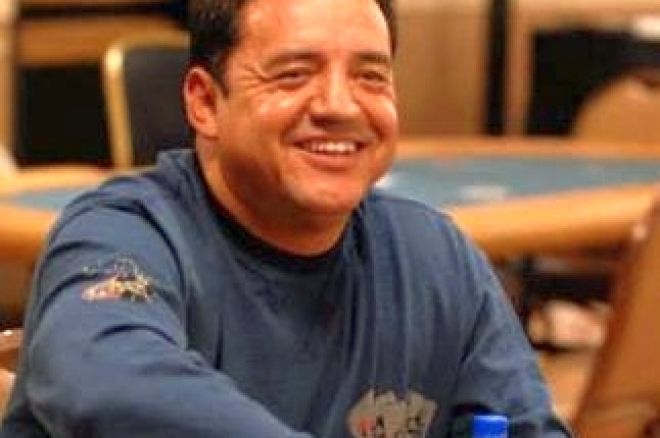 This was a day of upheaval in Event #32, $1,500 No-Limit Hold'em. Only one of the nine who would make the final table had been in the top ten in chips going into Day 2. Jose Luis Velador, the dominating chip leader going into the final table, started the day ninth in chips and surged ahead of the pack with an impressive run of big pots. In what has been dubbed by some as the "Year of the Pro," this event will not be won by a household name. But the nine going into the finals have outlasted a talented field to get there.
The nine who will compete on Thursday for the bracelet and $573,734 are:
Seat 1: Dean Bui 211,000
Seat 2: Justin Hoffman 138,000
Seat 3: Jose Luis Velador 1,898,000
Seat 4: Joseph Georges 1,086,000
Seat 5: Utsab Saha 961,000
Seat 6: Jae Chung 716,000
Seat 7: Shane Stacey 640,000
Seat 8: Osmin Dardon 660,000
Seat 9: Anthony Signore 636,000
One household name that failed to make the final table was Phil Hellmuth. He had achieved an early boost to his stack when he went over the top of an all-in raise by Jeffrey Milkey, to isolate Milkey. Milkey showed
to the dominating
of Hellmuth. The board did nothing for Milkey and Hellmuth nearly doubled up. But Hellmuth pulled few other pots and was low on chips when he went all in against Jeff Norman. It was a classic coin flip, the
of Hellmuth against the
of Norman. Hellmuth's hand never improved and he was out in 71st place with his record 65th WSOP cash.
One player who probably would rather forget Day 2 was John Nguyen. Nguyen called the all-in of Ben Alcober, holding pocket jacks against Alcober's Big Slick. Alcober spiked a king on the river and Nguyen's stack was decimated. On the very next hand, Nguyen was all in – with pocket jacks again against A-K. The board ran out Q-9-4-10-J, and his opponent had hit Broadway on the river and Nguyen was done for the day.
Jose Luis Velador dominated player after player on his way to the chip lead. He eliminated Joe Bussey when Bussey's pocket queens were no good against his pocket aces. He ended the day of Casey McCarrel as well when his pocket tens held up against McCarrel's pocket eights.
Velador was not done sending his fellow players to the rail. A short-stacked David Tashman moved all in preflop from early position and saw action from both Matthew LaGarde and Velador. Velador check-called the
flop and the two went check-check on the
turn. After the
fell on the river, LaGarde pushed in a huge stack of chips. When Velador called, LaGarde instantly mucked. Velador then tabled
a measly pair of threes, but it was enough to end Tashman's day in 46th place. Later, Velador called the all-in of Jimmy Tran and eliminated Tran in 36th place when Velador's A-Q held up over Tran's A-3.
Andy Garza, who had started the day as the chip leader, could not keep the momentum going in Day 2. Early on, he took a big hit to his stack after calling an all-in by Osmin Dardon, only to find his pocket sevens were up against Dardon's pocket jacks. To rub salt in the wound, Garza made a set on the flop – as did Dardon. These two were to rumble again, with similar results. Garza called Dardon's all-in in a later hand and had him covered. Dardon showed pocket kings this time, and Garza had A-Q. The board tossed him a meaningless queen on the river, but nothing else. The final blow came via Shane Stacey and the hand was eerily similar – A-9 against his opponent's pocket kings. The board blanked and Garza was eliminated in 38th place, taking home $9,434.
Stacey wasn't content to just end Garza's day. After an all in from Joseph O'Neil and Steven Fager and a flat-call from George Lind, Stacey called. Stacey and Lind called it down all the way to the
board. The all-ins showed — Fager tabled
and O'Neil turned over a pair of jacks. Stacey flipped over
for a pair of kings and Lind mucked. Stacey took down the pot, and two players, and was now up to 919,000 in chips. He ended the day sixth in chips, but well below the chip leader.
Utsab Saha was also a one-man execution squad, taking down player after player on his way to finishing second in chips for the day. He took out short-stacked Stephen Knuth, aces over eights. He finished off Robert Jarman as well. Jarman had the better of it preflop, pocket tens against J-7, but Saha spiked a jack on the flop to take the lead and Jarman never improved. He also ended the day of Donny Carlton when his pocket queens held up against Carlton's pocket sevens, sending Carlton home in 18th place with $18,869.
Saha's last elimination of the day was the 12th-place finisher, George Lind. Lind had raised to 42,000 from the cutoff, Saha raised to 100,000, Lind moved all in and Saha called. "You got aces?" he asked Lind.
"No, your hand is good" said Lind. Lind turned over A-9; Saha showed pocket jacks. Unlike John Nguyen, Saha's jacks held up and Lind was on his way to the cashier to grab his $34,594 check.
With Joseph Georges' elimination of Ken Hughes, the final table was set and the nine who had outlasted almost 2,300 others gave themselves a round of applause.
Join PokerNews.com and its live reporting team for full coverage of the final table beginning at 2pm Pacific Time.