2008 WSOP Event #32, $1,500 No-Limit Hold'em: Garza Leads Massive Day 1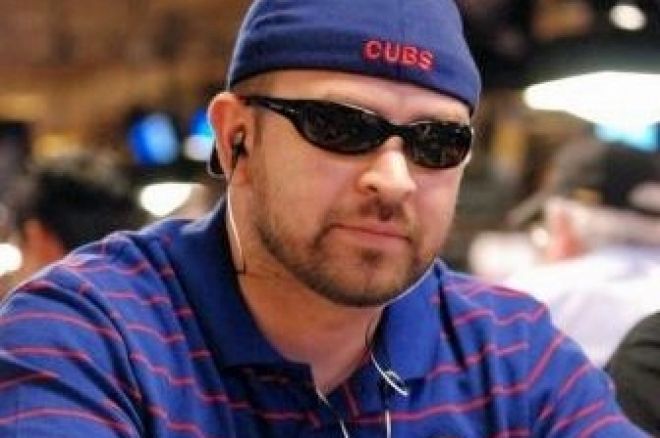 Another $1,500 No-Limit Hold'em event drew another mammoth crowd – 2,304 players packed into every spare inch at the Rio. By the end of Day 1, it was down to just 166 players, all of whom had made it into the money. Leading the pack was Andy Garza, followed by Donny Carlton and Jonathan Jaffe. On Wednesday they will play down to the final nine who will compete on Thursday for the bracelet and $573,734. Last year's event was won by David Stucke, who emerged from a 2,315-player field to win $603,069.
At the end of Day 1, here are the chip leaders:
Andy Garza 169,200
Donny Carlton 148,100
Jonathan Jaffe 134,700
Anil Jivani 130,200
George Lind 125,300
Michael Banducci 117,000
Adrian Dresel-Velasquez 116,000
Scott Sitron 114,000
Jose Luis Velador 110,500
Steven Weusten 104,000
The busted-out list was packed with notable names, including Juha Helppi, Mark Seif, David Williams, Allen Cunningham, recent bracelet winner Kenny Tran, Humberto Brenes, Chris Ferguson, Lee Watkinson, Vanessa Rousso and Jennifer Tilly. In fact, play started so fast that in just 180 minutes of play, almost half the starting field had been eliminated.
Still alive, and still on the march toward bracelet number 12, is Phil Hellmuth, who finished the day with 31,600 in chips – and his record 65th WSOP cash. He will be joined on Day 2 by other top pros including Beth Shak, Young Phan, Michael Katz, Neil "BadBeat" Channing and Fabrice Soulier.
Phil Hellmuth had two hands go his way which gave the "Poker Brat" little to complain about. In the first hand, Hellmuth went all in preflop with pocket kings against an opponent's Big Slick. Immediately, an ace hit on the flop and Hellmuth stood up and clenched his fists tightly near his chest and shouted "God!" But before he could say anything more, the dealer delivered a king on the turn. The table erupted and Hellmuth said, "Well I hit my one-outer, but you've still got two." But the river blanked and the other player was sent to the rail.
In the other hand, with the board showing
, the small blind led out for 1,300, Hellmuth raised to 5,700 from the big blind and the small blind moved all in. Hellmuth tanked for awhile, thinking out loud, even pulling aside a field reporter to whisper, "I'm out with a full house here!" He finally called, showing
for deuces full of eights. The small blind mucked, saying he had an overpair. "Where's Roland de Wolfe?" asked Hellmuth, on his feet and scanning the room. "God, I almost folded there!" he told de Wolfe.
For his part, Roland de Wolfe would remember this event as the attack of the pocket eights. In two hands, de Wolfe saw his chips disappear to the dreaded pocket pair. First, in a three-way with A-K against another A-K and 8-8, the eight hit a set on the flop and the rest of the board blanked, leaving de Wolfe with just 3,200. In his last hand, de Wolfe shoved all in with A-10 and couldn't hit anything on the board, losing again to the pair of pocket eights held by his opponent.
The top 198 players finished in the money just before Day 1 broke. Unlucky number 199 was Leroy Le. As play went hand-for-hand, Le moved all in for 6,500 from the button with a respectable suited A-10, but was up against his opponent's pocket queens. No help on the board meant Le was out and everyone still in was in the money.
Michael Banducci, who finished the day sixth in chips, has already had a memorable World Seried with his first bracelet and over $600,000 in winnings; still, he has the distinction of having made a royal flush in a live tournament to add to his 2008 accomplishments.
Small pairs were very good to Beth Shak. Earlier in the day she had cracked aces when her pocket ducks hit a set on the flop. Then, short-stacked later in the day, she pushed her remaining 8,000 all in with pocket threes against Big Slick and – though starting ominously with a gutshot straight draw for her opponent – the board ran out a safe J-10-5-7-4. She'll start Day 2 with a below-average 17,700 in chips.
Andy Garza had his pocket tens hold up late in the day against an opponent's A-Q. Despite a queen on the flop which took the lead away, Garza spiked a 10 on the turn and propelled himself to the top of the leader board where he'll start Day 2.
Join PokerNews.com and its live reporting team for full coverage of this event's Day 2 beginning at 2:00 pm Pacific Time.