2008 WSOP Event #40 2-7 Triple Draw – John Phan Becomes Double Bracelet Winner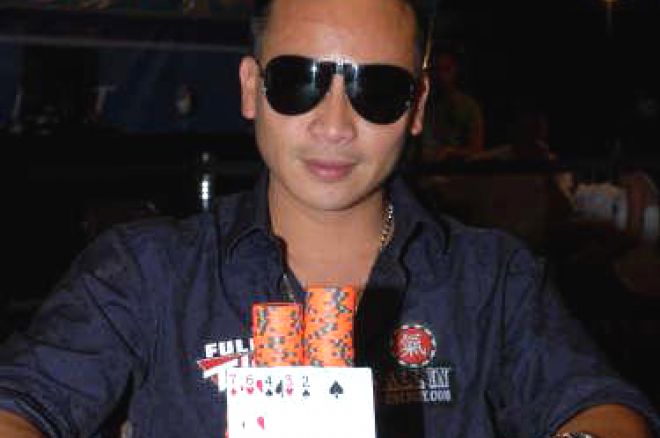 One week ago, John Phan's name would come up in discussions about the best tournament player without a World Series of Poker bracelet. Now, his name comes up in discussions of 2008 WSOP Player of the Year, after he captured his second WSOP bracelet in a week, this time in Event #40, $2,500 2-7 Triple Draw. Phan bested a tough final table that included Robert Mizrachi and David Sklansky to claim his bracelet and the $151,896 first prize.
Phan started the day with the chip lead, as the stacks and seating assignments looked like this to start the final table:
Seat 1: Ben Ponzio (Elmwood Park, Illinois) — 113,000
Seat 2: Shun Uchida (Las Vegas, Nevada) — 200,000
Seat 3: David Sklansky (Las Vegas, Nevada) — 78,000
Seat 4: Gioi Luong (Westminster, California) — 291,000
Seat 5: Robert Mizrachi (Las Vegas, Nevada) — 215,000
Seat 6: John Phan (Stockton, California) — 294,000
David Sklansky's 25-year drought without a WSOP bracelet continued as he busted from the final table in sixth place ($20,528). Sklansky started the day with the shortest stack, and got nothing going before Robert Mizrachi eliminated him. All the money went in before the first draw, and both players took two cards. Sklansky took one on the second draw, as Mizrachi again took two. Mizrachi stood pat on the final draw, and Sklansky took one. Mizrachi tabled 8-7-5-3-2, and Sklansky showed 2-3-4-6 before his last draw card landed. He needed an eight or a seven to stay alive, but the six he picked up left him with a pair and a sixth-place finish.
Ben Ponzio was the next to fall when his quest for a second WSOP bracelet ended in fifth place. Ponzio, the winner of 2007's $2,500 no-limit hold'em event, fell one draw short and was eliminated by John Phan. In his final hand, Ponzio three-bet after Phan's pre-draw raise. Phan called and drew two cards. Ponzio drew one, then fired out a bet. Phan called, and each player took one card on the second draw. Phan led out, and Ponzio called all in. Both players took one on the final draw, and Phan made 8-7-4-3-2. Ponzio opened 7-5-4-2 and needed a three or a six to stay alive. The ten he drew was no help, and he picked up $28,739 for his fifth-place finish.
Robert Mizrachi had a frustrating final table, getting nothing going before busting in fourth place ($41,055). He went out in a three-way pot against Shun Uchida and Gioi Luong. Each player drew two cards, and Mizrachi led out on the next round. Both opponents called, and Uchida took two cards while Mizrachi and Luong each drew one. Luong led out after the second draw, Mizrachi called all in and Uchida got out of the way. Mizrachi drew one last card while Luong stood pat and tabled 10-6-5-4-2. Mizrachi showed 8-6-4-2, but drew a jack and was eliminated.
John Phan held the chip lead going into a tumultuous final three, with Shun Uchida on the short stack and Gioi Luong in the middle. Luong and Phan exchanged heated words early in the day, and it got more tense as the three-way battle went on. The chip stacks looked like this after Mizrachi's elimination:
Phan - 625,000
Luong - 390,000
Uchida - 240,000
The three players went back and forth for several hours before the next elimination, and the players became more and more tense. At one point, Luong asked that the floor staff clear the rail behind him, concerned that observers could see his cards. Finally, after the dinner break, Uchida had claimed the chip lead, and John Phan was firmly ensconced in second place, leaving Gioi Luong on the short stack going into his final hand.
Luong raised from his small blind to start the action, and John Phan three-bet from the big blind. Luong called and took two cards. Phan stood pat, then bet out after Luong checked. Luong called all in, and stood pat on the second draw. After thinking for a moment, Phan decided to break his hand and took two cards. Luong stood pat again, and Phan once again drew two cards. Luong tabled 8-7-6-5-2, while Phan made 7-6-5-4-2 on his final draw to send Luong home in third place ($61,583).
Phan took a slight lead into heads-up play, and it took less than an hour for him to claim his second WSOP bracelet of the year and send Shun Uchida home in second place ($95,795). On the final hand, Uchida started things off by three-betting Phan before the first draw. Phan called and drew three cards to Uchida's two. Uchida led out after the first draw, Phan raised, and Uchida put the last of his chips in the middle. Phan made the call and stood pat. Uchida drew one each round as Phan stood pat on the last two draws, and his 8-7-6-5-3 was no good against Phan's 7-6-4-3-2. John Phan made the second nuts to claim the bracelet and the $151,896 prize. That victory also moved him into third place in the 2008 WSOP Player of the Year race.