2008 WSOP Event #41 $1,500 Mixed-Limit Hold'em Day 1: Tamayo Leads Pack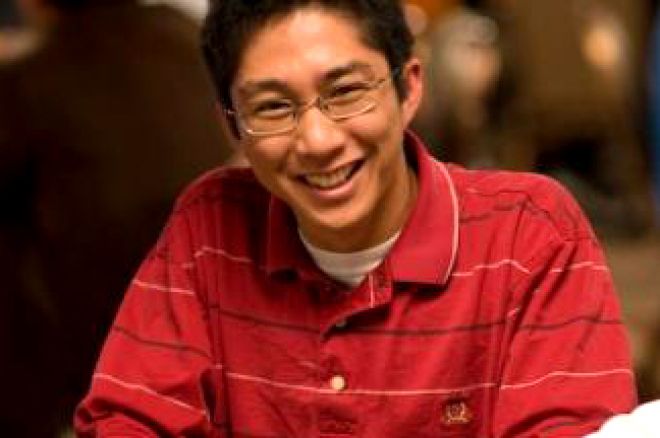 731 players registered for the $1,500 Mixed-Limit Hold'em tourney, Event #41, which was structured with alternating 30-minute periods of fixed-limit and no-limit action. By the end of the day, only 98 players remained, including top pros Ricky Sanders, Fabrice Soulier, Jan Von Halle and Lou Esposito, who are all chasing the leader, Jonathan Tamayo. The top 72 finishers will cash, and the winner will earn $219,508 in addition to the champion's gold bracelet.
At the end of play on Day 1, these were the chip leaders:
Jonathan Tamayo — 98,100
Ricky Sanders — 88,000
Klein Bach — 65,600
Daniel Kraus — 49,975
Jose Tavares — 48,900
Alexander Borteh — 46,950
Peter Rho — 46,000
Otto Richard — 45,700
Benjamin Landowski — 44,425
Heung Yoon — 42,400
Among the notables in attendance were 2007 WSOP Player of the Year Tom Schneider, two-time bracelet winner David Grey, 2002 Main Event winner Carlos Mortenson, and recent bracelet winners Barry Greenstein, Daniel Negreanu, Kenny Tran and Dario Minieri – each of whom had early exits from this event. Going deeper into the event, but out before the end of the day, were such famous faces as Chris Ferguson, Joe Hachem, Andy Bloch, Humberto Brenes and John Juanda.
If you were going to go up against a huge pocket pair today, the hand to have was Q-8. First Kenna James had his bullets snubbed by Q-8 after an eight on the flop was joined by a queen on the river. Then, Theo Tran was knocked out when his cowboys were shot down by the Q-8 on a board that read J-Q-Q-10-8.
In a round of no-limit, new bracelet winner David Benyamine found a timely double-up. After a flop of
, Benyamine went over the top of his opponent's check-raise for the rest of his chips. Benyamine showed
for top pair, his opponent was on a draw with
. The turn was the
, pairing the board, and the
river missed his opponent as well. But Benyamine was not to earn his second bracelet in this event. He busted out during the limit hold'em round pushing all in with
. His opponent showed a dominating
and Benyamine found no help on the
board.
One of the uglier hands took place during a no-limit round between Derek Lerner and another player. Lerner and two others were in a three-way pot when the flop came 4-6-4. Lerner pushed for his last 2,600 chips and one of his opponents looked him up. Lerner had flopped the full house with pocket sixes. But his opponent tabled 4-4 for quad fours. No case six would appear for Lerner, leaving him the recipient of a tough cooler.
By contrast, Nam Le avoided a painful elimination. Holding pocket kings against his opponent's pocket jacks, the jack on the turn must have been a blow to Le. But with the Q-9-2 flop, the jack gave Le a gutshot straight draw – which he filled thanks to a ten on the river. Le, along with his brother, Allan Le, will be back for Day 2. Not returning is Teddy "Iceman" Monroe, who was in a three-way pot with Allen Le and Alan Snow. The board showed
. Monroe had Q-Q, good for a straight on the turn. But Snow had jacks, for a full house on the river. Le mucked what may have been third best.
Ayaz Mahmood and Jan Von Halle had just come from the final table of the $2,000 PLHE tourney, where they finished seventh and fourth, respectively. They found themselves tangling again in this tournament, with Mahmood getting the better of it, scooping the pot with A-Q on a queen-high board. However, Mahmood later busted out, as did another final-table member of theirs, Lee Watkinson, but Von Halle was still in the hunt with 30,000 in chips by the end of play.
Going into the final level, Lou Esposito was nursing a short stack, but he mounted a comeback. In one hand of limit, Esposito moved in with
and was called by an opponent holding
. He avoided a queen on a
board and doubled up. Later, still in limit, he three-bet with A-K and was called. The flop came 10-A-10 and Esposito check-called his opponent's bet. They both checked the five on the river and Espositio took down the hand with aces up. Esposito ended up the day near the top of the pack.
Join PokerNews.com for live reporting of this event's second day, starting at 3pm Pacific Time on Monday.