2008 WSOP Event #41 $1,500 Mixed-Limit Hold'em: Frank Gary Pulls Off Comeback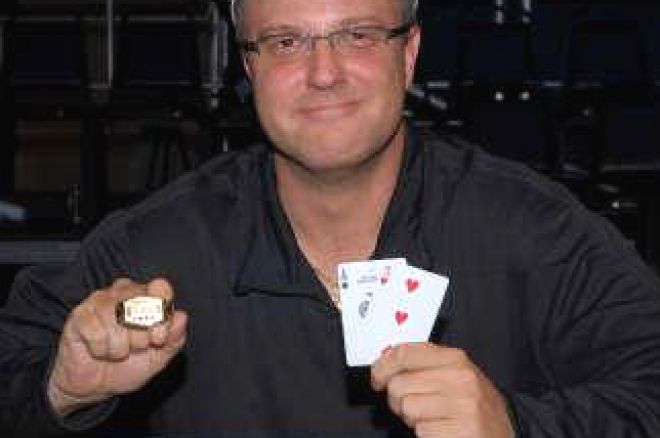 Three hours into the final table of Event #41, $1,500 Mixed-Limit Hold'em, Nick Binger had eliminated six players and seemed destined to win his first WSOP bracelet. But Frank Gary had other plans. An amateur poker enthusiast, he sat back and bided his time, nursing his chip stack, as Binger cleared out the final table. When it was down to three-handed play, Gary made his move – and it led him all the way to the bracelet. Gary won the $1,500 Mixed-Limit Hold'em event, the bracelet and the $219,508 prize money in his first WSOP cash. Jonathan Tamayo finished in second, having gone from Day 1 chip leader to heads up for the title. Binger had to settle for third.
Going into the final table, here were the players' seat assignments and chip counts:
Seat 1: Chris Rentes - 132,000
Seat 2: Michael Chu - 264,500
Seat 3: Alex Jilali - 204,000
Seat 4: Nick Binger - 339,000
Seat 5: David Machowsky - 147,500
Seat 6: Jonathan Tamayo - 238,500
Seat 7: Mats Gavatin - 405,000
Seat 8: Frank Gary - 332,000
Seat 9: David Sorger - 130,000
Second in chips going into the final table, Nick Binger started fast right out of the gate. He delivered the first knockout of the day just a half hour in. David Sorger moved all in for 40,500 and Binger reraised to 100,000. It folded around and the two went heads up. Binger had Sorger dominated,
to
. The dealer quickly spread out the board
and Sorger was out in ninth place, with his first WSOP cash for $19,956.
Michael Chu was the only member of the final table with a WSOP bracelet, but he was not to win his second here. Binger raised preflop and Chu called from the big blind. The flop came
. Chu checked-raised all in for a total of 145,000. Binger looked at Chu, then made what appeared to be a reluctant call. The cards were tabled; Chu had pocket eights, but Binger had 10-5 for top pair. The turn and river blanked and Chu was out in eighth place, taking home $27,439.
Overnight chip leader Mats Gavatin was Binger's third victim. Gavatin raised to 15,000 and Nick Binger called. Binger bet the
flop, Gavatin raised, and Binger reraised him all in. Gavatin called and saw he was behind, but had outs. Binger had
for a flopped set; Gavtin had
for the nut flush draw. The turn was the
and the river was the
giving Binger a full house and ending Gavatin's run in seventh place, worth $34,923.
Binger had a commanding chip lead, holding over 1.3 million in chips, and used it to keep the pressure on. In the next big hand, he raised on the button and David MacHowsky moved all in from small blind. Binger insta-called after the big blind folded. He showed
to the
for MacHowsky. The flop only put MacHowsky further behind as it came
and with the
on the turn, MacHowsky's day was over. He exited his first WSOP final table in sixth place, with $44,902.
At this point, Binger had taken down four opponents in just about an hour and had yet to lose a hand that he was involved in. He had well over half of the chips in play with 1,377,000. He hit a very brief bump along the road when he lost two different hands where his A-K lost to pocket jacks — first, against Frank Gary, who hit a set with his jacks, and then versus Chris Rentes, whose jacks held up on an 8-5-3-Q-4 board. But it was a small hit to Binger's monster stack, and he quickly regained his momentum.
Alex Jalali was out next, losing a coinflip to Binger. Jalali led out for his last 104,000 chips and it folded around to Binger who raised all in, to isolate Jalali. This time it was Binger with
, while Jalali had
. The board ran out
; Jalali missed all his outs and Binger's jacks were good. Jalali, a German pro with just under $1 million in tournament earnings, will add $56,875 for his fifth-place finish and first WSOP final-table appearance.
Chris Rentes was the sixth player to be eliminated by Binger in just three hours. He moved all in for 50,000 from the small blind and Binger called with the ever-intimidating 7-2 offsuit. Rentes showed
and the board ran out
. Binger's seven played and Rentes was out in fourth place, with $69,348.
Down to three-handed, Binger upped his aggression, raising every pot two-and-a half times the big blind. While Frank Gary was sitting tight, Jonathan Tamayo went head-to-head with the huge chip leader, calling him even from out of position. He started chipping away at Binger's stack.
Five hours after Binger first took the chip lead, he relinquished it in a rare skirmish against the patient Frank Gary. Gary called Binger's preflop raise and the two of them saw the
flop. Gary check-called Binger's bet and they saw the
turn. Again, Gary checked and Binger bet, but this time Gary raised. Binger quickly called. After the
hit on the river, Gary led out, but there was no quick call this time. Binger thought for a while, then quietly mucked. Binger was down to 793,000 in chips, Gary was up to 446,000, and Tamayo was the new chip leader.
Five hands later, Binger had regained the chip lead only to soon drop to third. Frank Gary raised from the button, Binger reraised, Tamayo got out of the way, then Gary moved all in. Binger reluctantly called, turning over
to the K-K of Gary. The board missed Binger and he was down to 532,000, with Gary moving ahead of him into second place with 610,000.
The three battled for almost five hours in total, each taking the chip lead in turn. But Binger was never able to mount a comeback. So, seeing a pocket pair in a fixed-limit segment, he engaged in some heavy preflop reraising with Tamayo, to the point where betting was capped. On the
flop, Binger put in his last 69,000, turning over his pocket threes. His timing was off; Tamayo had the ladies. Binger's hand failed to improve and he was the first person from the final table eliminated by someone else. His third-place finish is still his best ever at the World Series and brought $84,814.
While neither Tamayo nor Gary had ever been at a WSOP final table before, Tamayo was the more experienced player with three prior WSOP cashes, including a 10th-place finish in last year's $3,000 limit event. He went into heads-up play with a 600,000-chip advantage over Gary, but that lead was wiped out when Gary called Tamayo's all in reraise with
against
and connected with the
flop. The
turn and
river missed Tamayo, giving Gary the double-through. Gary then moved out to a big lead when, holding nines, he hit a set on the turn of a 6-4-7-9 board and Tamayo, holding 9-10, missed his gutshot outs.
Later, Tamayo flopped a straight and still lost when Gary hit a runner-runner full house. Then he hit top pair on the river, but lost to Gary's two pair and was down to 129,000 chips. The next hand, Tamayo announced he was all in. Gary took his time before calling. Gary had the lead,
to Tamayo's
. Gary hit top pair on the
flop. Tamayo had some outs after the
hit on the turn, but the river was the
and Tamayo ended up the second-place finisher, earning $140,093.
Frank Gary, the amateur from Fort Meyers, Florida, is the winner of Event #41, the 2008 World Series of Poker Mixed Hold'em tournament.