2008 WSOP Event #44 $1,000 No-Limit Hold'em w/Rebuys: Max Greenwood Strikes Gold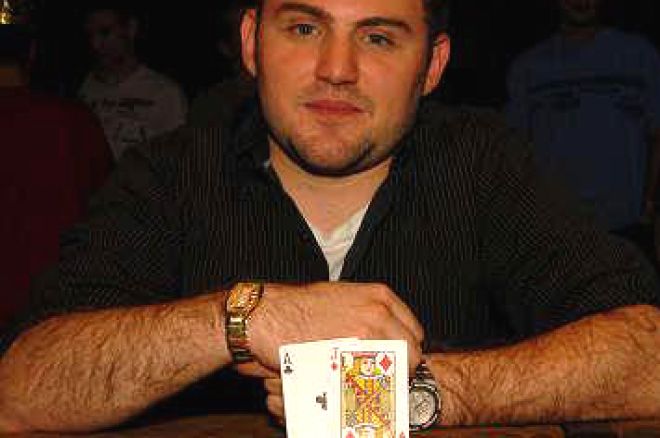 The final table of Event #44, $1,000 No-Limit Hold'em w/ Rebuys started with nine players all seeking their first WSOP bracelet, and it was Canadian Max Greenwood who took down the title. Greenwood, after narrowly escaping a third-place ouster, outlasted Denmark's Rene Mouritsen and Albert Iversen in a dominating, brief final. For his victory, Greenwood took home $693,444 and the coveted WSOP winner's bracelet.
Here were the seat assignments, hometowns and chip counts as the final table began:
Seat 1: Scott Freeman (Los Angeles, California) — 675,000
Seat 2: Max Greenwood (Toronto, Canada) — 728,000
Seat 3: Curtis Kohlberg (Weston, Massachusetts) — 209,000
Seat 4: Rene Mouritsen (Aarhus, Denmark) — 1,007,000
Seat 5: Alex Bolotin (Brooklyn, New York) — 308,000
Seat 6: Albert Iversen (Aarhus, Denmark) — 921,000
Seat 7: Aliaksandr Dzianisau (Vitebsk, Belarus) — 186,000
Seat 8: Phung Ngo (Commerce , Michigan) — 556,000
Seat 9: Jesse Chinni (Ellicott City, MD) — 2,160,000
This was Alex "Diesel" Bolotin's third final table at the WSOP and his tenth cash overall. Last year he finished as high as second in a short-handed no-limit hold'em event, though a first WSOP gold bracelet still awaits. On the seventh hand of the final table, Bolotin made it 52,000 to go. Albert Iversen thought for a good while before reraising to 132,000. Bolotin called and they went heads-up to the flop. It went check-check on the
flop, but after the
turn, Bolotin pushed his last 112,000. Iversen quickly called, showing
. He was ahead of Bolotin's
. The
on the river changed nothing, and Bolotin was out in ninth place with $63,183.
Phung Ngo has a real job, as an engineer, and was a rookie coming into this year's WSOP, but now he has his first cash and first final-table appearance. He started the day in the middle of the pack, but ran up against one of the powerhouse Danes. Max Greenwood led out with a raise, Kohlberg folded, then Mouritsen reraised to 170,000. It folded to Ngo who shoved for his remaining 250,000 in the small blind. Greenwood got out of the way, and Mouritsen called. Ngo had a coin flip with
to Mouritsen's
. The board ran out
, giving Mouritsen top pair on the flop, and Ngo no help anywhere. Ngo collected $87,484 for his eighth-place finish.
One of the shorter stacks going into the final table, Curtis Kohlberg had one prior WSOP final table and 14 WSOP cashes in the last five years. Action folded to the blinds and Max Greenwood raised it to 310,000 from the small blind, enough to cover Curt Kohlberg in the big. Kohlberg tanked for a few minutes, then finally called and turned over
. Greenwood revealed
, but the flop was a disaster for Kohlberg, coming
and giving Greenwood top two pair. Kohlberg was done when the board completed with
and
, respectively. Kohlberg was the seventh-place finisher, taking home $111,786 for his three days of work.
Aliaksandr Dzianisau has been having a great first WSOP, with two cashes and a 16th-place finish in Event #33. The early short stack, Dzianisau went out on hand #21, after getting the last of his chips in with
against Albert Iversen's
. The
flop, though, gave Iversen trip jacks and Dzianisau little chance. The turn and river fell ace-ace and jacks full were good enough to eliminate Dzianisau in sixth place, good for $144,187.
22-year old Jesse Chinni began the final with a 2:1 chip lead over his next closest rival, Mouritsen, courtesy of a late-night monster pot to close Day 2. Mouritsen had the better of it this day. After an escalating series of bets and raises, Chinni pushed over a million chips into the pot and Mouritsen immediately called, showing
to Chinni's
. The board changed nothing:
. Rene Mouritsen took down a massive pot and had more than half of the chips on the table, while overnight chip leader Chinni exited in fifth place with $183,069.
Next to fall was Scott Freeman, who reraised Rene Mouritsen all in from the big blind, for a total of 422,000. Mouritsen called and was ahead with
to Freeman's
. The board rolled out
, and Freeman was out in fourth place with $223,572. After just three hours, six of the final nine had been eliminated.
It looked like Max Greenwood would be the next casualty, but Greenwood doubled up against Rene Mouritsen – twice – and mounted a comeback that led him all the way to the winner's circle. With the smallest stack, Greenwood pushed for his remaining chips and Rene Mouritsen called. It started when Greenwood had a race with
against Mouritsen's
; Mouritsen spiked top pair on the
flop, but Greenwood caught a five on the river to stay alive. A few hands later, Greenwood again pushed all in and Mouritsen again called. This time Greenwood was ahead,
to Mouritsen's
. The flop came
, changing nothing, and Greenwood was in the hunt.
The chance for an all-Denmark heads-up duel disappeared when Albert Iversen was eliminated by Mouritsen. Mouritsen raised to 250,000 from the big blind and Iversen called. The flop came
. After asking for a count of his opponent's chips, Mouritsen pushed all in. Iversen instantly called and turned over
for middle set. Mouritsen tabled
for straight and nut-flush draws and filled the flush with the
turn. The board didn't pair on the river and Iversen was out in third place, with $267,314.
As heads-up started, Mouritsen was ahead 3,725,000 to 3,025,000, and 23 hands later, it was over. Greenwood dominated the duel, winning eight of the last ten hands to take the title. In the final hand, Mouritsen made it 120,000 to go from the button. Greenwood asked for a count, then called. The flop came
; Greenwood checked, Mouritsen bet out 175,000 and Greenwood made it 500,000. Mouritsen tanked, then said, "I'm all in." Greenwood quickly called. Mouritsen had gone all in with
for top pair, good kicker. Greenwood had
for top pair, top kicker. The turn and river blanked,
, and Mouritsen was out in second place, taking $445,523.
To the cheers of all the assembled supporters and spectators, Greenwood was awarded the champion's prize money of $693,444 and the gold bracelet for his first WSOP win.