2008 WSOP Event #47 $1,500 Stud Hi/Low Day 2: Jonas Klausen Leads Final 13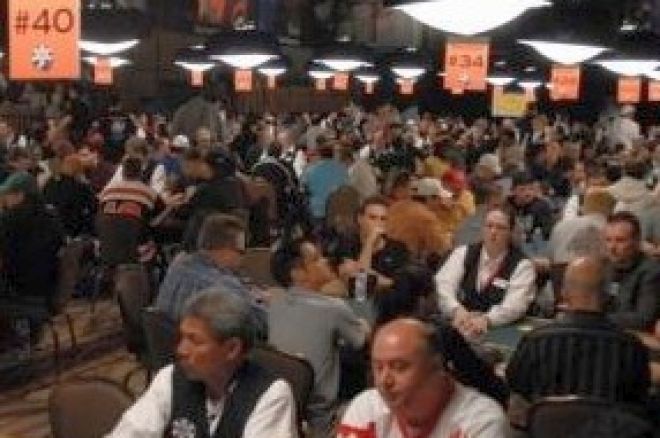 Day 2 of 2008 WSOP Event #47 $1,500 Seven-Card Stud Hi/Low, started with 117 players and shed enough of those players to safely make it into the money, which started at 56th place. The event was unable, however, to make its way down to a final table of eight. Play was suspended at 3:20 am with 13 players left and Jonas Klausen as chip leader. While Klausen has only one prior WSOP money finish to his name, he's grossed well over $500,000 this past year, making nine final tables in documented online tournament play, including an FTOPS VII event win.
Remaining Player Chip Counts and Seat Assignments:
(Table 14)
Seat 1: Ryan Hughes 73,000
Seat 4: Margaret Macre 173,000
Seat 5: James Richburg 274,000
Seat 6: Ron Long 33,000
Seat 7: David Brooker 45,000
Seat 8: Daniel Nicewander 41,000
(Table 15)
Seat 1: Mike Hefer 71,000
Seat 2: Tim D'Alessandro 82,000
Seat 3: David Sklansky 110,000
Seat 4: Thomas Hunt III 101,000
Seat 6: Alessio Isaia 172,000
Seat 7: Joshua Feldman 121,000
Seat 8: Jonas Klausen 346,000
The day started quickly enough, with short stacks Jonathan Green, Chip Jett, Sam Silverman and Tony Cousineau all departing within the first 15 minutes of play. Right after the first break, Phil Hellmuth eliminated TJ Downing when Downing's trip aces failed to find a boat on seventh street to overtake Hellmuth's fives full of sevens. Jarrod "JRod" Van Horn was also an early casualty when John Renehan claimed the low with A-3-4-5-6 and Larry Kozlove had two pair for high, leaving no chips left for Van Horn. Soheil Shamseddin had no such luck with his own A-3-4-5-6, however, and he was eliminated when Jeffrey Burdsall showed down the wheel for a scoop.
Cyndy Violette, Tony G, Denis Ethier, David Plastik, and Sam Grizzle also failed to navigate their way into a payday. David Singer became the event's designated "bubble boy," finishing in 57th place after getting all his money in on third street, only to see Vince Burgio get high with trip fives and Men Nguyen claim low. Richard Tatalovich became the first to cash, finishing in 56th place.
Brett Jungblut's 8-6 low and pair of deuces was no match for Travis Erdman's wheel, and Jungblut finished in 54th place. John Phan had already scored two WSOP bracelets this year, but had to settle for 50th place in this event. The chip leader coming into Day Two was Ben Tang, who has finished second and third in this event in prior years. Tang lost his shot at another final table when George Markakis eliminated both him and Craig Popowcer in the same hand. Tang's king-high flush was edged out by Markakis' ace-high flush and Popowcer's low draw never came. Tang and Popwcer finished in 42nd and 41st, respectively. Debbie Burkhead was eliminated in 40th place just moments later.
Phil Hellmuth locked in his 66th money finish in a WSOP event, amid a few departing F-bombs, when he finished in 33rd place. Hellmuth got all his money in on fourth street with a low pair and a low draw, but bricked out the rest of the way. Tim D'Alessandro caught an over pair on seventh street to send Hellmuth out the door, exclaiming, "There's no way you're going to f***** win." Since D'Alessandro still had chips at the end of the day, the jury is still out on Hellmuth's prediction.
Marco Traniello got all his remaining chips into a juicy five-way pot, only to see Vince Burgio scoop it with a wheel. Traniello finished in 32nd place. Craig "MrCasino" Gray had almost too many draws to count when he got it all in on sixth street with (
)
against Margaret Macre's two pair with queens up. But Gray missed on all counts and finished in 27th place. Men "The Master" Nguyen had an eight-low on fifth street, but Mike Hefer had a pair and made a seven-low on sixth street. Nguyen couldn't catch and was eliminated in 17th place, marking his 61st WSOP money finish.
Vince Burgio was crippled in a four-way pot, failing to catch any of his draws. In the very next hand, Burgio was eliminated when his four low cards on fifth street failed to find another. Daniel Nicewander's trip jacks took the pot and Burgio finished in 16th place. Mickey Seagle got all of his short stack in on fourth street with 6-5-4-2 for a better low draw than Alessio Isaia's 8-6-3-2. But Isaia caught an ace on fifth street, and made a running two pair by the end of the hand, while Seagle missed. Mickey Seagle finished in 15th place.
Hoang Ta became the last elimination of the night, finishing in 14th place. Ta was all in on third street in a three-way pot with Ryan Hughes and Ron Long. Ta came up short against Hughes' trip queens and Long's seven low. On the last hand of the night, however, Ryan Hughes was crippled in a hand where Margaret Macre scooped on a hand when she made a seven-high straight and the seven low.
Ryan Hughes won the bracelet in the WSOP $2,000 stud hi/lo event, last year, but he'll have a bit of an uphill battle to score another in this event, coming into the final day of play ninth in chips. But with the antes only at 1,500 to start Day 3, the shorter stacks will still have plenty of time to pick their spots.
In the final day of play the field will start with 13 players, and end with the winner who will take home the bracelet and $183,368 for first place. Check back with the PokerNews "Live Reporting" team to catch all the action.