2008 WSOP Event #47 $1,500 Stud Hi/Low: Ryan Hughes Wins Second Bracelet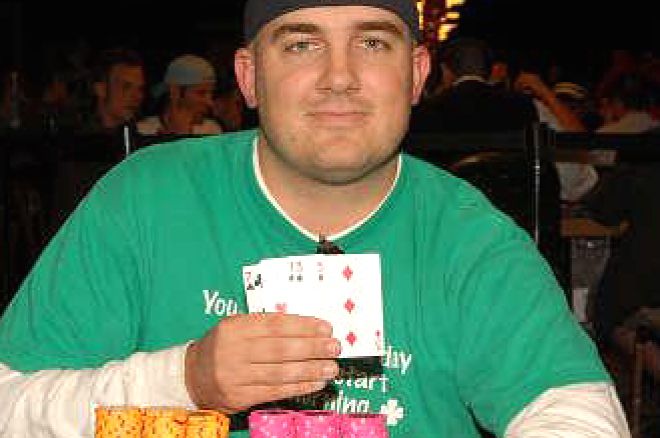 Ryan Hughes won his second WSOP bracelet in the $1,500 Seven-Card Stud Hi/Lo event, becoming the first player in WSOP history to win two stud hi/lo bracelets. Day 2 of the event was suspended when the field got down to 13 players. Ryan Hughes had taken a hit in one of the last hands of the night and started this final day of play ninth in chips. But by the time the final table of eight was decided, Hughes had moved into the lead.
Day 3 Starting Chip Counts:
(Table 14)
Seat 1: Ryan Hughes 73,000
Seat 4: Margaret Macre 173,000
Seat 5: James Richburg 274,000
Seat 6: Ron Long 33,000
Seat 7: David Brooker 45,000
Seat 8: Daniel Nicewander 41,000
(Table 15)
Seat 1: Mike Hefer 71,000
Seat 2: Tim D'Alessandro 82,000
Seat 3: David Sklansky 110,000
Seat 4: Thomas Hunt III 101,000
Seat 6: Alessio Isaia 172,000
Seat 7: Joshua Feldman 121,000
Seat 8: Jonas Klausen 346,000
The players seemed like they were a rush to get down to a final table and the first elimination came within minutes after the start of the day. Mike Hefer raised all in on seventh street showing
and was called by Alessio Isaia with
. Isaia flipped over
for the boat and Hefer finished in 13th place. Less than five minutes later, two of the short stacks collided on the other table. Ron Long had David Brooker all in on fifth street and slightly covered. Long got the scoop with a seven low and a pair after Brooker bricked out on a low draw. David Brooker finished in 12th place.
Daniel Nicewander called on every street to put himself all in, showing A-6-K-Q, but was unable to beat Ryan Hughes' two pair and he was eliminated in 11th place. Ron Long got most of Margaret Macre's chips when he scooped with a seven-high straight and a six-five low. She got the rest of her chips in on a hand where she had made two pair on fourth street, however she didn't improve and Joshua Feldman caught a higher two pair and an eight low for the scoop. Margaret Macre finished in 10th place. James Richburg got the rest of his chips into a three-way pot. Richberg mucked with a pair of queens showing after seeing that Joshua Feldman's wired aces found a second pair for high, while Alessio Isaia showed an eight low. James Richburg finished in ninth place.
At the start of final-table play, Ryan Hughes had the chip lead with 400,000, and Jonas Klausen was in second with 338,000. Hughes would temporarily lose the lead to Alessio Isaia after Isaia produced a flush and a six low in one of the first hands of the final table.
This was three-time bracelet winner David Sklansky's second final-table appearance in less than a week. But the cards were not cooperating for Sklansky today as he had a number of good starting hands that had to be forfeited after bricking on fourth and fifth streets. Sklansky eventually got his short stack all in a three-way pot, only to see Tim D'Alessandro take the high with trip aces and Ryan Hughes make a seven low. David Sklansky finished in eighth place for $19,306.
Joshua Feldman had made jacks up on fourth street, but Klausen's split aces found another pair on seventh street to eliminate Feldman and take the lead. Joshua Feldman finished in seventh place for $23,019.
Jonas Klausen - 463,000
Ryan Hughes - 450,000
Alessio Isaia - 265,000
Ron Long - 210,000
Tim D'Alessandro - 150,000
Thomas Hunt III - 120,000
The two large stacks went at it, with Hughes taking a high-only pot to retake the lead. Moments later the short stacks collided in a hand that resulted in an elimination. Tim D'Alessandro was in great shape through fifth street with rolled up tens against Thomas Hunt III's aces up. But Hunt found another ace on sixth street for aces full, while Tim D'Alessandro simultaneously filled up with the lesser boat. Tim D'Alessandro finished in 6th place for $30,444.
At this point Ryan Hughes started a run on the final table, building his stack to over 900,000, mostly at Jonas Klausen's expense. Klausen eventually put himself all in on fifth street in a hand where he had started out with (4-2) 3. Klaussen would brick out to a low and end up with only a pair. His opponent, Ron Long, was able to produce two pair to eliminate Jonas Klausen in fifth place for $39,355.
Ryan Hughes - 1,010,000
Ron Long - 265,000
Alessio Isaia - 220,000
Thomas Hunt III - 140,000
Alessio Isaia called all his chips in on seventh street, after his wired aces had found another pair. Ryan Hughes had started with (
)
, but it was the three kings that followed that took the pot. Alessio Isaia finished in fourth place for $50,122.
Thomas Hunt got the last of his chips in with (5-3) 2, only to miss a low and catch a pair of deuces. Ryan Hughes' unimproved split threes were good enough to take it. Thomas Hunt III finished in third place for $68,686.
Ryan Hughes 1,317,000
Ron Long 315,000
As heads-up began, both players had a chance to make WSOP history. Up until now, no player had ever won two WSOP bracelets in stud hi/low. Ryan Hughes had won his first last year in the $2,000 stud hi/lo event. Ron Long had won his in 1999 in the $2,500 stud hi/lo event. And while Ron Long was starting heads-up play at a disadvantage, Long had already established a track record of overcoming adversity. When today's final day of play started with the event's remaining 13 players, Long was the shortest stack.
Long was able to stage a rally, subsequently taking three pots in a row, all of them played to the river. On the first hand, Long made trip sixes. On the second hand, a pair of aces was good enough. And on the third hand, Hughes surrendered his hand to Long's river bet. But rally as he might, Long was never able to get the upper hand.
Long got all of his chips in on fifth street on this final hand:
Long: (
)
Hughes: (
)
Hughes' runner-runner boat overtook Long's wired kings and Ron Long finished in second place for $113,240. Hughes' win was worth $183,368.
During his post-win interview, Ryan Hughes said he almost hadn't entered this event. He had been thinking about returning home when a friend talked into staying to play this tournament. Hughes said his favorite game is Omaha hi/lo, and that this was only his second time playing stud hi/lo since winning his bracelet last year. With a second stud hi/lo bracelet, however, Hughes may change his mind on that.