2008 WSOP Event #49, $1,500 No-Limit Hold'em Day 2: Nielsen Leads Tran, Pelton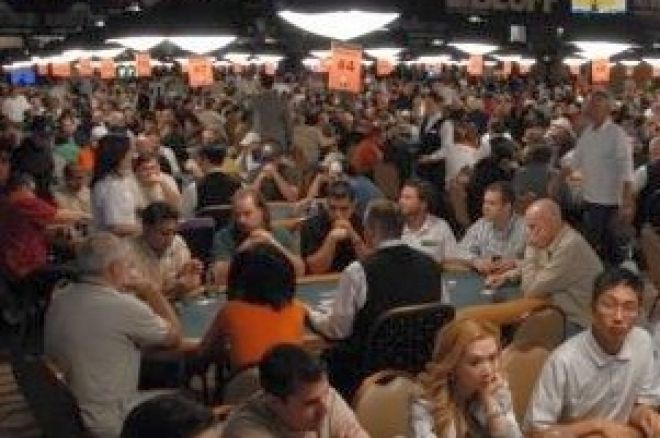 Starting Day 2 of Event #49, $1,500 No-Limit Hold'em., the 215 remaining players knew they were already in the money, so their focus was on making it to the final table where one of them will win $631,170 and the WSOP bracelet sometime Monday night. After a 16-hour session, the final nine was set with Denmark's Rasmus Nielsen as the chip leader and WPT Player of the Year J.C. Tran going into his third final table of this Series in search of his first win. 2006 WPT Legends of Poker winner Joe Pelton is also vying for his gold bracelet.
Here are the seat assignments, hometowns, and chip counts of the final nine:
Seat 1: Christoph Kohnen (Moers, Germany) — 293,000
Seat 2: Joe Pelton (Irvine, California) — 1,093,000
Seat 3: Jesper Hoog (Stockholm, Sweden) — 320,000
Seat 4: John Conroy (Dublin, Ireland) — 501,000
Seat 5: Robert Kalb (Offenbach, Germany) — 456,000
Seat 6: JC Tran (Sacramento, California) — 1,438,000
Seat 7: Chad Siu (Vancouver, British Columbia, Canada) — 185,000
Seat 8: Peter Nguyen (Tustin, California) — 870,000
Seat 9: Rasmus Nielsen (Copenhagen, Denmark) — 2,998,000
Going into Day 2, Micah Raskin had the chip lead, while close on his heels were Young Phan, Matt Matros, Greg Mueller, Manny Minaya and J.C. Tran. A number of other notable pros were still in it including Hevad Khan, Kristy Gazes, Andy Black, Nancy Tyner, David Pham, Andy Black, Jon Friedberg, Men "The Master" Nguyen, and Vivek Rajkumar. Of that group, only Tran survived to the final.
Young Phan started the day aggressively, eliminating two players on the first two hands and moving quickly to the chip lead. However, his day was cut short when he ran A-7 into an opponent's A-K and he settled for 32nd place.
Jon Friedberg also knocked out players back to back, first when his pocket eights held up against A-6, and next when his K-9 found a nine on the flop, to ensure his topping an opponent's K-8. But Friedberg was out later, losing a race against Anderson Silva. Friedberg had pocket eights, Silva the A-K, and a king on the flop sent Friedberg out in 28th place. The hand also padded Silva's chip stack to over 720,000.
Peter Nguyen began his march up the leaderboard when he pushed all in with
against an opponent's
on a
board and no king came on the river. Later, he called an opponent's all-in with the board showing
; Nguyen tabled
for top pair, his opponent turned over
for a straight and flush draw. The river bricked and Nguyen scooped another big pot.
Men "The Master" Nguyen went far in Day 2 due to some good fortune. In one hand, he was in a coinflip with jacks against an opponent's A-K, only to fall behind on a K-4-2 flop. But a jack on the river moved him to among the chip leaders. He found further luck in a hand against Matt Matros. Men pushed all in from the cutoff with just
and watched Matros called from the big blind with
. The flop came
and Matros was still ahead, but a
on the turn counterfeited his pair and, after fading a five on the river, Men doubled up. Matros, was eliminated in 30th place soon after.
Men Nguyen, though, soon bowed out as well, when a steal attempt from the small blind with 6-3 ran into JC Tran's pocket aces. With no help on the board, Men departed in 25th place. A few hands later, Tran also eliminated Neil Deutsch when Tran's pocket eights flopped a full house. Deutsch caught a king on the turn for a pair, but no help on the river sent him home in 22nd place.
Greg Mueller started the day strong, but his ride ended in a hand against Rasmus Nielsen, who called a three-bet steal attempt by Mueller from early position. Mueller's K-10 was dominated by Nielsen's A-K, and an ace spiked on the flop for good measure. Nielsen's stack was over 750,000 and Mueller was out in 59th place.
Nielsen also took down Andy Black, when they pushed it all in preflop. Black showed
and Nielsen had
. The board ran out
and Black was the 27th-place finisher and Nielsen vaulted over 1.3 million in chips.
Joe Pelton took some chips off of Anderson Silva late when Silva's aggressive play had him all in when Pelton check-raised all in after a flop of
. Silva showed, and Pelton called, tabling
. Silva's pocket deuces failed to improve, giving Pelton double-up. But on the next hand, Silva took some chips back from Rasmus Nielson when he pushed in with A-10 and had Nielsen's A-9 outpipped.
With one more elimination to go before the end of play, Nielsen announced all in after Anderson Silva had limped and John Conroy raised. Silva called, but Conroy folded, showing pocket tens, and when the cards were tabled Silva had
to Nielsen's
. The flop came
putting Silva further behind. Silva was drawing dead after the
turn. Nielsen ended up making quads with the
on the river and Silva was out in 10th place, earning $36,729. The final table was set.
Join PokerNews.com for live reporting of the final table, beginning at 2pm Pacific Time.