2008 WSOP Event #5, NLHE W/ Rebuys Final: Michael Banducci Wins Big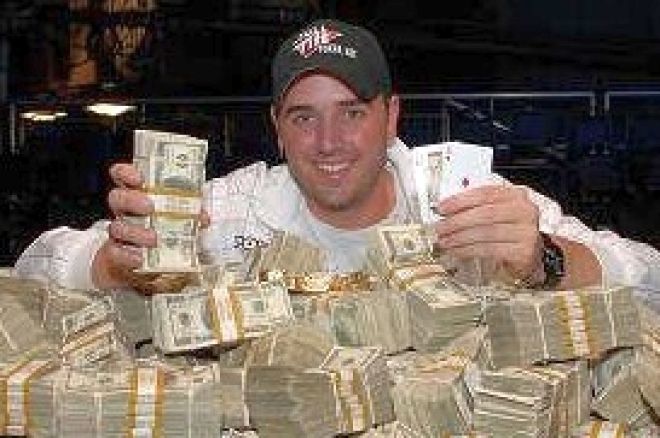 Michael Banducci won his first WSOP bracelet in Event #5, $1,000 No-Limit Hold'em w/ Rebuys, going wire to wire at the final table and collecting a payout of $636,736. Banducci's previous highest finish in a major tournament had been a third place at last year's WPT Borgata Poker Open. He has had 14 prior cashes in major events, including four in last year's WSOP, but never a payday as big as this one.
Going into the final table, these were the seat assignments, home towns and starting chip counts of the final nine:
Seat 1: Michael Banducci (Traverse City, Michigan) 1,655,000
Seat 2: Jonathan Aguiar (Las Vegas, Nevada) 361,000
Seat 3: Michael Binger (Las Vegas, Nevada) 186,000
Seat 4: Steve Gross (Marlboro, New Jersey) 112,000
Seat 5: Jamie Rosen (Boca Raton, Florida) 475,000
Seat 6: Jeff Williams (Dunwoody, Georgia) 683,000
Seat 7: Alan Jaffray (Silver Springs, Nevada) 1,222,000
Seat 8: Peter Gould (London, United Kingdom) 702,000
Seat 9: Lyric Duveyoung (Fairfield, Iowa) 659,000
On the fifth hand of the day, we had our first elimination – and it was a two-fer. Steve Gross moved all in for his last 104,000, and then Jamie Rosen moved in as well for 420,000. Lyric Duveyoung was sitting on over 600,000 and gave it a good long consideration before making the call. Gross showed
, Rosen had
, and Duveyoung had them both covered with
. The flop came
, pairing Gross' ten, but keeping him still behind Duveyoung. Another nine on the turn and a meaningless
on the river sent two to the rail. Since he started with the smaller stack, Gross was out in ninth with $57,881 and Rosen finished eighth, taking home $79,587.
Just three hands later, Michael Binger moved all in from the small blind for 156,000. Jeff Williams paused to contemplate for a bit before making the call. Binger had the best of it,
over Williams'
, until the flop of
gave Williams top pair; still, Binger had an inside straight draw to add to his other outs. None of those outs materialized. The turn was a
and the river the
and Binger was out in seventh place, good for $101,293.
Three hours into play, the remaining six had fairly similar chip stacks; no one was way out in front and there was no one in danger of being blinded off any time soon. Few hands saw flops and it took 45 minutes after the break to see a river card dealt. Although the tempo earlier (with three rapid eliminations) suggested a short evening, play slowed considerably. Jeff Williams tried to get something going by pushing the action, and his aggressive play kept adding to his chip stack, albeit in small increments, but he couldn't get anyone see a flop with him. When he finally did, pocket fours against Alan Jaffray's suited A-9, the ace on the turn cost Williams a good portion of his chips.
Eventually, Jonathan Aguiar suffered a fatal one-two punch. In the first hand, Aguiar had raised in early position to 81,000 and Peter Gould moved all in. Aguiar, who had Gould barely covered, took no time making the call and flipped over
to Gould's
. The flop came
, giving Aguiar not only the overcard draw but also opening the possibility that Gould's pocket pair would be counterfeited. That is, until the
fell on the turn, leaving Aguiar drawing dead. Losing that hand crippled Aguiar, leaving him with just 113,000. He pushed that in on the next hand and had two callers, Jeff Williams and Peter Gould. Williams and Gould checked the flop of
and also the
turn, but when the
fell on the river, Williams bet 30,000 and Gould folded. The jack had paired Williams'
and Aguiar, holding
, was knocked out in sixth place, with a payout of $130,234.
Alan Jaffray had doubled up to over 1 million through Peter Gould, hitting a queen-high flush on the river to topple Gould's A-K, but had his tournament life ended just five hands later. From the small blind, Jaffray had re-raised Michael Banducci and, after thinking for a moment, Banducci came back over the top with an all-in which Jaffray quickly called. Banducci had Jaffray covered and his
had Jaffray's
dominated. The
gave Banducci an almost insurmountable lead and the
on the turn took away the chance of a miracle suckout for Jaffray. With the irrelevant
on the river, Jaffray's tournament life was over and he left a fifth-place finisher, winning $164,963. And Banducci now had a monster stack.
It was Peter Gould who delivered the next knockout blow, sending Lyric Duveyoung to the rail. Gould raised to 155,000 on the button and Duveyoung moved all in for 590,000 from the small blind. Gould thought for a moment, then made the call, showing
to Duveyoung's
. The flop came
, giving Gould top pair. The
turn improved Gould's hand to two pair, but also gave Lyric hope in the form of an open-ended straight draw. The
on the river, though, was of no help and Duveyoung took fourth place and the $201,139 that went with it.
The final three were Banducci, Jeff Williams, who won the EPT's Grand Final in Monte Carlo in 2006, when he was only 19, and Gould, a tournament circuit pro making his first appearance at a WSOP final table. The three slugged it out for two and a half hours, with Williams and Gould each taking turns at doubling the other up, while Banducci used his big stack to scoop up some smaller pots, while mostly staying out of their back and forth contest.
Just when it looked like Williams and Gould were going to slug it out well into next year, Banducci stepped in. Banducci opened the hand with a raise to 100,000, Williams folded, and Gould re-raised to 480,000. Banducci moved all in and Gould called. Banducci turned over
and was dismayed to discover that he trailed Gould's
. With Banducci's friends shouting for a seven, the flop came
…
! The crowd went crazy, but Gould had outs – not just the ten for a better set, but he picked up an inside straight draw as well. Gould was still alive after the
came on the turn, giving him a flush draw on top of his other outs. But it was not to be, and when the
fell on the river, Peter Gould was out in third place, $245,993 the richer.
Heads-up play started with Banducci having a commanding chip lead, 5,260,000 to Williams' 1,225,000. Banducci took few risks and seemed comfortable with biding his time. The two traded small pots for just over a half hour, usually without a flop. Then Williams looked down and saw and ace and decided it was time to make his move. Williams raised to 130,000 and Banducci re-raised to 400,000 total. Williams moved all in and Banducci called. Williams could not have liked what he saw as Banducci's
dominated his
. The flop of
put Banducci firmly in control of the hand but the
on the turn gave Williams a ray of hope that a queen would come to split the pot. But the river was the
, and that meant that Michael Banducci was the winner of the $1,000 No-Limit Hold'em w/ Rebuys event. In addition to the coveted WSOP bracelet, Banducci won $636,736. Jeff Williams, as the runner-up, took home $406,330. Congratulations to Michael Banducci on his first WSOP bracelet!