2008 WSOP Event #7, $2,000 NLHE, Day 1: Theo Tran Leads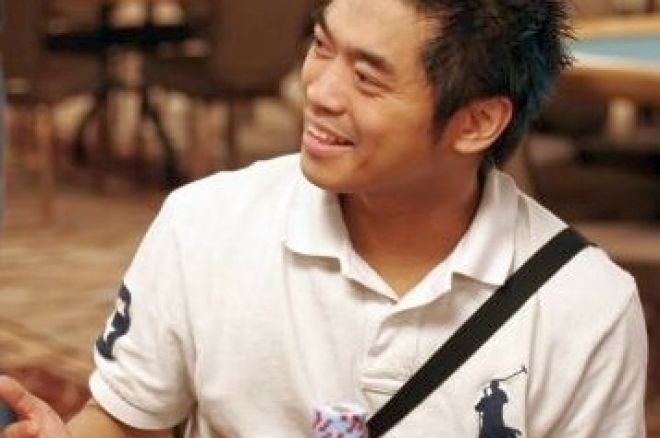 The WSOP changes its schedule every year, making year-to-year comparisons a little dubious. That being said, 2008's first $2,000 no-limit hold'em event outdrew last year's by 61 players. With six events running simultaneously, Day 1 of Event #7 had a starting field of 1,592 players. The eventual winner of this event will take home $550,601 with a total of 153 players in the money.
Theo Tran, just off his fourth-place finish in Event #2, ended the day as chip leader with 145,800 chips. The rest of the "over 100,000 chips" club included Nick Romano, Scott Montgomery, John Myung, Rocco Pace, and Thong Tran.
The action was fast and furious, cutting the field down to just 152 players by the end of the night and breaking the money bubble just before the end of play. For the first 30 minutes of the event, the room was serenaded by a constant chorus of dealers yelling "Seat open!" as players flocked to the rail. Eliminations before the first break included Dario Minieri, Bill Edler, Jennifer Tilly, Chad "lilholdem954" Batista, TJ Cloutier and Michael Mizrachi.
After the break, the exodus continued as Liz Lieu, Antonio Esfandiari, and Burt Boutin all departed. Noah Boeken did everything he could to avoid a bad beat by pushing all in pre-flop with pocket jacks, but a caller with K-9 hit two pair with a board of 9-6-5-A-K, eliminating Boeken.
One player quipped that he should have changed his last name to Tran before the event. It did appear that many Trans gained the upper hand as the day unfolded. Theo Tran was literally just hours off his Event #2 final-table appearance and seemed more than content to play the rush. After showing down a bluff, Tran raised under the gun on the very next hand and found a caller. Tran's opponent reraised all in on a flop of J-7-5 and Tran immediately called. Tran tabled pocket kings, which held up against his opponent's Q-J.
The intent was to stop play when the field made the money, but during the last hand of the day, two players went out on the bubble. Christian Iacobellis went out when his A-Q couldn't overcome pocket sevens. And "Aussie Sarah" Bilney's pocket queens fell to Claudio Fonseca's A-Q. All the money went in on a flop of 3-4-5, giving the advantage to Bilney. Fonseca, however, caught a deuce on the river for the wheel. Iacobellis and Bilney split 153rd-place money as their bubble consolation prize.
There will be a number of notables returning for Day Two including Shannon Shorr, Dustin "Neverwin" Woolf, Michael Bernstein, John Phan, JC Tran, Sabyl (Cohen) Landrum, Chris Bjorin, Fred Goldberg, Leif Force, Matt Keikoan, Nancy Todd Tyner, Thomas Keller and Aaron Kanter.
The top ten in chips as the day concluded were as follows:
Theo Tran 145,800
Nick Romano 126,500
Scott Montgomery 117,100
John Myung 106,800
Rocco Pace 106,000
Thong Tran 105,800
Pawel Andrzejewski 98,100
JC Tran 93,200
Robert Morgan 90,700
Christopher Wiggins 89,700
Check back with the PokerNews live reporting team for all the Day 2 action.