2008 WSOP Event #8 $10,000 Mixed Event Day 2: Matt Glantz Heads Final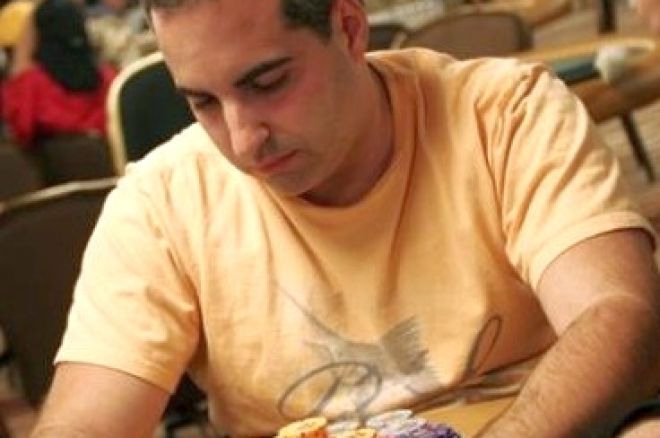 Phenomenal play, prop bets, good-natured taunting, and an almost unrivaled, star-studded field have come to define this $10,000 mixed-game debut event. Day 2 started with 89 players remaining from Event #8's stellar starting field of 192.
The pros seemed to thrive on the rotating games, featuring deuce-to-seven triple draw, limit hold'em, Omaha-8, razz, seven-card stud, stud-8, no-limit hold'em, and pot-limit Omaha. In fact many of the Event #8 players are regulars in the Bellagio's "Big Game," which boasts a similar rotation of games. And judging by the number of hours it took for Day 2 to reach its final table, you could fairly conclude that the players would have been happy to stay on and play another fourteen hours. It would be just after 5:00 am before the final table was set with David Oppenheim's ninth-place elimination. Matt Glantz will lead the survivors in his second WSOP final table; Glantz claimed second place in the $3K NLHE event in 2005. The final table line-up follows:
Seat 1: James "mig.com" Mackey 742,000
Seat 2: Matt Glantz 1,115,000
Seat 3: Sammy Farha 374,000
Seat 4: Michael DeMichele 434,000
Seat 5: Tom "durrrr" Dwan 642,000
Seat 6: Eli Elezra 76,000
Seat 7: Anthony Rivera 274,000
Seat 8: Jeff Madsen 149,000
There was an early elimination wave at the start, as many of the short stacks fell. Todd Brunson, Erik Seidel, David Grey, Tony G, Alex Kravchenko, Sigi Stockinger, Tim Phan, Noah Jefferson and David Sklansky were among some of the early casualties. However, a few players were able to profit early. In a limit hold'em round, John Hennigan hit a set on the flop with his pocket tens, winning the hand off of two players holding pocket aces and a player holding pocket queens. Eli Elezra was also able to build in the early going. During a stud-8 rotation, Elezra scooped a 100,000+ pot with a wheel, eliminating Christoph Niesert and Joseph Michael in the process.
Sammy Farha ran well throughout the day. Farha eliminated Mike Sexton and Marcel Luske on the same pot-limit Omaha hand, building a healthy cushion for the pending money bubble. Minh Ly was Event #8's unenviable bubble boy, eliminated on a stud-8 hand with four-way action. Eli Elezra was the eventual winner of that pot, boosting his stack to 298,000.
Doyle Brunson's bid for another bracelet ended in 21st place. In pot-limit Omaha, Brunson reraised all in against William McMahan pre-flop. Brunson had
vs. McMahan's
. The
flop delivered a pair of queens for McMahan and a flush draw for Brunson and that was still the case when the board played out. And Johnny Chan's 13th-place finish kept the Brunson-Chan bracelet battle tied at ten apiece.
2007 WSOP Player of the Year, Tom Schneider was chip leader heading into Day Two and was able to parlay that to a 12th-place finish. Schneider's final hand was an eight low that fell short to Jeff Madsen's seven low.
Gus Hansen started the day second in chips and ended his day in 10th place. In limit hold'em his short-stack push with Q-8 never got the better of Sammy Farha's K-9. David Oppenheim's ninth-place elimination soon followed, setting the stage for Event #8's final table. Check back with the PokerNews Live Reporting Team for what is bound to be exciting final-table action.
The list of money finishers for Event #8:
9. $ 45,120 David Oppenheim
10. $ 45,120 Gus Hansen
11. $ 36,096 Ali Eslami
12. $ 36,096 Tom Schneider
13. $ 27,072 Johnny Chan
14. $ 27,072 Lee Watkinson
15. $ 18,048 Chris Gentile
16. $ 18,048 Amnon Filippi
17. $ 16,243 William McMahan
18. $ 16,243 Brandon Adams
19. $ 16,243 Greg "FBT" Mueller
20. $ 16,243 Adam Friedman
21. $ 16,243 Doyle Brunson
22. $ 16,243 Scott Seiver
23. $ 16,243 Chad Brown
24. $ 16,243 Nikolay Evdakov