Poker Room Review: Naples Ft. Myers Dog Track, Bonita Springs, FL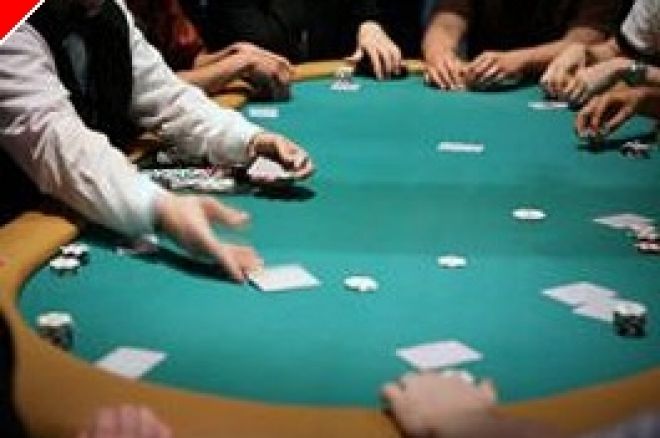 It's not fancy. There are few bells or whistles, and the poker food is less than outstanding. But if you are in the Ft. Myers-Naples area, like your poker straight, with few gimmicks, and don't have a great home game already, this might be a good spot for you to play.
The poker room at the Naples Ft. Myers Dog Track is located on the second floor of this large greyhound racing establishment. There's elevator and escalator access – which is a good thing because a large percentage of the clientele appear too old to comfortably walk up the long flight of stairs. That's not to say that all of the players are senior citizens. But more than 50% appear to be – with maybe 20% looking over 80. The rest seemed middle-aged, with only a handful of folks looking to be of the young generation of poker players who learned it watching television.
The action at my tables – I tried the $1/2 no-limit and a $2/4 limit games – was relatively sedate. Though the starting stack for the no-limit table is limited to $100, there were very few folks "shoving" and going all-in. I found the players relatively loose, but timid and passive. A typical pre-flop raise would be to $7 – as opposed to the Hard Rock where folks often raised maniacally to $25. Four or five would call and see the flop.
I played a little more tightly and aggressively than most, raising typically in early position to $10 (and getting stares for my boldness). I tended to narrow the opposition to one opponent. That suited me fine – though I saw some grumbling from some of the oldsters ("What's he so proud of," said one who mucked his hand, exposing it beforehand to a neighboring player). I didn't mind one bit, winning $40 or so in the one hour I played.
The $2/4 affair was similar. Everyone tended to call the big blind. The play thereafter was pretty tight and passive. A lot of checking and then calling. I played tightly and aggressively when I hit a couple of good starting hands. There were some unhappy glances when I raised (hey, I had a pair of kings, guys). And then a couple of reluctant calls to the river. I was lucky not to get run down either time I held a premium pair – and I won nearly $100 in the hour I was there.
The rake is high – 10% to a $5 maximum, with an additional $1 coming out for the royal flush bonus. If you hit a royal flush you win $500. But since that's going to happen much less than once every 500 hands, I don't see the additional tax as much fun for the players.
There are some interesting rules. Straddles are against the rules. So is sweating another player or using any tobacco products. You must also give fifteen minutes notice before leaving the table. I can't be certain, but I think the rule is more honored in its breach. I didn't see anyone policing that rule. And what are they going to do if you disobey?
There is tableside food and beverage service. The drinks weren't free but were reasonably priced, at $2.50 for a Coke and $3.50 for a beer. However, the fast food from the snack bar next to the poker room got very poor reviews. When I asked how the food was, one player responded, "The cheeseburgers are disgusting."
The dealer cut in and said, "I think you should have just said 'no comment'. That's what I would have said." I repressed my desire to eat while I played.
That's not to say that there isn't some decent food at the track. The Clubhouse upstairs on the third floor, chiefly used by the dog-track devotees, has a nice restaurant. I ate an excellent grouper dinner for $14.95. It was the most expensive item on the menu, was delicious, and was served with a hefty number of side dishes including a nice salad. I'd recommend it to all.
Another nice feature of the room is that they have a tableside massage service. I took advantage of it for ten minutes. It was well worth the $20 I paid.
There are tournaments, too: multi-tables and single-table sit-and-goes. Check out their online site or call them directly for the latest schedule. The juice seemed a little steep – especially compared with some of the other poker rooms I visited in the area, as over 20% of the buy-in went to the house in some of them. But they could still be profitable for the best players, as the level of opposition seemed relatively soft during my two hours in the room.
All in all, this is a good, serviceable room, open seven days a week from noon until midnight. If I were a local, I might well play here regularly – though I might complain about the rake. Hey, that's what poker players are supposed to do, no?
Naples-Fort Myers Greyhound Track
10601 Bonita Beach Road
Bonita Springs, FL 34135-2567
305-649-3000
Naplesfortmyersdogs.com