2008 WSOP Event #53, $1,500 Limit Hold'em Shootout: Graham Overtakes Bellande for Bracelet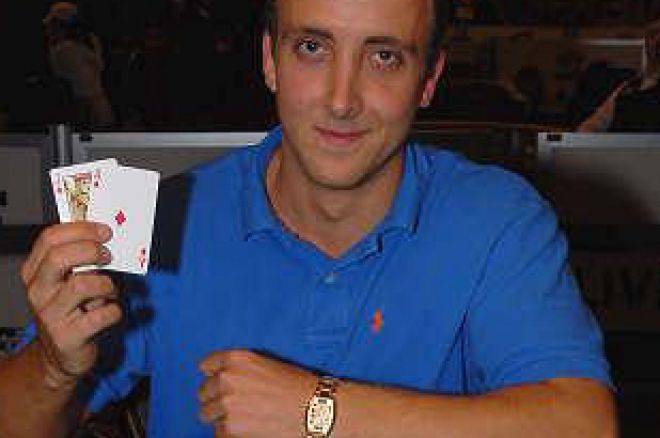 The final preliminary preceding the WSOP Main Event, Event #53, $1,500 No-Limit Hold'em, began its second day with 72 players still vying for the $278,180 first prize. At the start of the day, Matt Graham had already secured his third money finish of this year's WSOP. By the end of it, he would come from behind in one of the most dramatic and aggressive limit final tables of the WSOP to take the bracelet.
823 players started this event, with 90 advancing to Round 2 and a payday. After a long first day and night, play was suspended early in Round 2 with 72 of the 90 players still remaining. The shortest stack, Tony "The Lizard" Bloom, shoved in one of the first hands of Day 2, losing to Fred Berger's ace high and becoming the first elimination of the day. Moments later, Jimmy "gobboboy" Fricke made the same move with the same result.
So began a steady stream of Round 2 eliminations, which would continue for seven more hours. Along the way, Blair Rodman, Rhett Butler, Kenna James, David Bach, Hoyt Corkins, and Mike Wattel would all lose their bids to advance. With eight final tablists decided, the last remaining battle of Round 2 was between Matt Graham and Duane Graff. When the two began their heads-up play, the match was dead even. But Graham caught a key pot when his Q-4 hit top pair and Graff's A-K failed to connect. All the money went in preflop on their final hand with Graham's A-K in good shape against Graff's J-5. An ace fell on the flop and Graham's hand held through the river, giving him the last birth at the final table, with the seating as follows:
Seat 1: Jean-Robert Bellande
Seat 2: Danny Wong
Seat 3: Spencer Lawrence
Seat 4: Matt Graham
Seat 5: Andrew Prock
Seat 6: Michael Kachan
Seat 7: Brandon Wong
Seat 8: John Kranyak
Seat 9: Joe De Niro
It was a rough ride for Michael Kachan, who suffered a hit early on in a hotly contested three-way pot. On a board of K-J-8-5-J, Kachan would discover that his pocket aces had been cracked by John Kranyak's pocket eights. With the big stacks turning up the heat, Kachan was unable to find opportunities to recover. Danny Wong took the last of his chips when his A-K connected on an A-7-6-4-Q board. Kachan finished in ninth place for $7,526.
Andrew Prock was in good shape when he got all his money in pre-flop with A-Q against Joe De Niro's A-J. But when the flop came A-J-3, Prock was faced with an uphill battle. None of Prock's few outs materialized with the rest of the board. Prock finished in eighth place for $10,335. This marked Prock's fifth WSOP money finish overall, and fourth WSOP money finish in a limit game.
Only moments later, Joe De Niro proved that not only could he overcome A-Q, he could win with it. All of John Kranyak's chips went in on a capped turn with a board of 9-4-3-A. Kranyak discovered that his A-J only had three outs against Joe De Niro's A-Q. A queen on the river provided unnecessary help to De Niro, and Kranyak finished in seventh place with $13,480. This was Kranyak's second WSOP final-table appearance. Kranyak also finished seventh at the WPT's Borgata Championship final table last year.
A short-stacked Spencer Lawrence got his money in preflop against the big stack of Jean-Robert Bellande. Bellande's A-9 had the marginal advantage over Lawrence's K-10. But that margin grew quickly when a nine fell on the flop and Lawrence failed to connect with the rest of the board. Lawrence finished in sixth place for $20,221. This was Lawrence's second final-table appearance in this year's WSOP; Lawrence finished second in the $1,500 Omaha hi/lo event.
Jean-Robert Bellande and Danny Wong were the clear aggressors at this final table to this point. Not content to just pick on the other players, they bumped heads several times. After Lawrence's elimination they collided on four big hands in less than a half hour. Bellande drew first blood, when his 10-7 was good for two pair on a board of 10-8-3-A-A. Wong bounced back some, getting Bellande to surrender to a river bet with a board of A-10-7-6-4. Bellande's flopped set of eights in a subsequent hand crippled Wong down to 50,000 chips. Wong got some temporary relief when his river flush tripled him up in a hand with Joe De Niro. But Wong and Bellande immediately picked up the battle again.
Bellande check-called Wong through the turn with an A-6-5-6 board. Bellande bet out when a third six hit the river and Wong called in his last chips. Bellande flipped over A-8 for sixes full and Wong mucked his cards. Danny Wong finished in fifth place for $33,701. This was Danny Wong's second final-table appearance for this year's WSOP and his payday incrementally adds to his $1.8 million in career tournament cashes.
The last of Brandon Wong's chips went in preflop with Joe De Niro and Matt Graham along for the ride. Graham bet De Niro out of the pot on a 10-8-2 flop. Wong's A-2 caught a piece for bottom pair, but Graham had him one better with his 9-8, scoring middle pair. The board failed to improve Wong's plight, and Brandon Wong finished in fourth place for $69,088. This was Wong's fifth cash in this year's WSOP and second final table. Brandon Wong finished second in the $3,000 limit hold'em event.
In a hand with Joe De Niro, Jean-Robert Bellande led the betting on the Q-5-4 flop, the ten on the turn, and the king on the river. In actuality, Bellande had little before the river, catching a runner-runner straight with J-9. De Niro would tangle with Bellande only a few hands later, getting all his chips in on a flop of
. De Niro had
for top pair and an open-ended straight draw. Bellande showed the
for the nut flush draw and the same open-ended straight draw. The
turn helped no one. But the
on the river was fortune-reversing; De Niro finished in third place for $107,845.
When heads-up play began, Jean-Robert Bellande had a 1,900,000-to-800,000 lead over Matt Graham. Bellande extended his lead when his A-4 was good for two pair on a board of A-3-4-9-8. Graham battled back on a few hands, but still with a decided disadvantage until this hand. With action all the way, Graham's J-10 filled a gutshot straight draw on the river with an 8-7-3-2-9 board.
Jean-Robert Bellande had taken the early lead on this final table within the first minutes of play and had maintained it throughout. But after Graham made his straight, Bellande no longer had the lead. The match was now dead even.
Graham pulled slightly ahead for the first time in the match, only to have Bellande retake the lead moments later. And so it would go, with the chip lead seesawing back and forth without either player gaining a sizable advantage. The fulcrum finally swung in Graham's direction with a hand bet down to the river, with the board showing
. At the showdown, Bellande had A-8 for two pair of eights and fives. But Graham took the pot with his 8-6 and a higher two pair. Bellande's descent continued on a hand where Graham's top pair, with J-9 on a J-5-2-4-7 board, took down another pot. On life support, Bellande was all in with 9-7 to Graham's A-J. Neither player connected with the ensuing board and Graham won the tournament with ace-high.
Jean-Robert Bellande finished in second place for $173,564. Although well known in the poker world with over $800,000 in tournament cashes, and known outside the poker world as a contestant on "Survivor: China," this was Bellande's first WSOP final-table appearance. Graham's comeback during heads-up play brought him the last bracelet before the start of today's Main Event, and with it the $278,180 winner's payday.