2008 WSOP $10,000 NLHE Championship Day 1D: Second Largest Main Event Field in History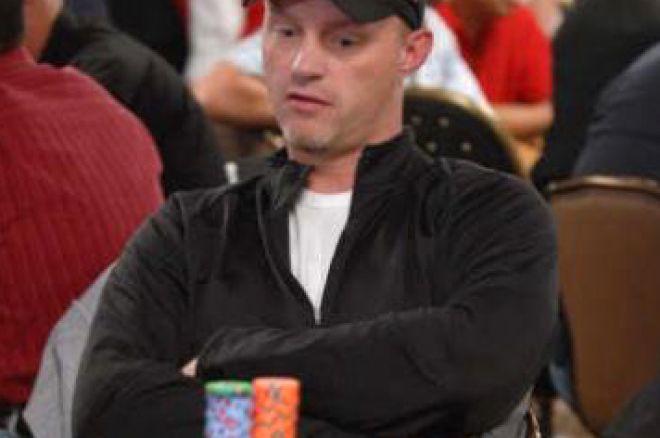 All the overflow areas were in play at the Rio for Day 1D of the WSOP Championship Event, as 2,461 players took the field. With registration officially closed for the event, the total number of 2008 WSOP Championship entrants climbed to 6,844, the second largest WSOP Main Event field in history. The winner will take home $9,119,517 and the top 666 players will see a payday.
While the previous Day 1 flights got serenaded prior to play, Day 1D players got a political announcement, albeit one of interest. Congressman Robert Wexler spoke about the congressional efforts to revoke the UIGEA, before delivering the words the field came to Vegas for: "Players... shuffle up and deal!"
Representing 40 WSOP bracelets between them, former WSOP Champions Phil Hellmuth, Doyle Brunson, Carlos Mortensen, Chris Ferguson, Noel Furlong, Johnny Chan and Jerry Yang chose Day 1D to play. They were joined by many other notables, including Phil Ivey, Annie Duke, Allen Cunningham, Hevad Khan, Jennifer Harman, Alan "BodogAri" Engel, Kirill Gerasimov, Howard Lederer, Barbara Enright, Cliff "JohnnyBax" Josephy, Steve Dannenmann, Phil Gordon, Men "The Master" Nguyen, and tournament director Matt Savage.
It was also a big day for the celebrity factor, featuring Godsmack frontman Sully Erna, former MLB player Jose Canseco, MLB pitcher David Wells, professional golfer Paul Azinger and UFC fighters Chuck "The Iceman" Liddell and Forest Griffin.
Tim Vance won the EPT Scandinavian Open earlier this year, but found little traction at this year's WSOP. Not long after the start, Vance's A-K made a Broadway straight on a rainbow flop. With betting action through the river and Vance all in, he would discover that his opponent stuck around with middle pair and caught a runner-runner flush. "It was a pleasure playing with you all. It's been like that the whole Series. Nice hand, sir."
Paul Wolfe was cursed by the 5-3 in the early going, first losing with it and then losing to it. Wolfe was crippled in the early going when he flopped two pair on a 5-4-3 board, and lost to a wheel. Short-stacked, he put his money in with A-J and was called by an opponent with 5-3. When the flop came 8-6-5, Wolfe was in trouble, but a jack on the turn put him back in the lead. And then a fortune-reversing three came on the river, and Wolfe was done for the day.
2005 WSOP Championship final tablist Scott Lazar was another early victim, taking a huge hit when his flopped set of deuces ran into a turned set of aces. A few hands later he pushed the rest of his stack in with pocket tens, but his opponent's K-10 hit a king on the flop and sent Lazar to the rail. Lazar wasn't the only former WSOP Championship final tablist to make an early exit. David Williams, 2004 WSOP Championship runner up, had a series of tough early hands. In his final hand, Williams pushed all in on the K-9-6 flop, holding pocket nines for the set. His opponent called with a Q-10 gutshot draw. The straight took the long road to get there, with a seven turn and an eight river.
Annie Duke made it through the first break, but got in trouble soon after on a hand where she bet 10,000 on the river. When Duc Pham called, Duke said, "You got it." Pham showed down two pair to prove that he did indeed have it. Duke was subsequently eliminated when she ran her pocket tens into pocket queens. And Jose Canseco lost most of his stack when he ran into an opponent's flopped set. One hand later he took his A-10 up against A-K and headed for the locker room.
In 1999, Noel Furlong became the first WSOP champion to score a seven-figure prize, but this year Furlong came up empty, becoming the victim of Rob Winchell's straight flush. Pitcher David Wells might be new to poker, but showed a lot of insight when he said, "I had fun. But it sucks to leave early." The river delivered trip deuces for Wells, but delivered a boat to his opponent. And Andy Bloch was eliminated after his flopped straight fell to Ken Costanzo's turned boat.
2007 WSOP Player of the Year Tom Schneider was sent to the rail when his flopped top pair couldn't hold against Mark Newhouse's flopped open-ended straight flush draw. Leif Force's day ended when his A-K couldn't make the uphill climb against Richard Eh's pocket aces. Jennifer Tilly was out when her A-K fell to Jimmy Burgess' pocket tens.
Phil Ivey took a big hit when his nut flush was rivered by a boat. A few hands later, Ivey was out, starting a wave of pre-dinner eliminations. Mickey "Mouse" Mills, Vinnie Vinh, Mats Rahmn, George Danzer, and Allen Le all fell before the dinner hour. And Doyle Brunson lost his bid for another championship before dinner, when he got all his chips in on an open-ended straight draw that failed to materialize.
The eliminations hastened after the dinner break. John Phan's pocket queens fell to Caity Byrne's A-K when an ace fell on the flop. "Aussie Sarah" Bilney got all her chips in on a 10-6-4 flop; unfortunately for Bilney, her pocket kings were chasing Rob Roseman's flopped set of fours. Roseman caught an additional four on the river for quads, and Bilney's night was over. John Sitton and Jean Gaspard soon followed.
Chris Ferguson shoved all his money in on river with a board of
, but his flopped set of sevens was no match for Zeav Malichie's flopped nut flush. Karina Jett, Maria Ho, and Doug Lee also failed to make the last break of the night. Todd Brunson's elimination came just after the break, when he got his money in on the turn with
on a
board. Brunson's trips, however, trailed Tom Braband's nut flush with
. The river bricked for Brunson and he was done.
Michael Mizrachi got in all his money with the best of it on a
flop holding
for bottom pair and the flush draw. His opponent called with A-10 for an open-ended straight draw. The turn delivered his opponent's straight, but no club came for Mizrachi on the turn or river. Cyndy Violette's A-K couldn't improve against Jan Skampa's pocket deuces and she was done for the night. And as the night was coming to a close, Layne Flack got all his chips in on a
flop, holding
for top pair and a flush draw. Christian Oman, however, had flopped the straight and Flack failed to overcome it.
This year, Nikolay Evdakov cashed in a record ten events at the 2008 WSOP. He survived Day 1D and will attempt to break his own record by cashing in the Championship event. In all, 1,362 survived Day 1D, which is more than the Day 1A and Day 1B survivors combined. Evdakov will be joined by Phil Hellmuth, Jennifer Harman, Johnny Chan, Carlos Mortensen, Jerry Yang, David Oppenheim, Gus Hansen, Victor Ramdin, Duncan Bell, Allen Cunningham, Hevad Khan, Howard Lederer, Cliff Josephy, Kirill Gerasimov, Jean-Robert Bellande, Matt Savage, and so many, many more. The leader among all Day 1d survivors was Steve Austin (shown above), who finished the night stacked at 149,000.
Today is a day of rest for the Championship Event, and the first flight of Day 2 will pick up again on Tuesday. Check back with the PokerNews "Live Reporting" team for all the action.
Day 1D Chip Leaders:
Steve Austin — 149,000
Mohamad Kowssarie — 146,000
David Stucke — 140,525
Sami Rustom — 140,450
Dylan Linde — 138,425
Nikolay Losev — 127,225
Victor Ramdin — 124,600
Samir Shakhtoor — 122,875
Christian Choi — 122,225
Charles Dolan — 121,625