2008 WSOP $10,000 NLHE World Championship Day 6: Dennis Phillips Leads Final 27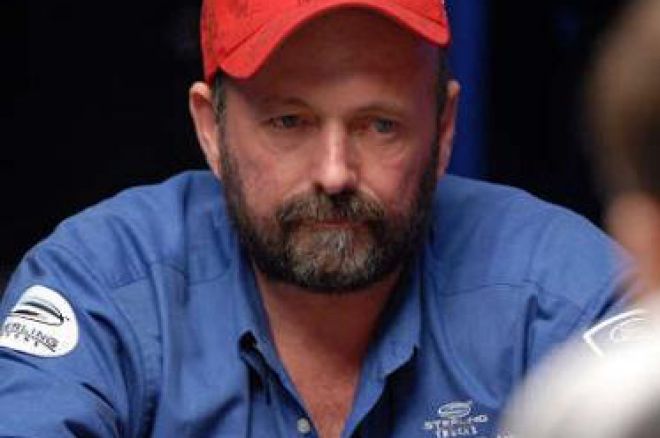 On July 3rd, the WSOP $10,000 No-Limit Hold'em World Championship began with 6,844 players. Ten days later, only 79 players remained, all focused on the coveted bracelet and $9,111,517 first prize seemingly within their grasp. While the payouts crossed the six-figure mark for the first time in the tournament, it was a double-edged consolation prize for all those that made it so deep into the second largest WSOP event in history.
At the end of Day 6 only 27 players remained, with Dennis Phillips holding a slight chip lead over Craig Marquis. Phillips won his seat into the Main Event through a satellite held at Harrah's Casino in his home town of St. Louis. At age 53, he is the oldest player of the final 27, which is heavily populated by 20-something year-olds. Craig "craigmarq" Marquis, in second place, more closely represents the demographic of the remaining players; Marquis is 23, a college student, and an online player. And while the third-place player is also young, she represents a rare demographic so deep in the WSOP Championship Event. Tiffany Michelle is the last woman remaining in the field. To date, Barbara Enright is the only woman to make the WSOP Championship final table, finishing in fifth place in 1995. More than ten year later, Tiffany Michelle will get her shot at a poker history-making finish.
The worst hand in poker was responsible for the first elimination in Day 6. All the money went in on an 8-6-2 flop, with Bob Whalen holding pocket jacks to David "Chino" Rheem's 7-2, known as "the hammer." A seven came on the turn to give Rheem two pair, and Whalen couldn't catch up; Whalen was eliminated in 79th place. Rheem mused, "Sometimes when you get your hand caught in the cookie jar, you get a cookie. Most of the time you get your hand smacked." Matt Matros sealed his tenth lifetime cash in a WSOP event, finishing in 78th place when his A-7 couldn't overtake David Saab's pocket threes. And Mark Wilds scored his 19th WSOP lifetime money finish, coming in 77th when his pocket eights went up against Darus Suharto's pocket nines.
Lisa Parsons put the last of her chips in the middle with pocket jacks, only to run into Owen Crowe's pocket aces. Parsons' finished in 76th place and left Tiffany Michelle to represent for women. David Benefield had the best of it when all his money went in on the turn. With the board reading
, Benefield flipped over
for the jack-high straight. Brandon Cantu turned over
for a pair and nut flush draw. The
on the river completed Cantu's flush and David Benefield finished in 73rd place.
Irish player James McManus got all his money in on an open-ended straight draw against Andrew Rosskamm's pocket aces. McManus failed to connect and finished in 71st place. Victor Ramdin finally lost his battle with a short stack, getting his chips in with
against Garrett Beckman's pocket jacks. Both players liked the
flop, Ramdin with the nut flush draw and Beckman with a set of jacks. But when the board paired a five on the turn, only Beckman was pleased. Victor Ramdin has many WSOP event cashes and has grossed well over $2 million in tournament play. Surprisingly this was Ramdin's best WSOP money finish, providing $96,500 for his 64th-place finish.
WSOP bracelet winner Thomas Keller was eliminated in 61st place when his small stack and K-Q fell to Jeremy Joseph's 7-6 when a six hit the board. Jeremy Joseph held the lead at various stages of the Championship event, but also became a Day 6 victim. Joseph pushed in with pocket fives which failed against Gert Andersen's pocket jacks. Joseph finished in 57th place.
WSOP Academy instructor Alex Outhred's run ended in a race between his A-K and Chris Klodnicki's pocket nines. While a king fell on the flop, so did a nine. Outhred finished in 54th place. Sometimes the mantle of chip leader is a curse, or at least that may be how Mark Ketteringham looks back on Day 6. Ketteringham started Day 6 with the lead, but ran into nothing but trouble all day. He pushed his remaining 590,000 chips in with J-8 and Gert Andersen called with A-Q. A queen on the board sealed it for Andersen and Ketterinham was eliminated in 52nd place.
Phil Hellmuth was able to negotiate his way out of a one-orbit penalty levied as Day 5 ended, but wasn't able to negotiate his way out of a Day 6 elimination. Hellmuth was levied a penalty in the waning hours of Day 5 which was to begin at the start of Day 6. After meeting with Jack Effel, WSOP Tournament Director, Howard Greenbaum, Harrah's Regional Vice President for Specialty Gaming, and Jeffrey Pollack, Commissioner of the WSOP, Hellmuth was able to get the penalty reversed on grounds that it was "too excessive."
Hellmuth seesawed with a relatively short stack, but finally was eliminated in 45th place when his A-Q failed to overtake Andrew Rosskamm's pocket jacks. Kido Pham's day would also end against pocket jacks, when his A-K lost out. Pham finished in 41st place.
Mike Matusow made the WSOP Championship final table in 2001 and 2005. But Matusow's bid for another ended with a three-out heartbreaker that put him out in 30th place. Just before the last break of the day, both Matusow and Paul Snead checked the A-A-5 flop. All the money went in on the nine turn. Matusow flipped over A-J for trip aces, but Snead had overtaken him with a boat on the turn with A-9. A king fell on the river and Matusow's run was over.
Nicholas Sliwinski and Nikolay Losev sparred all night long, but their battle ended when Nikolay Losev made the decision to call his short stack in with two live cards. Losev's
failed to overtake Sliwinski's A-5 and Losev became the last elimination of Day 6, finishing in 27th place.
Day 7 will determine the 2008 Championship final table. It will also be the last day of the "summer" series as the actual final table play will be delayed until November 9th and 10th. How will poker's summer end? Check back with the PokerNews "Live Reporting" team for all Day 7 action.
Day 6 Chip Counts:
Dennis Phillips 11,910,000
Craig Marquis 11,460,000
Tiffany Michelle 9,755,000
Peter Eastgate 9,325,000
Kelly Kim 8,840,000
David 'Chino' Rheem 8,280,000
Gert Andersen 6,740,000
Paul Snead 6,600,000
Chris Klodnicki 6,245,000
Toni Judet 5,000,000
Ivan Demidov 4,965,000
Nicholas Sliwinski 4,925,000
Joe Bishop 4,855,000
Brandon Cantu 4,740,000
Darus Suharto 4,510,000
Scott Montgomery 4,320,000
Owen 'ocrowe' Crowe 3,800,000
Albert Kim 3,675,000
Ylon Schwartz 3,655,000
Jason Riesenberg 3,405,000
Anthony Scherer 2,385,000
Dean Hamrick 2,375,000
Tim Loecke 2,280,000
Aaron Gordon 1,790,000
Niklas Flisberg 1,330,000
Phi Nguyen 1,020,000
Michael Carroll 1,015,000