FTOPS IX, Event #22 $2,500 NLHE: 'hAAydon' Tops in Three-way Chop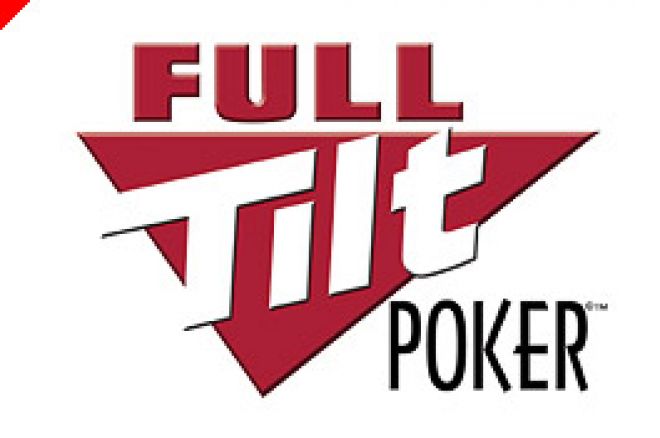 The tournament with the largest entry fee of FTOPS IX at Full Tilt was the two-day, deep-stacked NLHE Event #22, which attracted 942 players who each put up the $2,500+$120 buy-in. Notable finishers here included Tom "SBRounder" West in 16th place ($11,775.00), Luke "magikstick8" Vrabel in 15th place ($16,485.00), and Wade "soggy dogg" Woelful in 11th place ($22,372.50). Just missing out on the final table was Full Tilt pro Erich Kollmann, finishing in 10th place, also earning $22,372.50. The final table's nine participants were vying for a first-place prize of $541,650. Headlining the final nine players was PokerNews' own Tony G, entering the final third in chips, with the complete counts as follows:
triathlon4 – 1,259,907
hAAydon – 1,174,095
Tony G – 552,370
BootySmooth – 394,617
sebbau – 380,634
theMightyZep – 375,618
Yeshaya – 327,108
ClockWyze – 140,289
knickadam55 – 100,362
The first to fall was ClockWyze. Short-stacked, ClockWyze moved all in with
but ran into BootySmooth's
. ClockWyze could not come from behind and finished in ninth for $40,035.00 payday. With the blinds at 8,000/16,000 and a 2,000 ante, Tony G won an important hand that would eventually lead to the elimination of Yeshaya. On the button, Yeshaya raised to 38,750 and Tony G called from the big blind. Both players checked the
flop which brought out the
turn. Tony G check-called Yeshaya's bet of 58,000. The river card was the
, and again Tony G checked. Yeshaya fired out 80,057 and Tony G min-raised to 160,114. Yeshaya called and Tony G showed
for the nuts, crippling Yeshaya down to 39,943. Four hands later Yeshaya would be eliminated when BootySmooth's
flopped a full house against Yeshaya's
, sending Yeshaya to the rail in eighth place for $55,107.
TheMightyZep took seventh place after hAAydon moved all in from the small blind with
and theMightyZep called all in for 302,012 with
. The board ran out
and theMightyZep took home $70,650.00 for the showing. Throughout the final table up to this point, knickadam55 had slowly worked 100,362 in chips up to over half a million with timely double-ups. He would then eliminate Tony G to move to just under a million. With the blinds at 10,000/20,000 and an ante of 2,500, knickadam55 raised from the cutoff to 55,555. Down to his last 277,778, Tony G moved all in with
but was quickly called by knickadam55 with
. The board brought no help to Tony G, bringing
, and Tony G earned $105,975.00 for his sixth-place finish. BootySmooth was the next to go. Under the gun, hAAydon raised to 50,800 and BootySmooth called from the button. The
flop put BootySmooth's tournament life on the line with his
against hAAydon's
. The
turn clinched the hand for hAAydon, and BootySmooth finished in fifth place, earning $147,187.50.
With the blinds at 12,000/24,000 and an ante of 3,000, Sebbau was eliminated in fourth place. Sebbau raised to 58,000 and knickadam55 moved all in, having Sebbau covered. Sebbau called and showed
but trailed knickadam55's
. Sebbau paired the ten on the flop, but knickadam55 made Broadway on the turn, and Sebbau earned $194,287.50 for fourth place.
The players battled three-handed for well over 200 hands before a deal was discussed and agreed upon. At this point, the chip counts were:
hAAydon – 1,767,780
knickadam55 – 1,648,745
triathlon4 – 1,293,475
HAAydon would receive $380,000, knickadam55 would get $370,000, and triathlon4 would receive $350,000. The remaining $36,287.50 would be awarded to the winner. It did not take long for the players to fall after the deal was made. With the blinds at 20,000/40,000 and an ante of 5,000, knickadam55 made it 105,555 from the button and hAAydon moved all in for 2.1 million. Knickadam55 called all in and his
was racing against hAAydon's AhKd. The board ran out
and knickadam55 finished in third place for the agreed-upon $370,000.
Heads-up play would last only two hands before hAAydon officially won the event. HAAydon raised to 100,000 and triathlon4 reraised to 1,240,000. HAAydon then put triathlon4 all in and triathlon4 called with
, up against hAAydon's
. The board ran out
, and triathlon4 was runner-up, earning the agreed-upon $350,000. HAAydon earned a total of $416,287.50 for the win. The final results were:
*1. hAAydon - $416,287.50
*2. triathlon4 - $350,000.00
*3. knickadam55 - $370,000.00
4. sebbau - $194,287.50
5. BootySmooth - $147,187.50
6. Tony G - $105,975.00
7. theMightyZep - $70,650.00
8. Yeshaya - $55,107.00
9. ClockWyze - $40,035.00
* Three-way chop for most remaining prize money; $36,287.50 to eventual winner