Women's Poker Spotlight- High Heels Poker Tour: Upcoming Events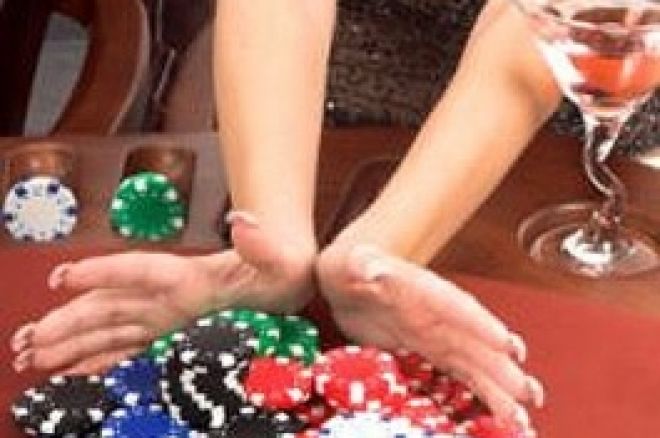 Women's poker is growing rapidly across the United States. Poker rooms are seeing more women entering tournaments and playing in the cash games. With that growth comes more opportunities for women to gain skill and confidence. Lauren Failla is offering a chance for women to gain both through experience via the High Heels Poker Tour.
High Heels Poker Tour launched in its home state of Florida in June of 2007 with a clear vision to give women not just women's only tournaments but the tools and exposure they need to work their way up the ladder to be the best poker players they can be. The High Heels mission states "The mission of the tour is to empower women to become champion poker players…" Any woman looking to play poker more competitively than home games and internet allow can truly understand that finding tournaments that nurture skills and allow us to play more competitive poker are hard to find, especially on the East Coast.
The relative newcomer to women's poker is growing quickly and promises to bring a fresh new competitive look to women's poker. The tour has grown to include tournaments all over the East Coast as well as co-sponsoring World Series of Poker Circuit Ladies only events. The growth of High Heels was most evident this past summer at the World Series of Poker. The Series was a huge success for High Heels Poker Tour and its members. 50-60 of the women who played at this years' WSOP were from High Heels and totaled about $200K in prize money between them in various tournaments. Two women boasted final table finishes at the Ladies only event; Debbie Mitchell of Miramar, Florida collected her second cash in her poker career when she went out in 6th place with a prize of over $45K and Marla Crumpler of Fort Lauderdale, Florida went out in 5th place with a cash of over $60K. "This was a big accomplishment for both the women who played and for High Heels" says Failla, who also placed in the money at the ladies event, busting out at 63rd with a cash of over $3,000. "It was very exciting to see members of the tour play and be successful."
The tour offers women's only tournaments with in a competitive environment to women of all skill and experience levels. "There are women who play in some of our tournaments who could easily be the next Vanessa Selbst but just don't have the means," says Failla, "that is why I am here. I can offer them the opportunity and experience. What they do with it, is up to them." Tournament buy-ins range from $60 satellites to $250 feature tournaments.
There is no tournament without its issues and women's events are no exception. At one High Heels event a few men decided to join in the fun. Failla turned what could have caused a problem into an opportunity. She offered a bounty on the men. "The casino cannot discriminate. I cannot discriminate. It's the law," she commented, "the only thing to do is to make the best of it."
The next stop on the tournament trail for Failla and High Heels is at The Isle Racing and Casino at Pompano Park on September 6, 2008 at 1pm. The buy in for the event is $250 and the tournament will start with $8,000 chips. Satellites for the event are being offered by the poker room on Saturdays. For more information and to register for the event go to highheelspokertour.com to see photos and catch up on news from the tour.
For High Heels Poker Tour, the future is bright. Women continue to enter poker at a rapid rate and continue to look for new venues to explore and promote their skills at the tables. I, for one, look forward to seeing what else Lauren and High Heels Poker Tour have to offer in the future.
Mark your date books for September for these upcoming women's tournaments.
Mid South Poker Open
Grand Casino Tunica
Tunica, MS
622-363-2788
Sun, Sep 7 at 4:00 PM Event #8 - Ladies - No Limit Hold'em $300+$40
Borgata Poker Open WPT Season 7
Borgata Hotel Casino & Spa
Atlantic City, NJ
609-317-1000 Toll-Free: 1-866-MY BORGATA
Sun, Sep 7 at 11:00 AM Event #5 - Ladies - No Limit Hold'em $300+$50
Californian Ladies State Championship
Ocean's Eleven Casino
Oceanside, CA
760-439-6988
Thu, Sep 18 at 09:00 AM Super Satellite - No Limit Hold'em
Fri, Sep 19 at 10:00 AM Ladies - No Limit Hold'em L.I.P.S $175
Sat, Sep 20 at 10:00 AM Ladies - No Limit Hold'em Cal State Championship $250
Sun, Sep 21 at 12:00 PM Ladies Omaha Hi/Lo & Hold'em $200
United States Poker Championship
Trump Taj Mahal
Atlantic City, NJ
609-449-1000 Toll-Free: (1) 800-72-POKER
Sun, Sep 28 at 1:15 PM Ladies - No Limit Hold'em $300+$40