Poker Room Review: Mohegan Sun, Uncasville, CT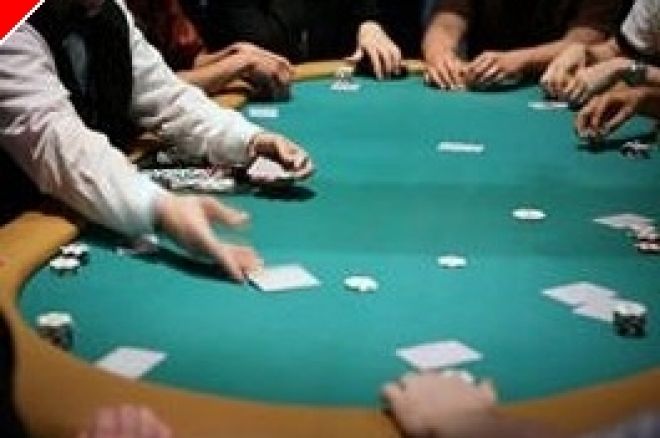 It was one of the funniest letters ever sent out by the poker industry. Effective Labor Day, 2004, Mohegan Sun announced to its regular players that it was closing its poker room because the area could no longer support two poker rooms. This when there were waiting lists for a seat in a poker game of up to three hours long at both Mohegan Sun and nearby Foxwoods.
Players have been waiting ever since for Mohegan Sun to reopen a poker room.
Four years to the day later, the wait is over and live poker has returned with a flourish to Mohegan Sun. A new, beautiful 42-table poker room has opened up in the brand new Casino of the Wind, the latest expansion at Mohegan Sun. I visited there the first weekend they were open. I was very impressed.
Everything about the room is first-rate, though there are still a few bugs to iron out before the grand opening slated for October. They have beautiful tables, with silvery faux alligator cushioning. But they are the wrong tables, without the desired cup holders. And the cushions around the exterior are abrasive on the arms. So, they're all going back to the manufacturer. Similarly, the cards, though top-of-the-line Kems, are jumbo index. They may be fine for some stud players – since it's easier to read each player's board. But looking at hole cards is a pain, since you have to flip up nearly 1/3 of the card to see what rank it is. They're going back, too, I was told. There were no uniforms for the dealers. They're late in arriving, I was told, but will surely be around by the time of the grand opening.
The chips are 80% or so brand new – the remaining 20% being leftovers from the old days. The chairs are very comfortable, with wheels and supportive backs that tilt forward and back. The floor is richly carpeted in deep primary colors. The lighting is excellent, coming from high overhead beams as well as nicely softened fixtures.
The bathroom is conveniently located within the poker room. There's table-side drink service but no food service. Unlike Foxwoods, however, you are allowed to eat at the table, but you need to get your food, at least for now, from the nearby Chief's Deli – or walk a much longer distance to any of a number of restaurants. There's an expensive buffet within walking distance, as well as a food court with a wide assortment of mini-restaurants – with nearly every entrée at all of the places hovering near $10.00. A Jimmy Buffett's lounge and restaurant is right next to the poker room but still under construction. A reasonably priced Johnny Rockets is about a ten-minute walk.
It's hard to access the level of play at this time, since opening week is not necessarily indicative of how things will be when the room is in full swing. My $20/40 stud table was filled with fewer wild players than the comparable Foxwoods game. There were more predictable playing styles. It was tighter to be sure. But that may have been a product of the most knowledgeable and experienced stud players finding their way to a new room most quickly. By the time word is fully out that Mohegan Sun's poker room has once again opened its doors, the fish may very well swim in. I hope they will.
The $1/2 no-limit hold 'em game was also more sedate than many of the games I've played over at nearby Foxwoods. There were more players over 25 and fewer who seemed maniacal or completely inexperienced. Still, it and the stud game were highly beatable. I managed a $500 win for my three-hour stay.
The dealers in each game were experienced and excellent. I'd heard rumors of a dealer shortage, causing the introduction of not-ready-for-prime-time staff. But I saw no evidence of it — the floor people, shift managers, cashiers, and dealers were all folks I had seen before. And I didn't witness any mistakes other than the occasional exposed down card.
There are some changes here at Mohegan that players will like. There is no rake in the $20/40 stud game. Rather, there's a $6 per half hour seat charge. This compares favorably with the $4 maximum rake at Foxwoods and with the previous $7 per half hour charge. The no-limit hold'em game, curiously, is raked at 10% with a maximum of $4. The players rave about it (though I think, with a good dealer, most winning no-limit players are better off paying the $5 per half hour that Foxwoods charges). In any event, I am pleased to see that management is willing to tweak the charges and rake to respond to the interests of players. Players are also being rewarded with a slightly higher hourly comp than they had earned earlier. We earned $2 an hour at the $20/40 game, instead of the $1.50 an hour that had been earned in the past and was the standard rate at Foxwoods. Not surprisingly, Foxwoods seems to have followed suit – increasing their comps by $.50 an hour after Mohegan opened. Isn't competition wonderful? (By the way, Foxwoods did not seem to have any diminished action. When I visited on Saturday, shortly after leaving Mohegan, Foxwoods was packed.)
The Mohegan Sun poker room is also beginning two types of tournaments: regular and deep stack. Their schedule and structure was still being finalized while I was there, so make sure to call ahead to get the latest times, dates, and blind structures. From what I gathered by speaking to the shift manager, the structure gives players a lot of play for their money.
My overall impression is that Mohegan has the beginnings of a great new room. It will surely just get better as the weeks go by and all of the opening-week kinks get worked out. I'm eager to return!
Mohegan Sun
1 Mohegan Sun Blvd
Uncasville, CT 06382
1-888-226-7711