FTOPS X Main Event: Va Shon 'Julian Verse' Watkins Wins Title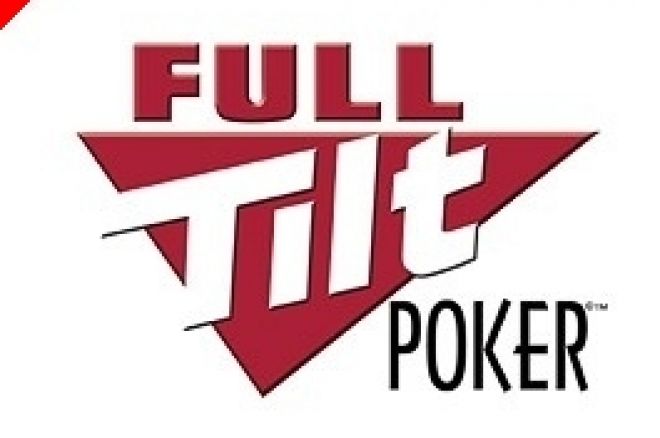 Capping the tenth Full Tilt Online Poker Series (FTOPS) was Sunday's $500+$35 NL Hold'em Main Event. The guaranteed prize pool of $2,500,000 was just eclipsed as 5,225 players registered for a total prize pool of $2,612,500. Among the best finishers falling short of the final table were mossified84 in 12th place ($24,688.13), Peter "Nordberg" Feldman in 17th ($12,801.25), Joe "hoodini10" Udine in 32nd ($7,576.25), James "Mig_com" Mackey in 52nd ($4,571.88), Michael Craig in 62nd ($4,571.88), Farza "The-Toilet 0" Jaka in 77th ($3,657.50), Will "hAAydon" Haydon in 80th ($3,657.50), Brian "bparis" Paris in 82nd ($2,873.25), Nenad "serb2127" Medic in 89th ($2,873.25), and Christian "da_professional" Iacobellis in 108th ($2,351.25).
After 11 hours, the final table was set. The chip counts as the final began were as follows:
sckilla - 11,356,134
Va Shon "Julian Verse" Watkins - 7,274,056
sinrake - 5,640,437
ilovepoka - 3,625,122
Kraag -3,158,163
RollinHand1 - 3,017,556
Hummelhintern - 2,066,660
bazeman - 1,727,460
sd bum - 1,321,912
For the second time in as many FTOPS series, sckilla entered the final table of the Main Event as the chip leader. In FTOPS IX, sckilla finished in fifth place for $100,000 and looked to improve on that.
Eliminated first at 80,000/160,000/20,000 was sd bum. Sinrake opened to 420,000 from early position and Hummelhintern moved all in for 2,071,600 in middle position. Sd bum then called all in for 906,912 from late position and sinrake put both players tournament lives at stake with a call. Hummelhintern's
led the way against sinrake's
and sd bum's
. The board rolled out
and Hummelhintern won the giant pot. Sd bum was the big loser in the hand, busting in ninth for $33,962.50. The next to hit the rail was RollinHand1. From middle position Rollinhand1 shoved with
, but found action from Va Shon "Julian Verse" Watkins in the small blind holding
. When the board came
, RollinHand1 was out in eighth for $45,718.75.
The 100,000/200,000/25,000 level began with sinrake's ouster. From the button, sinrake shoved for 3,638,777 with
, but ran into ilovepoka's
in the big blind. The board did not improve either hand and sinrake was out in seventh for $60,087.50. A few hands later Kraag was felted, too. From the button Kraag moved in for 1,773,163 with
and was called by sckilla in big blind with
. The board ran out
and Kraag was out in sixth place for $77,068.75. Bazeman was the next to depart. From the cutoff, bazeman made it 475,000 to play and Hummelhintern called out of the big blind. The flop came
and Hummelhintern checked to bazeman, who immediately moved all in for 2,789,920. Hummelhintern called and showed
for top two pair, leading bazeman's
for flush and straight draws. The turn came the
and gave bazeman a flush, but the
river card won the hand for Hummelhintern with a full house. Bazeman finished in fifth place for $103,193.75.
Ilovepoka's tournament came to an end when a raise from the cutoff to 550,000 was met sckilla's reraise from the small blind to 1,300,000. Ilovepoka decided to push for 6,661,439 with
, but had run into sckilla's
. The board brought no seven and ilovepoka was out in fourth place for $137,156.25. Hummelhintern was the one that fell short of the heads-up battle. At 120,000/240,000/30,000, Va Shon "Julian Verse" Watkins opened to 567,552 on the button and Hummelhintern reraised all in to 3,886,117 with
. With 12 million behind, Watkins opted to gamble and called with
. The board came
and Hummelhintern was the third-place finisher for $175,560.
Heads-up play began with these chip counts:
sckilla - 22,516,519
Va Shon "Julian Verse" Watkins - 16,670,981
The deciding hand occurred at the beginning of the 140,000/280,000/35,000 level. Sckilla's lead was down to a single small blind. The hand began with sckilla making it 750,000 to play and Watkins raised it to 2,855,546. Sckilla then reraised to 5,040,000 and Watkins called. The flop came
and Watkins check-called a bet of 5,040,000. The turn came the
and when Watkins checked this time, sckilla moved all in and Watkins called immediately with
for a flush. Sckilla's
was drawing dead as the meaningless
came on the river. Sckilla doubled up twice with the microscopic stack, but the third time was the charm for Va Shon "Julian Verse" Watkins, when his
bested sckilla's
as the board came out a safe
and the tournament was over. Sckilla's impressive achievement earned a second-place payday of $273,006.25, while the winner of the FTOPS X Series Main Event was Va Shon "Julian Verse" Watkins, who left the tourney with a payday of $450,708.50.
Final Results:
1. Va Shon "Julian Verse" Watkins - $450,708.50
2. sckilla - $273,006.25
3. Hummelhintern - $175,560
4. ilovepoka - $137,156.25
5. bazeman - $103,193.75
6. Kraag - $77,068.75
7. sinrake - $60,087.50
8. RollinHand1 - $45,718.75
9. sd bum - $33,962.50
<center>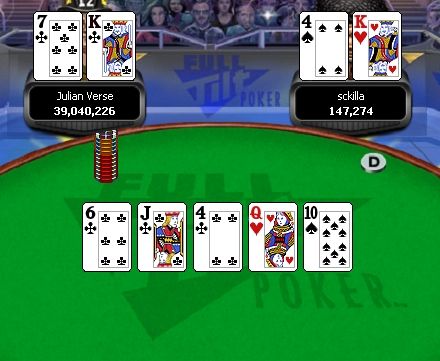 </center>