Online Poker Weekend: 'kesher79' Takes Stars Sunday Million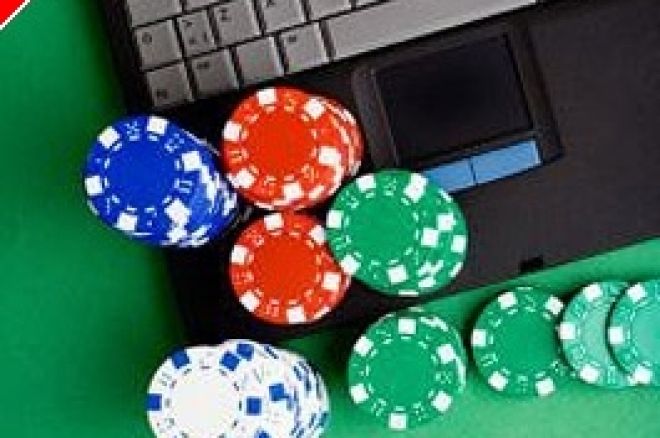 The PokerStars Sunday Million attracted 7,999 participants for a total prize pool of $1,599,800. Notable finishers included Lee "Bill Ivey" Gaines in 15th ($5,599) and iCeVeNoM in 29th ($2,880). Two players were eliminated on the hand-for-hand bubble, so eight players reached the final table. The starting chip counts were as follows:
Jim "Mr_BigQueso" Collopy - 17,791,780
kesher79 - 13,642,058
orkim - 12,694,157
mjluth - 11,728,249
maverick8487 - 9,796,110
jarocho123 -5,389,440
rS.Wisdom - 4,937,219
RiverCardRob - 4,010,987
The first to exit the final table was jarocho123. With blinds and antes 200,000/400,000/40,000, jarocho123's tournament life was on the line with
against kesher79's
. When the board rolled out
, jarocho123 was sent packing in eighth for $18,397.70. A few hands later, RiverCardRob's tournament was at stake as well with
against rS.Wisdom's
. When the flop and turn came
to put RiverCardRob in the lead. The longshot
fell on fifth street and RiverCardRob was out in seventh for $27,996.50.
At 250,000/500,000/50,000, rS.Wisdom raised 1,300,000 and orkim called from the small blind. The flop came
and orkim led out for 1,500,000. A flat-call by rS.Wisdom led to the
on the turn. This time orkim checked and rS.Wisdom bet 1,500,000. Orkim called and the river came the
. Orkim checked again and rS.Wisdom shoved with the bigger stack. Orkim thought it over for a few moments before calling with
; however, it was second best to rS.Wisdom's
. Orkim finished in sixth for $40,794.90. Later in the level, kesher79 raised to 1,250,000 from the cutoff and Jim "Mr_BigQueso" Collopy shoved for 12,350,900 with
, but ran into kesher79's
. The board ran out
and Collopy was busted in fifth for $56,792.90. Maverick8487 made a move with
and ran into kesher79's
. No five appeared and maverick8487 was the fourth-place finisher for $72,790.90.
The final two bustouts occurred at 300,000/600,000/60,000. Mjluth shoved from the small blind for just over 10,000,000 with
and was called by kesher79 from the big blind with
. kesher79's queen paired as the board ran out
, giving Mjluth $89,588.80 for third. Kesher79 began heads-up with a 3:2 chip lead and clinched the tournament on the sixth hand of heads-up play. On the button, kesher79 opened to 1,800,000 and rS.Wisdom called. The flop came
and rS.Wisdom check-called a bet of 2,400,000. The
hit the turn and this time rS.Wisdom check-called a bet of 6,000,000. The river came the
and rS.Wisdom check-called all in for 19 million. Kesher79 turned up
for quads and rS.Wisdom's
for two pair wasn't close. The second-place finish paid rS.Wisdom $132,143.48, while kesher79's win was worth $195,975.50.
Final Results:
1. kesher79 - $195,975.50
2. rS.Wisdom - $132,143.48
3. mjluth - $89,588.80
4. maverick8487 - $72,790.90
5. Jim "Mr_BigQueso" Collopy - $56,792.90
6. orkim - $40,794.90
7. RiverCardRob - $27,996.50
8. jarocho123 - $18,397.70
9. LEstradioto - $11,198.60
<center>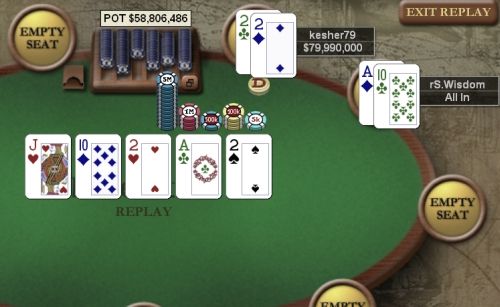 </center>
Other notable online tourneys on Sunday produced these results:
PokerStars Sunday Warm-Up ($750,000 guaranteed)
1. slyfox151 - $101,296
2. BlackFourz - $70,128
3. jeroenromate - $46,752
4. aty79 - $38,960
5. RaisingRay91 - $31,168
6. Bjorg0010 - $23,376
7. ArzrA - $15,584
8. jwaces - $9,740
9. Bill Ivey - $6,701.12
Buy-in: $200+15
Prize Pool: $779,200
Entrants: 3,896
Other Notables: Bryan "Bry23" Barrile (29th, $1,480.48), McShove (33rd, $1480.48), Scott "stpauli111" Hall (37th, $1,402.56), Alex "AJKHoosier1" Kamberis (56th, $1,246.52), Mark "The Omaholic" Roland (73rd, $1,168.80)
PokerStars Sunday 500 ($500,000 guaranteed)
1. toetagU - $97,360.80
2. Pist0nH0nda - $70,543.50
3. mojave14 - $53,850
4. Telefonkiosk - $40,387.50
5. shiptosails - $28,271.25
6. bufo523 - $22,886.25
7. armenioz - $17,501.25
8. jippo79 - $12,116.25
9. QuasiFiction - $7,539
Buy-in: $500+30
Prize Pool: $538,500
Entrants: 1,077
Other Notables: Scott "emptyseat88" Fischman (33rd, $1,400.10)
1. TheBeingOG - $56,012
2. zapatero - $35,644
3. kjansson - $26,223.80
4. AnthonysDAD - $20,686.25
5. dfish21 - $15,912.50
6. Black9ines - $11,457
7. MrsESPN - $7,638
8. Fabrice Soulier - $5,728.50
9. bad_egg - $4,073.60
Buy-in: $200+16
Prize Pool: $254,600
Entrants: 1,273
Other Notables: David "GhettoFabolous" Randall (19th, $929.29), Theo "pittrounder" Tran (17th, $1,171.16), DontBluffMePLZZ (24th, $929.29), Joe "hoodini10" Udine (42nd, $712.88)
1. tyrel66 - $23,600
2. VyVyVyVyVyVyVy - $13,600
3. bonz44 - $9,100
4. chistate - $7,000
5. pugmeister - $5,700
6. RockogRul - $4,500
7. bryanjames27 - $3,300
8. Birdie34 - $2,200
9. lioka - $1,300
Buy-in: $100+9
Prize Pool: $100,000 (included $23,500 overlay)
Entrants: 765