Poker Room Review: Fiesta Henderson Casino, Henderson, NV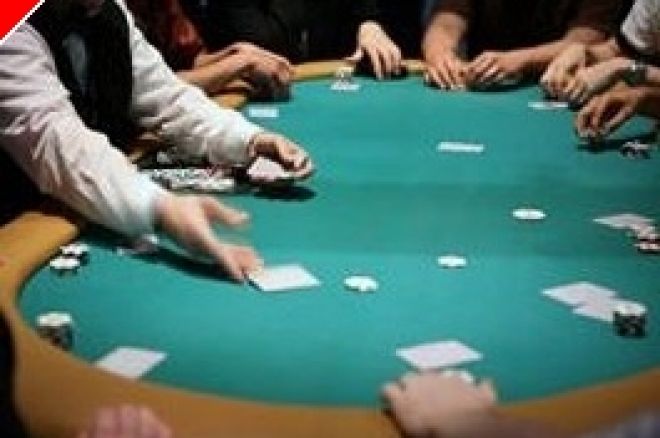 There are times when I visit Las Vegas that I want to get away from the busy Strip, the familiar near-Strip properties like the Orleans, Palms, Gold Coast, and Rio, and when I don't want to go to downtown or to North Las Vegas. I was in such a mood during my latest visit and hit upon a terrific place. It's the Fiesta Casino in Henderson. It has a buoyant and fun ambiance that welcomes the outsider while providing livelier than normal low-limit games.
There are two Fiesta casinos in the Greater Las Vegas area. This one is in Henderson and has poker. (The other one, Fiesta Rancho in North Las Vegas, does not). It is part of the vast Station Casino chain that includes Texas Station, Palace Station, Red Rock Casino, Green Valley Ranch, Boulder Station, and Sunset Station. This Fiesta Henderson is the newest, and it looks it, with vibrant colors practically exploding off of the walls and fixtures.
The Fiesta also houses a 12-plex movie theater, providing a steady stream of people coming and going. Whether they are gamblers or not is impossible for me to say. But even if they aren't, the steady influx of foot traffic couples with the bright colors and copious neon signage to produce an inviting energy.
The six-table non-smoking <a href=https://www.pokernews.com/online-poker-rooms.htm target=_blank>poker room</a> is somewhat removed from all of the splash, located as it is on the second floor, near the meeting rooms. I liked not being overly distracted by clanging slot machines or noisy foot traffic. It's quiet and a bit subdued. It's also very near the terrific buffet. Make sure to sign up for one of the player's cards (The Amigo Club). It gives you a dollar or two off of the regular price, which is already pretty cheap.
The poker room has a clean and new look to it. The room's tables came from the slightly more upscale Green Valley Ranch's poker room. The tables look like they're rimmed with granite, with new felt, a nicely padded edge, and embedded cup holders. The chairs are overstuffed and very comfortable. The room is ringed with medium sized television screens on the wall.
This is a strictly low-limit room – with $2/4 limit <a href=https://www.pokernews.com/poker-rules/texas-holdem.htm target=_blank>hold'em the standard game</a>. Most days, at about 2:00 PM, they also start a $2-6 spread-limit stud game that goes until about 6:00 PM. It has an interesting structure. There's no ante, just a $1 forced bet from the low card. But if anyone wants to enter the pot after the bring-in, however, they must come in for the full minimum bet of $2. The forced bet must call the $2 to stay in the hand.
The room has just started to run a $3/6 limit Omaha-high game. It is starting to catch on, thanks to special high-hand promotions and publicity by the room. If you're interested in <a href=https://www.pokernews.com/poker-rules/omaha-poker.htm target=_blank>Omaha poker</a>, I'd suggest you call first, though, just to make sure that it's going.
The Fiesta poker room provides free poker lessons, at 3:00 PM each day, as requested. I volunteered my services on a recent visit and gave a 30-minute stud lesson to two potential players. (Just doing my part to keep stud alive in Las Vegas). The players enjoyed the lesson and then sat down in the low-limit game to try their hands. I didn't stay after the lesson to see how they did, but it was reported back to me that they didn't go broke too quickly.
There are the standard promotions for Station Casino poker rooms, including the mammoth multi-room, bad beat jackpot that starts at $150,000. They also have their single-room high hand bonuses that pay for royal and straight flushes. It's been expanded to apply to Omaha as well. Check with the floor about any additional promotions. When I was there they were running a special drawing for a $100 gas card.
These promos are funded by a $1 drop from any pot that reaches $10. There is also a rake of 10% up to a maximum of $4. The room hosts poker tournaments four days a week. On Monday night there's a ladies tournament. There's a Wednesday tourney at 6:00 PM, and there are morning tournaments on Saturday at 10:00 AM and 11:30 respectively. Tournaments are only $20, with an optional $5 fee for extra chips. $15 goes into the prize pool.
I played for three hours and found the stud and hold'em games beatable. About 25 percent of the players were tourists, and the locals did not strike me as long-time grinders. Though living nearby in Henderson, many were relatively new players themselves. That and the fairly high mix of tourists made the room one of the better places among the local rooms for finding "live ones".
I liked the room a lot and would return here again for a relaxed low-limit game. The hotel rates are hard to beat, $29.95 during the week at the moment. I'd also pick this room if I were trying to learn hold'em, Omaha hi, or stud – as the "lessons" at the table would be relatively inexpensive and very pleasant.
Fiesta Henderson Casino
777 West Lake Mead Parkway
Henderson, Nevada
702-558-7000