The Online Railbird Report, Vol. 6: Familiar Faces Return to Action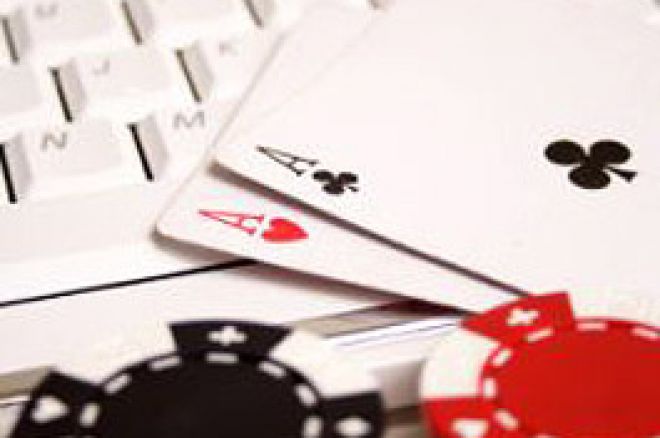 This week, the high-stakes tables on Full Tilt Poker saw the return of two of the game's most talked-about players. David Benyamine has certainly battled his demons (and his bankroll) playing high-stakes online cash games, but returned to the mix this week in an attempt at a comeback. After taking a brief hiatus since fleecing the $500-$1,000 regulars for over $1 million last month, _FullFlush1_ was also back, taking a few more shots at the nosebleed-stakes action and adding his spicy trash-talk to the proceedings. Add in a million-dollar upswing for Gus Hansen, some epic heads-up PLO battles, and it was a pretty wild week on the felt.
Benyamine Back in Action
It's "MR B 2 U SON", according to David Benyamine's screen name, a wry reference to a nickname bestowed upon him by his fiancé, Erica Schoenberg. After suffering some much-publicized online poker cash-game losses that totaled in the millions, Benyamine is back, playing a few sessions of $200-$400 no-limit hold'em and pot-limit Omaha and only yesterday, jumping back into the $500-$1,000 action where he booked a $77,000 win. At one point, Benyamine was practically begging Gus Hansen to sit down for a session of what is perhaps the Frenchman's best game, Omaha 8 or better, but Hansen declined the invitation.
Playing five-handed at the "Patrik's Paradise" table, Benyamine won the largest pot of that night's session. Tom Dwan opened for a smaller-than-usual raise to $2,400 from the cutoff and Benyamine reraised to $3,800 from the button. Dwan called, and they saw a flop of
. Dwan checked, Benyamine bet $9,000, and Dwan responded with a raise to $36,100. That didn't stop Benyamine, who re-potted to $117,400, enough to force Dwan to an all-in choice. Dwan made the call for an additional $43,000 and showed a premium hand in
for the overpair, while Benyamine revealed a rather Dwan-like combination of 8c-6c-5h-2h for bottom two pair. The
turn filled Benyamine up and the
river made him an even higher boat, Benyamine taking down the $168,000 pot with deuces full of eights.
Hansen Takes Down a Million in 24 Hours
The wild high-stakes swings continue to fall in Gus Hansen's favor, as the Great Dane powered through a 24-hour span in which he booked over a million dollars in winnings. Though many in the cash-game community still consider him a "mark" or at least a catalyst for some of the biggest games online, Hansen seems to be proving them all wrong, pushing his 2009 winnings to nearly $4 million. Full Tilt has even installed a new $500-$1,000 heads-up PLO table for Gus, cheekily named "Hansen Suckout."
In Friday night's heads-up PLO action, Hansen took on everyone from Tom Dwan, to David Benyamine, to Ilari "Ziigmund" Sahamies. One of his biggest pots of the session, this $213,000 behemoth, came his way courtesy of Dwan. Dwan opened for $3,000, Hansen reraised to $5,000 and Dwan called. Hansen led out for $10,000 on the
flop and Dwan called. The turn fell the
and Hansen fired a $30,000 bet, only to have Dwan push in for $91,478. Hansen made the call, showing
for an overpair and an open-ended straight draw to Dwan's two pair with
. The
on the river made Hansen an eight-high straight, though, and he raked in the pot, leaving Dwan to rebuy.
"durrrr" Climbing Out of the Red
It's no small task to dig oneself out of a seven-figure hole, but that's exactly what Tom Dwan is trying to do. Last month, Dwan was down nearly $4 million for the year but over the last few weeks, he has erased a good chunk of those losses, putting himself just under $2.5 million in the red for 2009. Playing close to 8,000 hands this week, Dwan picked up $427,000 in winnings in over 100 sessions at the virtual tables including a number of stints at the "Hansen Hangout" and "Hansen Knockout" tables where he played the Great Dane at $500-$1,000 PLO. In their two biggest meetups, Dwan dropped $275,000 to Hansen in a two-table battle on Tuesday night, but came back after a night's sleep to finish a $400,000 winner in their next session. Dwan went on a tear, winning all eight of the six-figure pots that unfolded in the 139-hand session including this $154,000 monster:
Dwan opened for $3,000 from the button, Hansen raised to $9,000 from the big blind and Dwan called. Hansen led out for $12,000 on the
flop and Dwan smooth-called. The turn brought the
and Hansen thought for a while before checking, opening the door for Dwan to put out a $42,000 bet. Hansen decided to move all in for $56,000 and Dwan called the balance. It looked as if Hansen was in big trouble when he turned up
for only a pair of kings, but he was actually slightly ahead of Dwan's
for bottom pair, a flush draw, and a gutshot straight draw. The river, though, was the
, completing Dwan's diamond flush and earning him the pot.
"_FullFlush1_" Taking Shots Again
In earlier editions of the Online Railbird Report, "_FullFlush1_" (believed by some to be the U.K.'s Luke Schwartz) was the talk of the town for taking some shots at the $500-$1,000 games and walking away a $1 million winner. Though it was rumored that _FullFlush1_ had cashed all his winnings out of his Full Tilt account, he must have left a few buy-ins in there because he was back with a vengeance this week, trash talk and all, to challenge the likes of Tom "durrrr" Dwan and Di "Urindanger" Dang to play a little heads-up $200-$400 no-limit hold'em. _FullFlush1_ ended up about $117,000 in the black for the week, but lost about $30,000 of it back to the nosebleed-stakes regulars in a two-hour foray into the $500-$1,000 HA game early Saturday morning.
It's always entertaining to watch _FullFlush1_ play, thanks in no small part to the amount of trash talk he spews into his chat window. It's no surprise that his chat has been banned several times by Full Tilt and Dwan offered to help him fix that situation, only to be met with a quick barb.
durrrr: want me to ask ftp to do it?
__FullFlush1__: il let u know soon
__FullFlush1__: ye ask them actually
durrrr: ok i will when i land
__FullFlush1__: ok eyeballs
Later that day, while playing Di "Urindanger" Dang, _FullFlush1_ ripped on Dwan again.
__FullFlush1__: tell durr again i like the money hes
been donating
Urindanger: take the durrr challenge
__FullFlush1__: juicy 500 thousand dollars
__FullFlush1__: i will
Who's Up? Who's Down?
This week's winners: Gus Hansen (+$1.57 million), luckexpress10 (+$727,000), durrrr (+$427,000)
This week's losers: tsarrast (-$844,000), Phil Ivey (-$826,000), Patrik Antonius (-$590,000)
Biggest 2009 winners overall (estimated): Gus Hansen (+$3.42 million), trex313 (+$3.09 million), Patrik Antonius (+$1.95 million)
Biggest 2009 losers overall (estimated): durrrr (-$2.48 million), Urindanger (-$1.87 million), MR B 2 U SON (-$1.05 million)