Venetian Releases 2009 Deep Stack Extravaganza III Schedule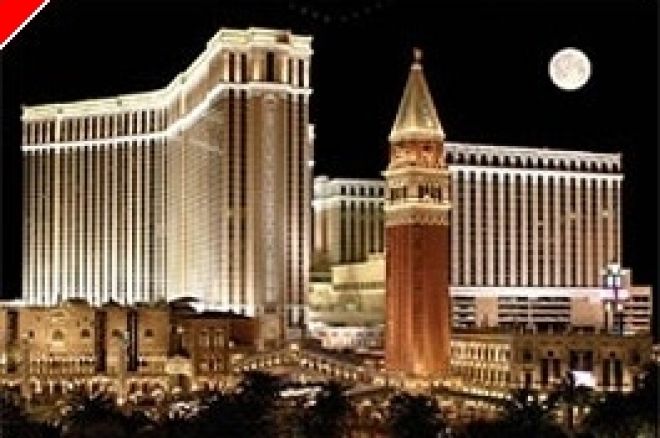 The Venetian Resort Hotel Casino in Las Vegas has released the schedule for this summer's Deep Extravaganza III series. The 2009 DSE III is one of several mid-price poker series available to players during the first half of the summer, having carved out a popular-priced niche opposite the World Series of Poker festivities a few blocks away. The 2009 DSE III follows the first and second deep-stack series of the year at the Venetian.
The 2009 DSE III series runs May 29 - July 16, 2009. The series is predominantly no-limit hold'em but does offer a sprinkling of other poker disciplines in its 48-event lineup, including a H.O.R.S.E. tourney and two different omaha events. The lowest buy-in is $225 for a "Shootout" NLHE event on June 9th, and the championship event, starting on July 13th, features the deepest buy-in at $5,000. Most of the events feature buy-ins at the popular $330 and $550 levels.
The Venetian has also announced an expansion of its poker area to a planned 89 tables, in part to house the popular and ongoing DSE series.
The 2009 Deep Stack Extravaganza III schedule:
Day (Date) Buy-In Event
Th (5/28) $250 Super Satellites
F (5/29) $330 No-Limit Hold'em
Sa (5/30) $330 No-Limit Hold'em
Su (5/31) $550 No-Limit Hold'em
M (6/1) $550 No-Limit Hold'em
T (6/2) $330 No-Limit Hold'em
W (6/3) $330 No-Limit Hold'em
Th (6/4) $550 No-Limit Hold'em
F (6/5) $550 No-Limit Hold'em
Sa (6/6) $550 No-Limit Hold'em
Su (6/7) $1,070 No-Limit Hold'em
Su (6/7) $550 H.O.R.S.E (4 P.M.)
M (6/8) $330 No-Limit Hold'em
T (6/9) $225 No-Limit Hold'em Shootout
W (6/10) $550 No-Limit Hold'em
Th (6/11) $330 No-Limit Hold'em
F (6/12) $550 No-Limit Hold'em
Sa (6/13) $550 No-Limit Hold'em
Su (6/14) $1,590 No-Limit Hold'em
Su (6/14) $550 Omaha 8/B (4 P.M.)
M (6/15) $330 No-Limit Hold'em
T (6/16) $330 No-Limit Hold'em
W (6/17) $550 No-Limit Hold'em
Th (6/18) $550 No-Limit Hold'em
Th (6/18) $550 P.L.O. (4 P.M.)
F (6/19) $550 No-Limit Hold'em
Sa (6/20) $550 No-Limit Hold'em
Su (6/21) $1,070 No-Limit Hold'em
M (6/22) $550 No-Limit Hold'em
T (6/23) $330 No-Limit Hold'em
W (6/24) $330 No-Limit Hold'em
Th (6/25) $550 No-Limit Hold'em
F (6/26) $2,100 No-Limit Hold'em
Sa (6/27) $550 No-Limit Hold'em
Su (6/28) $1,070 No-Limit Hold'em
M (6/29) $330 No-Limit Hold'em
T (6/30) $330 No-Limit Hold'em
W (7/1) $330 No-Limit Hold'em
Th (7/2) $550 No-Limit Hold'em
F (7/3) $550 No-Limit Hold'em
Sa (7/4) $1,070 No-Limit Hold'em
Su (7/5) $330 No-Limit Hold'em
M (7/6) $330 No-Limit Hold'em
T (7/7) $550 No-Limit Hold'em
W (7/8) $550 No-Limit Hold'em
Thu (7/9) $550 No-Limit Hold'em
F (7/10) $550 No-Limit Hold'em
Sa (7/11) $1,070 No-Limit Hold'em
Su (7/12) $550 Super Satellites
M (7/13) $5,000 No-Limit Hold'em (Championship Event)
-- all starting times noon unless otherwise noted