Poker Room Review: Colorado Belle, Laughlin, NV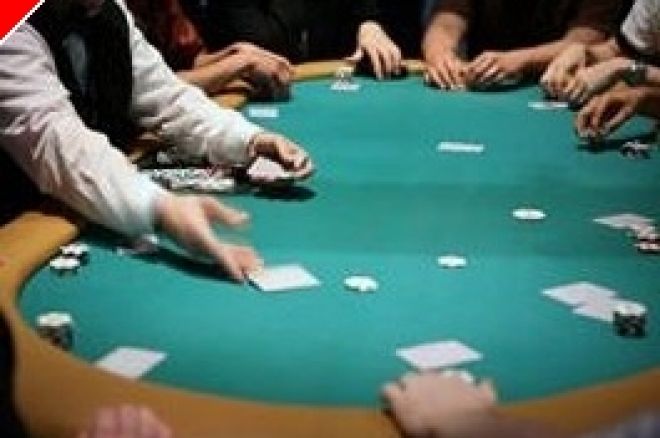 My wife and I visited Laughlin, Nevada for a few days, enabling me to sample all of the poker rooms in the area. But if your travels only allow you one place to play in this small city south of Las Vegas, I suggest that you play at the Colorado Belle. In my opinion, it's the best room in Laughlin.
The physical environment of the poker room is surely the nicest around. The ten-table room has high ceilings with large overhead fans. The lighting is good, with chandeliers added in in extra measure in an attempt to replicate the "Gay '90s" atmosphere that seems to be the theme of the entire Colorado Belle. The chairs are extra wide and very comfortable. There are flatscreen HDTVs on the walls. The room is non-smoking.
The room claims to spread stud, Omaha, and hold'em, from low to high limits. This is, I think, at least a slight exaggeration. The typical game is $2-6 spread-limit hold'em with a full kill. (It takes two wins in a row, with the second pot being at least $10, to trigger the kill.) They also get a similarly structured Omaha-8 game about every other day, and a low-stakes no-limit hold'em game once or twice a week. They never get stud any more. And as to high limits, though they'll spread something large if there's enough interest, they've never anything bigger than $1/2 no-limit or $2–6 spread-limit when I visited or when I called to check on their games.
The room maintains a very reasonable rake, 10% up to a maximum of $3. They're very aggressive with their jackpot drop, taking out one dollar at $10 and then a second dollar at $30. This funds all sorts of promotions, including aces cracked, high hand of the day, high quads of the day, four-of-a-kind bonus, and a progressive bad beat jackpot.
The Colorado Belle also has nightly "super deep stack" poker tournaments at 7:00. Monday through Thursday, they're effectively $50 events, with $10 going to the house. On Friday and Saturday they're $100, with $10 going to the house. Players start with $20,000 in tournament chips. All tournaments are no-limit Texas Hold'em except for Thursday night, when the tourney is Omaha-8. There's also a smaller $30 no-limit hold'em tournament every day at 10:00 AM.
The room offers up something extra for players – free dinner from 5:00-8:00 PM. It's nothing special, but it is free and plentiful. When I visited they had a very tasty orange chicken. I was told they had shrimp the night before. Players may eat at the table. There is tableside drink service as well. Players also earn comps of $1.25 an hour for their live play.
This room seems to be the most popular in Laughlin among tourists. The dealer and a couple of regulars at the table estimated that only about 30% of the players were regulars – the rest were tourists like me. I found the games to be tight and passive for the most part. 80% or so seemed to be retirees, either living in the area or visiting; I didn't notice anyone younger than I, and I'm 51. Players were friendly, rarely if ever bluffed, and only raised once in a blue moon. Maybe they were all just waiting for the bad beat jackpot to hit or for one of the many other promotions in the room. Maybe they were just there for the free dinner and didn't want to risk a lot of money. Either way, I didn't mind their lack of pressure. I found the room relatively easy to beat – if only for relatively small money during my three sessions. Though, if you like wild no-fold'em hold'em games, the action might disappoint you.
The room is not open 24/7. Games rarely go beyond 3:00 AM, even on the weekends, and generally don't start up until 8:00 AM or so. I'd call before going over any time before the 10:00 morning tournament, or after 1:00 AM. It's probably not worth a special trip from Las Vegas to play here. But if you're in Laughlin, or even if you're planning on driving by en route to somewhere else, it's worth a stop… especially around dinner time.
Colorado Belle Hotel and Casino
2100 S. Casino Drive
Laughlin, NV
702-298-4000
Get a piece of the action and check out Party Poker Freerolls From PokerNews.com - The leading source of poker news and information.