Poker Room Review: Tropicana Express, Laughlin, NV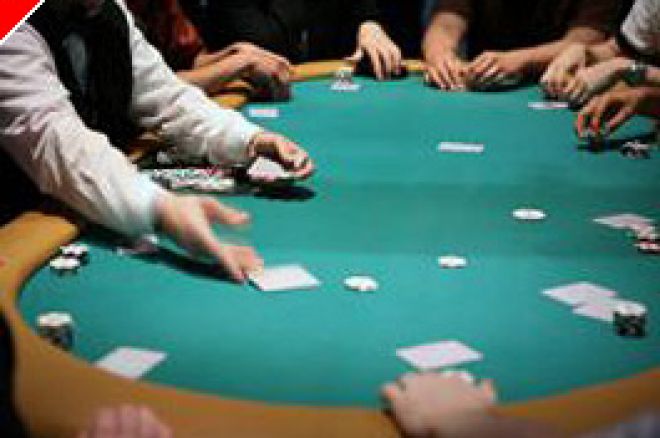 The Tropicana Express is neither the busiest nor the biggest poker room in Laughlin. That distinction goes to a casino right across the street, the Colorado Belle. But if the Tropicana comes in at number two in those categories; it is in first place in one important way. It's the Laughlin poker room with the best sense of humor.
The staff of this poker room started making jokes and cracking wise as soon as I arrived. When I took out a couple of hundred dollar bills to buy into the game, the dealer asked if I wanted to buy the room or just buy into their $2-6 spread limit hold'em game. When I asked about tableside food service, I was asked, with a smile, if I wanted to eat or play. When I spoke to the floor and asked about some of the rules, the rake, and the like, I was told that they had a strict English-only rule (as if my slight Eastern accent were not allowed). Yuk, yuk, yuk!
The ambiance is simple and understated. There is off-white acoustic tile on the ceiling, comfortable contoured chairs with rollers, high-quality (but not fancy) tables with built-in cup holders, and a large wall of glass that stretches the length of the six-table poker room. There are also four tournament tables. There is tableside eating, made easy with small service tables.
The room boasts many promotions. Earlybirds are treated to a free breakfast sandwich if they play between 8:00 and 9:00 in the morning. This assures a game when the room opens at 7:30 AM. High-hand promotions are generous: $25 for any player who gets quads, $150 for straight flushes, and $599 for any royals. Cracked aces get a spin of the wheel, with prizes from $20 to $500. And between 9:00 AM and 3:00 PM, there's a promotion that may be unique to the Tropicana Express. Players are awarded a "chit" for each hand they win. At the end of each hour, the player with the most chits wins $50. That's a big incentive for loose play, and a major enticement for players like me who want games with loose players!
I found the level of poker play, generally, to be very beatable. At my table, where I played for about three hours, there was one good player, two very tight and passive players, and five awful, drunk and fun-loving players just in the game to lose their money, which they cheerily did. This was on a Monday night. Weekend action may be even better. I'll gladly return looking for a similar lineup.
The standard game is the $2-6 spread limit game that I played in. On Thursday, Friday and Saturday night there might be a $4/8 limit game or a $1/2 no-limit game, I was told by the poker room manager, though neither runs all the time. There's a $30 tournament at 6:30 PM on Tuesday and Thursday, and a Saturday event at 2:00 PM. Cash games tend to go at least until midnight – and sometimes all night. Best to call ahead to check on the action if you're planning on arriving after 11:00 PM. When I was there on a Monday night from 10:00 PM until about 1:00 AM there were two tables of $2-6 hold'em going.
The house rakes 10% up to a $3 maximum. They also drop $2 for the many promotions. Players earn $1.25 an hour with a Tropicana players club card. Drinks are free and food is very reasonably priced. Most sandwiches are in the $5 range. There's also a steakhouse that got very high marks from all the players and staff. The menu is pricey – between $20 and $40 for a steak. I was assured it was well worth the money.
All in all. I really liked this room, in particular the festive mood created by the fun-loving staff. Most of all, I enjoyed the action from the loose players; they added to my bottom line. And that's no laughing matter.
Tropicana Express
2121 S. Casino Drive
Laughlin, Nevada
800-243-6846
Get in on the action with a Full Tilt Poker bonus Code at PokerNews.com - The Number 1 Source for Poker Information.