'durrrr Challenge' Update: Dwan Picks up $96,000 Inside an Hour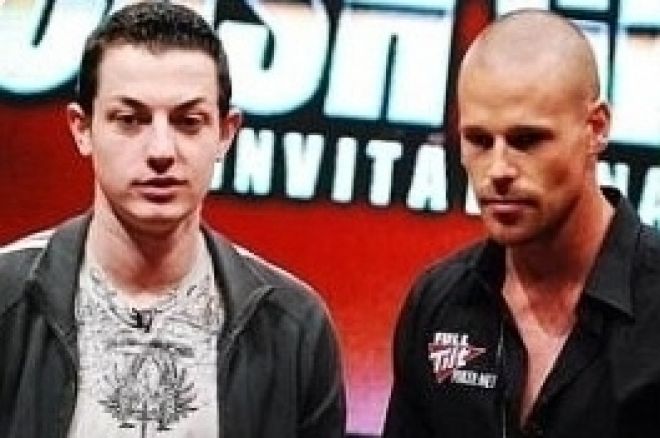 Exactly one week after Patrik Antonius locked down a big win, creating the first sizable lead thus far in the "durrrr Challenge", he and Tom "durrrr" Dwan reunited for another brief online poker
session. Like their previous meeting, this session was short, lasting only 61 minutes, Dwan finishing $96,358 to the good over the course of 310 hands. Antonius still holds the overall lead in the challenge after 13,556 hands, up $391,704 on Dwan.
First blood went to Antonius, who claimed Dwan's stack on durrrr Challenge Table 2 only a few minutes into the match, in what would be the session's second-largest pot. Antonius opened for $1,200, Dwan reraised to $3,600 and Antonius came back over the top for $6,000. Dwan called, then checked the
flop. Antonius made a nearly pot-sized bet of $10,000 and Dwan came right in with a check-raise to $42,000. Antonius made it $74,000 to go, trying to set Dwan all in, and the New Jersey wonder kid called for his remaining $23,199 with
for an overpair and a queen-high flush draw. Antonius was ahead with
for two pair, but still had a lot of outs to fade. Fortunately for the Finn, the turn was the
and the river the
, his eights and fives holding up to win the $142,397 pot.
Antonius' lead, however, would be short-lived. Dwan picked up
and three-bet Antonius' $1,200 opening raise to $3,600. Antonius called and they saw a flop of
. Dwan led out for $4,800 with his overpair and nut flush draw and Antonius flat-called. Dwan checked the
on the turn, Antonius bet $14,400 and Dwan called. The river was the
, giving Dwan the flush. He put out a value bet of $37,200 and after a lengthy think, Antonius called. Dwan took down the $120,000 pot with the nuts and Antonius mucked, leaving railbirds to guess his hand.
After that hand, the momentum switched to Dwan, who expanded his lead when he raked in the session's largest pot about fifteen minutes before deciding to quit for the night. Dwan opened for $1,200, Antonius three-bet to $3,600 and Dwan called. Antonius led out for $6,000 on the
flop and Dwan smooth-called. The turn brought the
and a check from Antonius, Dwan firing out $15,600. Antonius called and they went to the river… the
. Antonius checked again and Dwan put out a hefty $50,400 bet, forcing Antonius to the all-in decision. Antonius looked him up but mucked to the sight of Dwan's
for trip nines on the river. The $144,382 pot sailed into durrrr's stack as Antonius was forced to rebuy for another $80,000.
Tom Dwan abruptly quit after 61 minutes of play and minutes later was seen waiting for the Great Dane at the "Hansen Suckout," "Hangout," and "Knockout" $500/1,000 heads-up PLO tables.
With over 36,000 hands to go, it's doubtful at this point that Dwan and Antonius will complete the challenge before the commencement of the World Series of Poker. Antonius has stated in numerous interviews that he does not want to play during the series and though both have declared a desire to log some long sessions in the coming days, their chances of reaching the 50,000-hand mark in less than two weeks time are quite slim.
Of course, we'll still be watching. Keep it here on PokerNews for continuing updates on the "durrrr Challenge" as it continues to unfold.
Nicole Gordon's continuing reports on the "durrrr Challenge" highlight PokerNews.com's coverage of the latest in online poker. To railbird the "durrrr Challenge" yourself, open up an account at Full Tilt poker today.